Are you interested in working remotely in Lisbon? Portugal is loved as one of the best surfing destinations in Europe, but that's not all. It's also an incredible digital nomad destination that ticks all of the boxes needed to make the remote dream work. 
Working remotely in Lisbon, in particular, is a great place to get started. The local energy is dynamic and innovative, set to a backdrop of rich cultural heritage (and pastéis de nata). Lisbon boasts a choice of coworking spaces, an affordable cost of living, and plenty to do once you shut your laptop.
Lisbon also happens to be the spot where we did our digital nomad trial – and obviously, it worked out well. 
The digital nomad trial is a valuable part of asking your boss to work remotely full time. Read a few more tips in our blog here.
* Just to let you know that this article may contain affiliate links. If you click on them we might receive a small commission, at no extra cost to you.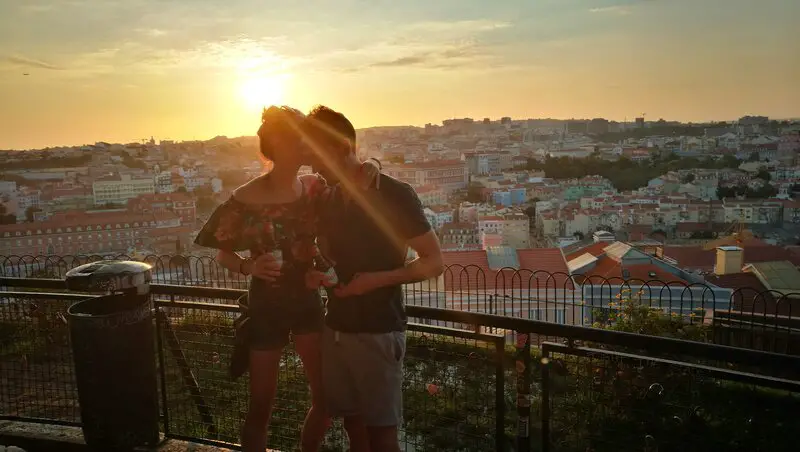 Benefits of Working Remotely in Lisbon
So, why choose Lisbon as the destination of choice to settle down and start (or continue) your remote work journey?
Besides the fact that Portugal embraces the digital nomad world and welcomes remote workers, it also offers several other benefits.
Portugal is also home to the digital nomad village! Read more here.
Affordable

cost of living

(especially when compared to European neighbors)
Functional public transport – as well as beautiful routes to walk
A selection of coworking spaces
A dynamic community of fellow nomads and remote workers
Gorgeous culture and history to explore after hours
Incredible surfing opportunity right on the doorstep
Easy access to other beautiful destinations
Digital Nomad Visa in Portugal
As remote work becomes increasingly popular, a digital nomad visa has become more accessible. 
As Portugal falls into the Schengen area, European Union citizens (or citizens in the countries of the Schengen area) don't need a visa to enter Portugal. 
Citizens from the United States, Canada, Australia, and New Zealand are able to stay in Portugal for 90 days within six months without needing a visa.
Of course, these rules may change slightly if you wish to stay for an extended period of time. 
D7 and D2 Visa
There are two types of digital nomad visas in Portugal, namely the D7 and D2 visas. These documents allow you to visit Portugal and start a business, work as a freelancer and remote worker. After five years, visa-holders can apply for Portuguese citizenship.  
The condition is that you have to spend the majority of the year in Portugal (either six months consecutively or eight months with breaks).
Find out more about the D7 and D2 visas here. 
Golden Visa (ARI)
An average of seven days per year is required to qualify for citizenship after five years with this visa. The cost of the golden visa is that the nomad makes a significant investment in the local economy. "Significant" equating to roughly €350k or €500k.
Find out more about the Golden Visa here.
Digital Nomad Tax in Portugal
Portugal has a non-habitual tax regime (NHR) which applies to non-resident individuals that settle down in Portugal – either temporarily or on a permanent basis. There are certain requirements to qualify, and the benefits make it worth the effort. 
There are several countries that have set up a specific digital nomad visa. Read more about these countries in our blog here.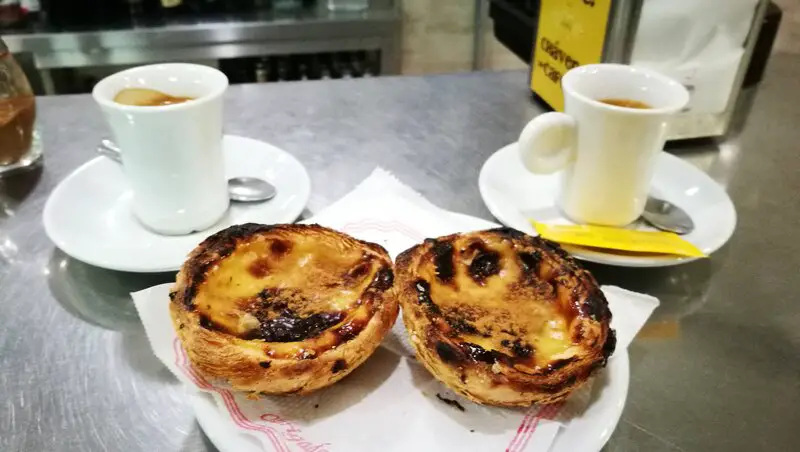 Best time to Visit Lisbon
As with most European tourist destinations, the best time to visit Lisbon is during the shoulder seasons. Spring (March to May) and Autumn (September to October) promise warm weather without extremes. There are fewer crowds and the general cost of experiencing the city is lower than during peak season. Check out this Portugal itinerary for some awesome things to do in Portugal.
With that being said, the cheapest time to fly to Lisbon is usually in January. If you plan on spending a long time in the city and think you will experience all months of the year, then you can save a few bucks by traveling at this time. 
Check out flights to Lisbon here!
Where to Stay in Lisbon
The district of choice will depend largely on what you hope to achieve. Whether you're looking for a vibrant, cultural area that never sleeps or a more quiet suburban area – Lisbon has you sorted. 
Alfama
Alfama is made up of steep hills, narrow streets, and lots of character. As one of the oldest districts in Lisbon, Alfama has a lot of quaint apartments and hidden spots to discover. Just make sure that you're comfortable with walking hills! There are a lot of awesome things to do in Lisbon, especially Alfama.
Chiado
In central Lisbon, Chiado will put you in the thick of the action – but beware of the tourist traps. Chiado is located within the Baixa district, Lisbon's historical area, and has a lot of cultural attractions to explore.
Bairro Alto
Still young (or old) and want to party? Bairro Alto is a great choice. The nightlife is bustling in Bairro Alto and there are plenty of bars and clubs to spend your free time. Just note that the area can be noisy and the cost to stay here can be higher than in other areas. 
Estrela
Less touristy than other areas, Estrela is a great choice for nomads who want to live in peace. Estrela is calmer and boasts a prosperous and affluent neighborhood, showing off the more relaxing side of Portuguese culture. 
Top tip: The Lisbon International Accommodation group on Facebook is extra-helpful with finding a place to stay. 
Where to Work in Lisbon
There's no shortage of coworking spaces to work from. If you prefer a more casual setting, then you also have a selection of coffee shops and restaurants to fire up your laptop. 
We recommend using Get Croissant to test out a few of the coworking spaces and see which one works for you. Each spot has its own unique atmosphere and mood. The best part is that there are a few surf offices – filled with people who are happy to grab a few waves (or beers) after the workday is done. 
Feeling overwhelmed by the choices? Browse our digital nomad's guide to coworking spaces here.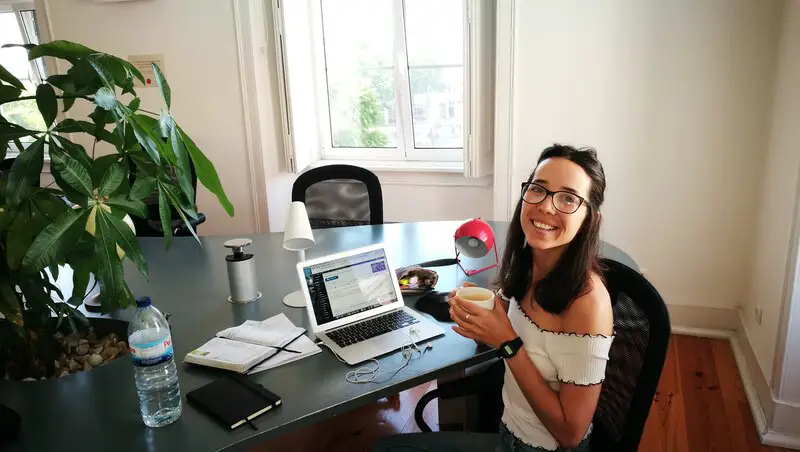 Cost of Living in Lisbon
The affordable cost of living is one of the biggest drawcards for Lisbon (and the rest of Portugal). Using Nomad Travel Tools, we compared the costs of living in Lisbon to Los Angeles as an example. Lisbon is cheaper on all accounts – by significant amounts. 
Accommodation
Accommodation will arguably be your largest expense. The expense can be reduced depending on where you choose to live. Renting a furnished, two-bedroom apartment in a decent area could cost approximately USD $800. We used Airbnb and booked long-term stays which give a decent discount. 
Food and Drink
It's always more affordable to buy groceries and cook at home. Even so, you will want to try the delicious Portuguese food – and it's not only the flavors that will make you smile. A meal costs roughly $8 each, and you can pair it with a $1,20 beer or glass of wine. 
Working Space
Coworking spaces also vary in costs, depending on location and amenities. As a guide, you can rent a space for the day at a cost of $18. Booking a spot for longer will offer you greater discounts, such as $70 a week and $140 a month.
Daily living
The beauty of Lisbon is that there is so much to explore with just your feet and your eyes. Sunset viewing spots are plentiful, the oceans are free to surf, and public transport is a decent price. Of course, there are also tourist activities and attractions to enjoy – all of which are fairly priced.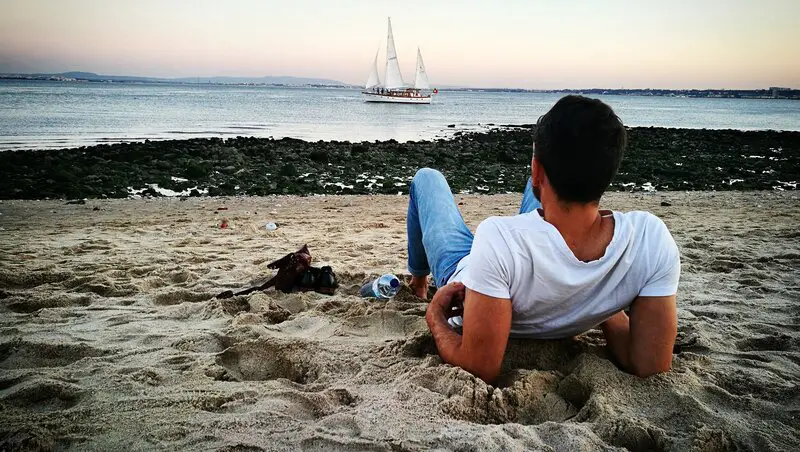 Life in Lisbon as a Digital Nomad
The easy pace, stunning architecture, rich history, and delicious food will suck you in and make it difficult to leave. Working in Lisbon as a digital nomad is undoubtedly a rewarding experience. Make sure that you take some time to explore the city and all that it offers.
Here are a few ideas to add to your weekend shenanigans.
Visit historical attractions such as Torre de Belém, St George's Castle and Monastery of Jerónimos
Eat as many pastéis de nata as you can
Ride the iconic trams
Wander and get lost in the narrow alleyways
Take a day tour to Sintra
Get your feet wet at the local surfing spots (Carcavelos, Costa da Caparica and São Pedro)
Ride a Lime Scooter on the promenade

 

Go on a day trip to nearby areas, such as Sintra
If you're looking for more to explore outside of Lisbon, then we'd also recommend spending a bit of time in Portugal's Ericeira. Read about the best remote work spots near the beach here.
Let's Go to Lisbon
Lisbon holds a special place in both of our hearts as it's where we started to live out our remote work dream. It is full of potential, friendly people and great opportunities. If you're planning a trip to Lisbon, then we wish you the best of luck!