As surfing nomads, we're big fans of exploring the world. Especially regions that boast incredible coastlines with unbeatable surfing breaks. When embracing the van life, Australia has a lot to offer. 
Whether you're looking for the convenience of a surf van rental or attracted by the fun promised of a campervan conversion, you're in for a treat. 
Read more on the surfing van life in our guide here.
This particular guide focuses on North-South Wales, but the country boasts an impressive coastline of surfing opportunities to explore at your leisure. 
* Just to let you know that this article may contain affiliate links. If you click on them we might receive a small commission, at no extra cost to you.
Options for Living in a Van in Australia
There are different options for embracing the surfing nomad life. Factors to consider include the size of your group, your budget, and how prepared you are for the trip. In a nutshell, there are three main options that we'll explore. 
Looking for the best surf destinations to visit throughout the year? Read our month-by-month guide here!
Surf Van Conversions
Campervan conversions are a popular choice for DIY fans who want to enjoy the Australian coastline. It introduces a little bit of fun and creativity, boosting the enjoyment of the trip. 
Benefits of camper conversions
For some, van life is significantly more enjoyable when you make it happen from scratch. The process demands a lot of hard work and elbow grease, but you can make the camper exactly as you want it. It's a fun experience and a worthwhile investment if you plan to use it a lot.
How to do a van conversion
Converting a camper is more affordable than buying a new van entirely. The process takes time but is worth it in the end. Here are the basic steps involved in the process. 
Buy a van – make sure that you test ride the vehicle and get all of the necessary information
Clean the van thoroughly
Take measurements of the space
Map out your plan – and make sure that it fits
Insulate the van

 

Add flooring as the base
Build the foundation and/or framing
Build the interior including bed, drawers, cabinets, and kitchenette
Take care of the power requirements, lights, water, and ventilation
Add the finishing touches including curtains, decorations, and other essentials
There's a lot of information on the internet for guidance. You can start with this YouTube video. 
Campervan Rental in Australia
It's not uncommon to find budding travelers cruising Australia's highways in the camper vans with surfboards on the roof.
Benefits of renting a campervan
A campervan is an affordable, versatile option for a small group of passengers. Lower on fuel and zippy in nature, a campervan offers you everything that you need in a compact space. Renting a campervan is also a bonus as there's no long-term investment. 
Where to rent a campervan
There are several businesses that rent out campervans Down Under. Best Camper is a great place to start your search. Available vehicles range in size and price, helping you find the perfect camper to meet your needs. 
Check out some other things to do in Western Australia.
RV (Motorhome) Rental in Australia
If you're traveling in a group, then a motorhome may be a better option for your surfing trip. Luckily, these are also readily available. 
Benefits of renting an RV
While campervans can comfortably fit two passengers, an RV can accommodate more. If you're traveling as a family or larger group, then an RV is a cost-effective and comfortable solution. A motorhome also offers additional comforts and space that aren't available with a campervan – such as a toilet.
Where to rent an RV
There's no shortage of options when it comes to renting an RV in Australia. Begin your search at Let's Go Motorhomes and see where the internet takes you. You can filter by pick-up location, drop-off location, and a wide selection of motorhomes to choose from. 
Five Stops for a Surf Trip in Australia
Once you have your vehicle and a full tank of gas, then you can hit the road. Australia's coastline is expansive, with several far-reaching surf spots. We've put together five stops in the southwest region to begin your journey. 
1. Mollymook Beach
Mollymook Beach is an incredibly beautiful, gentle beach break, making it the perfect place to begin your surfing road trip in Australia. It's a small-wave spot that offers some fun peaks. The beach is especially fun for beginners and families. 
Track your surfing experience with these awesome gadgets and watches!
There is a selection of spots to camp when spending the night in the area. Each offers its own benefits, such as toilets, BBQ areas, and the permission of pets. Mollymook Caravan Park, in particular, offers everything that you need for a comfortable, overnight stay. 
Mollymook is an area for nature lovers. The small beach town offers simple living, with the opportunity to surf, play golf, and visit the local beaches. 
Distance to next destination: 191 kilometers
2. Garie Beach
Garie Beach kicks the surfing level up a notch, offering an exposed beach and reef break. Shredders can move both left and right, with a powerful swell driving the line. 
Garie Beach is inside a national park, and it's highly recommended that you camp on the park's ground. North Era Campground is close to the beach and overlooks North Era Beach. It's also the closest camping ground to Garie Beach.  
Bundeena is the closest town to Garie Beach, a short 20-minute drive away. While the small town has walks, waterfalls, art trails, and markets, you can also find plenty to do closer to Garie Beach. For example, Figure Eight Pools and the Royal National Park. 
Distance to next destination: 475 kilometers
3. Crescent Head
Crescent Head is renowned for offering access to some of the best surf spots on the coast. In particular, Crescent Head Point boasts an outstanding right-hand break. While Crescent Head Front Beach offers both left and right barrelling waves (when the conditions are right). 
Once you're done ripping up the waves, then you can park your vehicle at Crescent Head Holiday Park and enjoy a well-deserved break. The park is known as a slice of paradise and welcomes surfers to their campsite. 
Surfing and visiting the beaches are undoubtedly the best things to do in Crescent Head. Even so, the small beach town also invites visitors to visit the lookout points, go on scenic drives, and play a round of golf!
Distance to next destination: 414 kilometers
4. Duranbah Beach
Duranbah Beach is popular for surfing, with decent waves for surfers of all skill levels. Locally known as "Dee-bah", the beach is loved for consistent, quality beach break. Just be aware that it can get crowded – especially with locals.
Kirra Beach Tourist Park is a nearby campground that offers a laid-back atmosphere and access to beautiful beaches. It's the perfect spot for the family – including your dog. 
Duranbah Beach, and the surrounding area of Tweed Heads, have a wealth of activities to enjoy. There's the Cape Byron Lighthouse Conservation Area, Casino Mini Rail, and The Big Banana among others.
Distance to next destination: 241 kilometers
5. Noosa Heads
Noosa offers world-class surf breaks with several spots to choose from depending on your skill and mood. There's a break to suit shortboards, longboards, pros, and beginners. 
Do you plan to work while on your surf trip? Read about our top recommended surfing nomad destinations here.
Noosa Sea Scouts is a nearby campsite that offers a rustic and immersive experience. The ground has all the facilities that are needed for a comfortable stay overnight.
Noosa is a natural wonderland, with the national park nearby, and plenty of other fun cultural activities. Go stand-up paddleboarding, dine at Noosa Boathouse, and visit the farmer's market to get the ball rolling.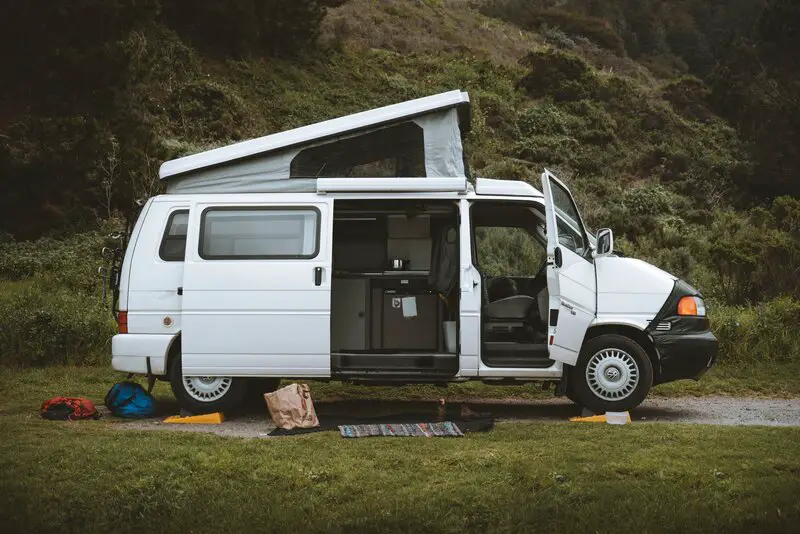 Top Considerations for a Campervan Trip in Australia
Do you feel like you're ready to tackle the great outdoors of Australia in your campervan? Before you hit the road, here are a few tips to keep in mind. 
Remember that it's illegal to sleep in a campervan on the side of the road in Australia. Instead, park at a truck stop, camping ground, or designated rest area
Do your research on the Australian climate to make sure that you're properly prepared
Book your spot at campgrounds in advance to avoid disappointment
Research Australian driving rules – such as driving on the left-hand side of the road, and the legal age to rent a campervan (21 years old)
Some stretches of road in Australia are remote – so make sure that you stock up on food and fuel
If you plan on working during the trip, invest in a portable wi-fi device
Final Thoughts
Are you inspired to pack your bags and hit the Australian coastline? If you have more time, then Queensland and Victoria are also awesome spots to wax up your board. While spending time on the road demands a little bit of preparation, it also promises a lot of freedom!
Interested in more surf trips? Read our other guides here.