Portugal is revered as one of the best European surfing destinations. Ericeira is at the heart of this surfing haven, promising unlimited waves throughout the year. The surf in Ericeira is consistent, catering to all different levels. But that's not all, it is also a hot spot for digital nomads.
There are several alluring factors that encourage intrepid explorers to plan their next adventure to Portugal. The affordable cost of living, rich history, and gorgeous waves are just a few of the magnetic pulls.
If you're a digital nomad or remote worker and trying to decide on your next destination, then Ericeira is a great bet. To help your planning process, we've put together a few highly recommended places to live and work that are close to the surf.
Interested in other nomad surfing destinations? Browse our blog with some of our top picks!
* Just to let you know that this article contains affiliate links. If you click on them we might receive a small commission, at no extra cost to you.

Ericeira Surf Guide
Ericeira is one of those golden destinations that offer beautiful swell throughout the year. In fact, it was difficult not to add the charming fishing town to every month on our annual surf guide. However, we had to give a few other destinations their time to shine.
Speaking of which, you can find our guide on where to surf month-by-month here.
The best time for beginner riders to surf Ericeira is between May and September. During these months, the waves are less powerful and intimidating.
For more experienced surfers, the months between September and May promise a lot of fun. You can expect large swell, hollow barrels, and challenging conditions. The northern spots, in particular, are especially powerful and best reserved for advanced surfers.
It's important to note that the water in Ericeira isn't tropical as it is in Indonesia or Costa Rica. The water is on the chilly end of the spectrum, especially in winter when the swell performs well. Surfers will need a wetsuit throughout the year, even in summer. The average water temperature in July and August is approximately 18°C. During winter, it drops lower to 13°C.
We spent a bit of time surfing in Sagres, a road trip away from Ericeira. Read our Sagres surfing guide here.
Remote Working in Ericeira
There are a lot of important factors to consider when choosing a base for remote work. These factors may change depending on what you prefer in a space.
Read our guide on coworking offices and spaces to use as a starting point.
Moa & Jonathan's Coliving: Sao Lourenco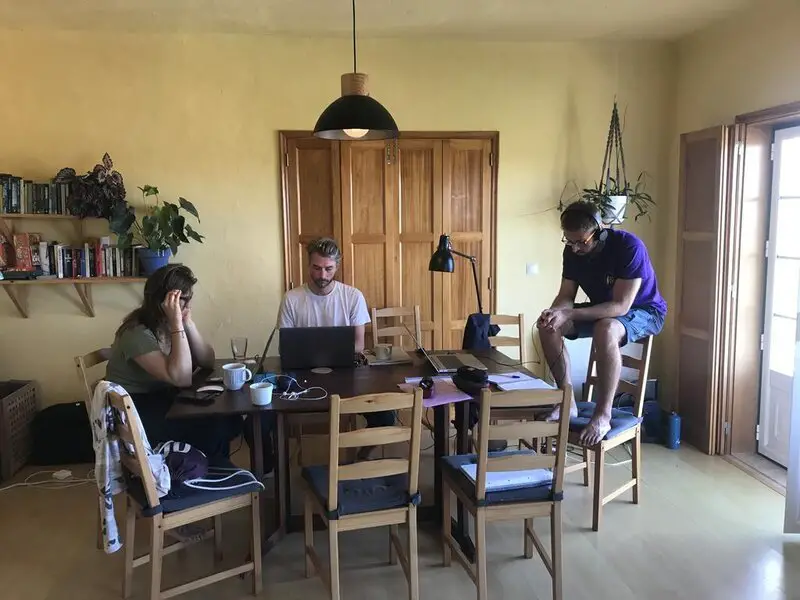 Moa and Jonathan's coliving and coworking space offer an exquisite view of Sao Lourenco beach on the outskirts of Ericeira. Just a short drive from the home (and work) base are world-class waves just waiting to be surfed.
The coworking space strikes the perfect balance between community and productive focus. Not to mention the view from the workspace that will have you itching to get into the water. The coliving setup has everything that you need to be productive in a relaxing environment.
Take your pick from a private room or dormitory, depending on your budget and preference. The hosts of the guest house are very hands-on and encourage long-term guests who want to settle down and create a home away from home.
What we love:
A relaxing environment with everything that you need
Out of the hustle and bustle of Ericeira town – but not too far away
Discount prices for single guests booking a private room
Book your stay at Moa and Jonathan's surf lodge here
Rapture Ericeira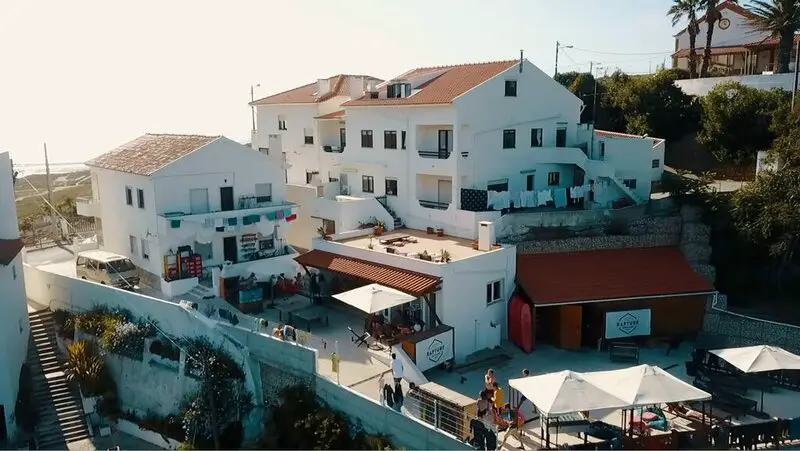 The Rapture Surf Camps have earned a trusted reputation among surfing nomads that are searching for social and inspiring spaces to work and surf. Rapture Ericeira maintains this high standard that has been set and offers an unbeatable remote working community.
Read more about Rapture in Nicaragua here – and Rapture in Costa Rica here
Rapture Ericeira is a perfect spot for social remote workers that are flexible and independent. With world-class surfing a stone's throw away, this freedom can be very convenient. The camp itself can house up to 50 people, creating a fun-loving environment.
There's a choice to work in a private room, a common space, or one of the outdoor spaces. These outdoor spaces are repurposed for group yoga classes and socializing.
What we love:
Delicious dinner is included during weekdays (as well as a breakfast buffet)
A versatile and social working environment
The package includes surf theory classes three times a week
Book your stay with Rapture Camps in Ericeira here
Salt Studio Cowork in Ericeira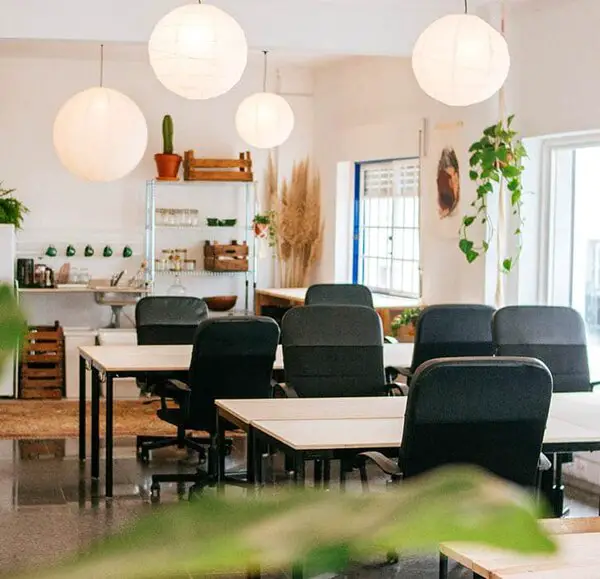 Salt Studio prides itself on offering a work family and an inspiring, creative coworking space. The coworking space is the first of its kind in Ericeira and has the advanced setup to match this reputation.
Salt Studio offers a variety of packages, which are perfect for the remote worker who dips in and out of the office to surf. In fact, the surf spots are a short distance away from the office space.
As a coworking office, Salt Studio offers bottomless hot drinks, networking events, speedy wifi, and 24/7 accessibility. If you're a remote worker who likes the convenience of an established coworking space that is close to the beach but separate from home – then Salt Studio is an incredible choice.
Need a plan to transport your surfboard from home, work, and the beach? Read our blog on surfboard racks here
What we love:
A selection of flexible packages
The office space is established and very well set up
A very short distance from the beach
Find out more about Salt Studio Cowork here
Kelp Co-work Ericeira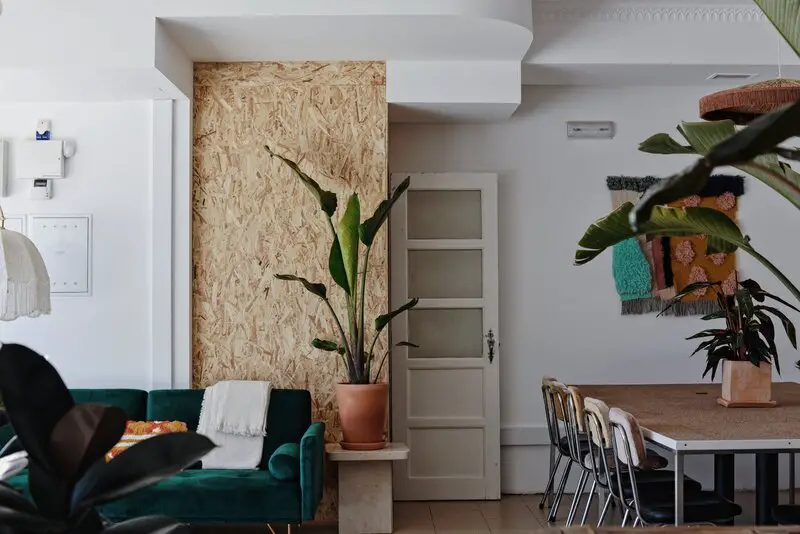 Kelp Co-work offers a space that is "human-centric, beautiful and functional". Although it's primarily office space and not accommodation, it is still considered a home away from home. Based in the old town of Ericeira, Kelp Co-work offers all the charm of an ancient city, with the touch of modern connection.
The office space is filled with plants and natural materials, prioritizing the feelings of well-being and air purification. Their flexible coworking packages give people access to their full set-up including a kitchen and a lounge space.
And the beach, you may ask? Praia dos Pescadores and Praia do Norte are a short distance away.
What we love:
The office space is filled with beautiful and refreshing plants
Located very close to the beach (and a delicious bakery)
Flexible packages are available for remote workers
Find out more about Kelp Cowork here
Lapoint Surf Camp Ericeira
Lapoint Surf Camp is another top option for coworking and coliving, giving nomads the chance to surf Ericeria whenever it tickles their fancy. Nomads can rent a room or a bed and share common spaces such as a kitchen and workspace with the rest of the community.
The relaxed vibe is the perfect home base for working and surfing in Ericeira. Lapoint Surf Camp believes in maintaining productivity while on the road, and this is optimized in the coworking space. When the working day is productive, it allows for flexible visits to the beach and the chance to enjoy a surf session on your doorstep.
The basic monthly package includes accommodation, access to shared facilities, a 10% discount on the restaurant, and more. It's also possible to add bonus add-ons such as daily yoga, surf lessons, and trips.
What we love:
A flexible and convenient package
A beautiful view of the beach – and convenient access
Very well established coworking space in the living quarters
Book your stay at Lapoint Surf Camp in Ericeira here
See You In Portugal!
As surfing nomads ourselves, we've spent time in Portugal and can highly recommend the location. There's something magical about the gorgeous cliffs, stretches of beaches, and vibrant culture. Oh, and let's not forget about the food!
Portugal, and Ericeira in particular, is a great location for remote workers who want to hit the water after a day on the grind. If you're interested in some other places that have been tried and tested, then you can browse our other blogs in the series.