Thinking about a New Zealand campervan trip? There are many unique traits that attract travelers from all over the world to the Pacific island country of New Zealand. The breathtaking landscape, gorgeous mountains, and surf-worthy swell are just a few.  
One of the best ways to experience the country is with a campervan. Even better, you can tour the country in a campervan, following the best swell as a guide to the route. 
New Zealand is one of a few highly recommended surfer van destinations around the world. Read more in our blog here!
Let's dive into some practical tips on hiring a campervan or RV in New Zealand, and determining the best route to travel with your board. 
* Just to let you know that this article may contain affiliate links. If you click on them we might receive a small commission, at no extra cost to you.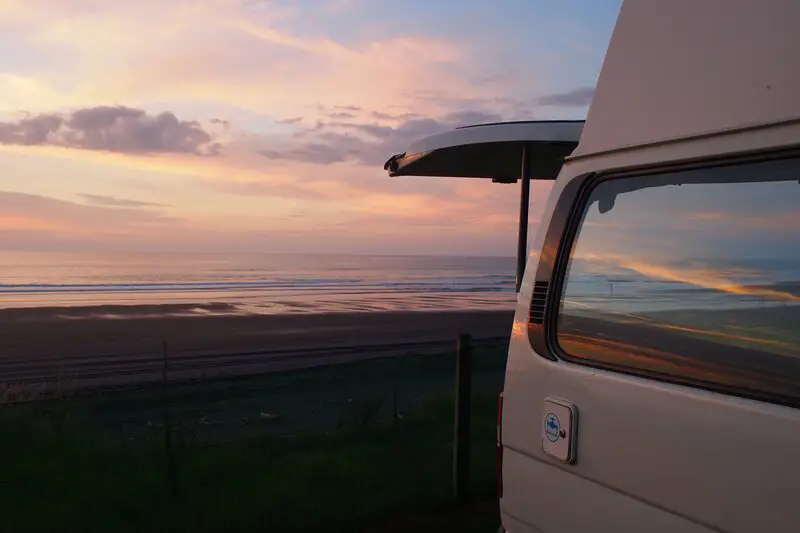 Best RV and Campervan Hire New Zealand Has to Offer
Are you stuck between deciding on an RV or campervan for your trip? New Zealand offers both options, each with its own pros and cons. 
New Zealand Campervan
Campervans are a dime a dozen in New Zealand, and for good reason. A campervan is a nifty way to experience the coastline. 
Benefits of campervanning in New Zealand
What's not to love about zooming around the beautiful country with everything that you need at your fingertips? The smaller size of a campervan is compact and convenient, allowing you to move from one spot to another in a fuel-efficient and easy way. Just keep in mind that it might be worth getting roof racks for your boards!
Where to rent a campervan in New Zealand
There's a selection of outlets that rent campervans for surf trips. Whatever your budget, there will be an outlet to suit your needs. A great place to start your search is Share a Camper, a local rental agency that understands the itch to surf, and how a campervan can be the perfect vehicle for the trip. 
New Zealand Motorhome
Motorhomes are also readily available in New Zealand and can often be hired from the same rental sites as campervans. 
Benefits of a motor home in New Zealand
If you're traveling in a larger group, then a motorhome may be a better option. More people can fit inside, and there's a bit more space (and amenities). An RV is also a great option if planning a long trip, as you won't be as cramped. 
Where to rent a motorhome / RV in New Zealand
You'll have a choice of convenient, affordable, and quality places to rent an RV in New Zealand. One of the best places to start your search is with Maui which encourages makes travelers to "feel at home. Wherever you roam."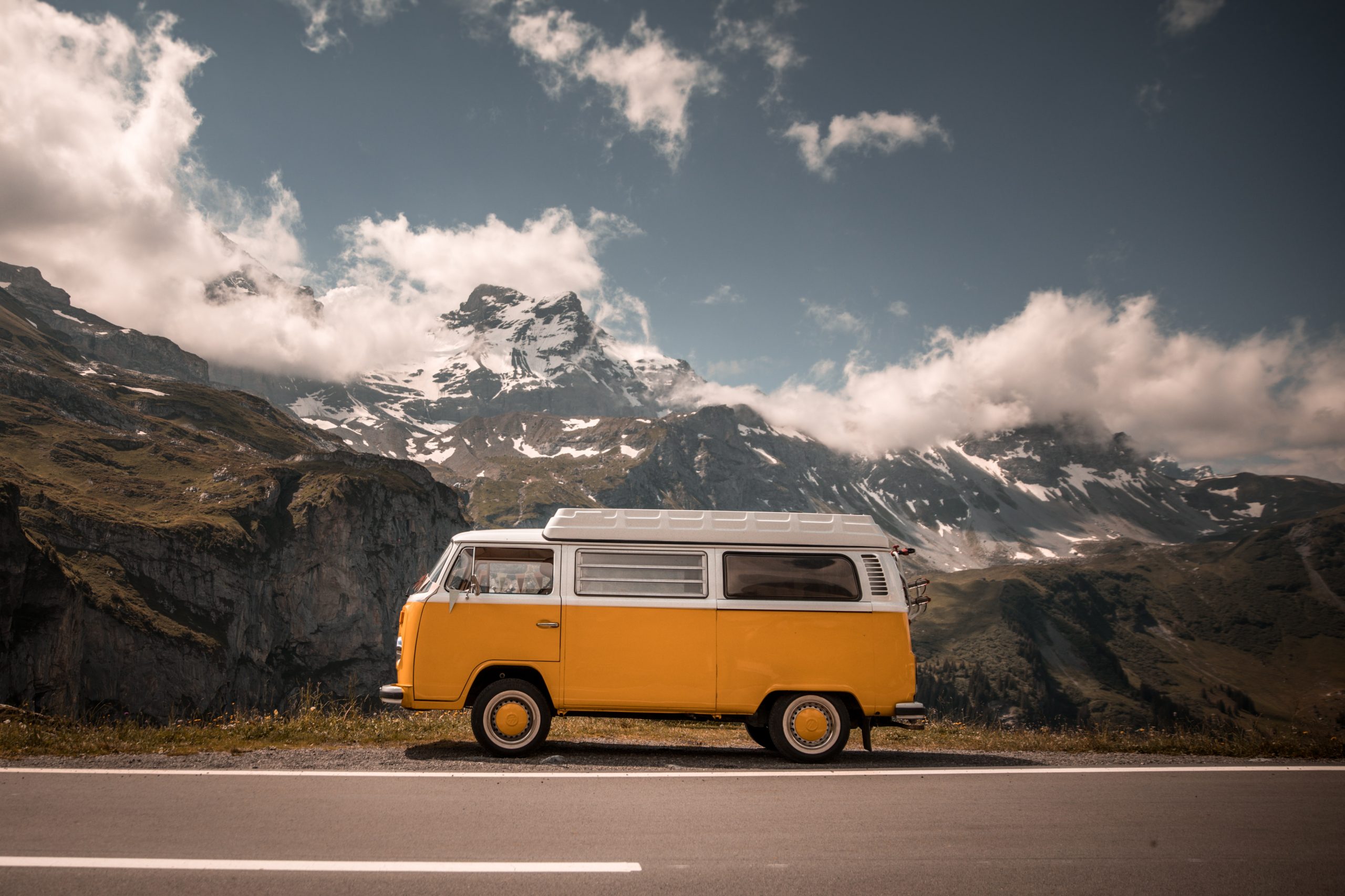 Five-Stop Surfing Itinerary for Campervanning in New Zealand
If you're planning a surf trip in New Zealand, then you most certainly won't be the first. In fact, Surf Highway 45 that extends across the Taranaki region is a hotspot for surfing road trips! Here are five epic spots to add to your route (although there are many more). 
1. Fitzroy Beach
Fitzroy Beach is a well-known surf break in New Zealand and a fantastic place to start your trip. The exposed beach break barrels beautifully when the conditions are right and can size up when the swell works. 
Fitzroy Beach Holiday Park is the camping ground of choice in New Plymouth and has convenient amenities on the doorstep of the beach. It just doesn't get any better!
If you're traveling as a family or it's your first time in the area, then you may want to spend a few extra days in the New Plymouth area. There is plenty to do. From visiting Pukekura Park to exploring Sugar Loaf Islands.
2. Ahu Ahu Road
What better way to continue your trip than with a choice of left or right point breaks on a sandy beach? The fast and hollow waves promise a good time for surfers of all levels. Whether you rip like a pro or prefer a gentle ride, Ahu Ahu has you sorted!
There's a great spot to stay at Oakura Beach Holiday Park which promises a fun and relaxing break, with easy access to the sea. 
The closest town to Ahu Ahu is Oakura, an area known for being a creative hub and offering access to world-class surf. If you have free time out of the water then you can enjoy a guided fly fishing experience or enjoy a schnitzel tour!
3. Stent Road
Stent Road is a stone's throw away from Ahu Ahu but deserves a spot on the list because the waves are just too good to pass up. The spot features an exposed reef point break that is dependable throughout the year.
When choosing where to stay, it's worth considering keeping your spot at Oakura Beach Holiday Park. This will make the experience more convenient, but it is a bit of a drive. 
Once again, Oakura is a great spot to visit when not in the water. If you have the time to venture further north, then New Plymouth isn't too far away, with all of its attractions such as art galleries, and the Coastal Walkway.
4. Weld Road
Weld Road is a must-stop spot if you're looking for cruisy rides on longer boards. It's an easy wave that allows you to enjoy the ride without worrying about too many technicalities. Just lookout for the rocky bottom!
Once again, you won't have to travel too far to rest your head at night. Oakura Beach Holiday Park is still your spot to be, and the nearby attractions are the same! Several of these spots are within close proximity to one another, but they each deserve a bit of your time!
5. Kumara Patch
Kumara Patch takes the cake for having the best left-hand point break in the area. If you catch it at the right time, you can enjoy an unbelievably long, cruisy ride. Depending on the conditions, intermediate surfers may even be able to catch a fast barrel!
Track your ride with the best surf tracking apps and watches on the market – read our blog here.
When your surfing is done and you want to rest up, then you can park your van at the nearby campsite and enjoy the amenities that they have to offer.
Discover the best places to surf throughout the year in our month-by-month guide!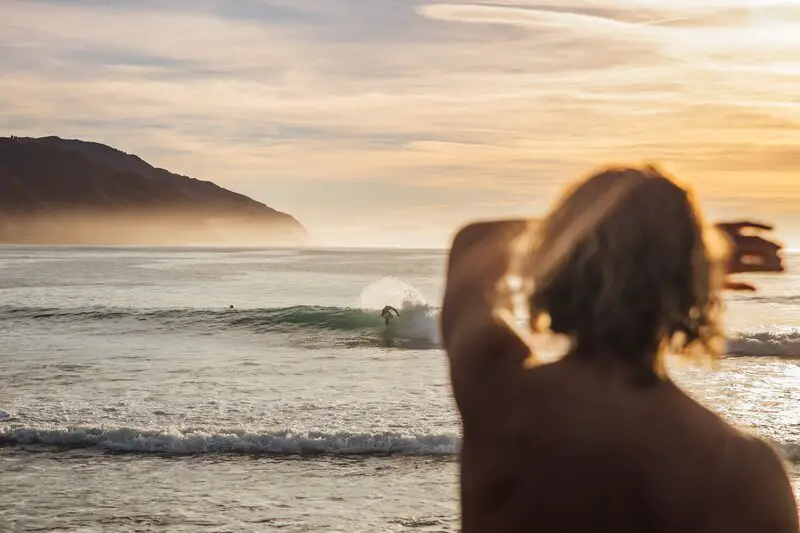 Campervan New Zealand Tips for Surfers
You've rented your vehicle, mapped your route, and you're ready to hit the road. But before you put your foot on the gas, make sure that you read the following tips for campervan trips in New Zealand. 
Make sure that you have a phone with mobile data, or a

portable wifi device

to stay in contact with (especially if you're working on the road)
Assess your budget carefully, as petrol can be pricey, camping grounds aren't free, and insurance costs can pinch
Make sure that you fill up with petrol whenever you can
Save offline maps for sections where the signal is patchy
Check out the

freedom camping website

to find out where you can park your vehicle outside of official accommodation venues
Pack bug spray!
Follow the usual rules of the road – drive on the left-hand side, stick to the speed limit, and look out for animals
Catch You in the Froth
There's so much more of New Zealand to explore, and we encourage you to go further than the few spots we've added to this list. 
If you've been bitten by the camping bug, then there are other destinations around the world that are waiting to be explored. Read about them here!