Portugal boasts an impressive coastline that spans 1,794 kilometers, much of which is surfable. People from all around the world flock to enjoy the variety of swell and take advantage of the unbeatable surfing conditions. One of the best ways to experience the thrill is to research campervan hire in Portugal and embark on an epic surf trip.
Portugal is one of the most popular destinations to enjoy a motorhome tour. The pleasant weather, beautiful scenery, and accessibility to surf all contribute to an unforgettable experience. 
Portugal boasts some of the most consistent surf throughout the year. For more information, read our guide on the best surfing destinations month by month.
Although the surf in Portugal is fairly consistent, there are certain times of the year that are better to book a trip. If possible, plan a trip for the spring or autumn months (March to June, and September to December). The decision mostly boils down to the affordability of the campervans, non-extreme weather conditions, and an intermediate level of swell.  
* Just to let you know that this article may contain affiliate links. If you click on them we might receive a small commission, at no extra cost to you.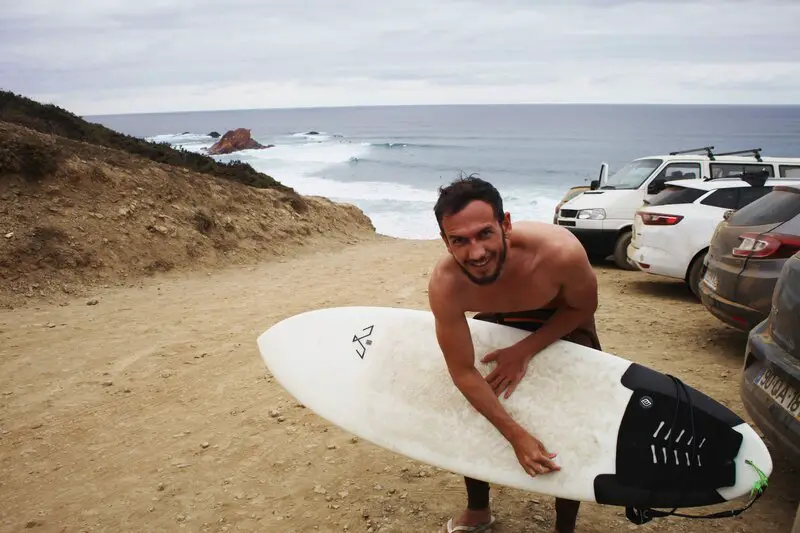 Different Transport Accommodation to Choose From
There's a very strong campervan culture in Portugal, meaning that you'll have no problem finding a reliable place to rent a vehicle. The biggest decision you'll need to make is the type of vehicle to rent. 
As an overall tip, we encourage you to have travel insurance before any trip. We've written a guide specifically on the best nomad insurance which you can read here.
Campervan
Campervans offer a fun and exciting way to explore the Portuguese coastline. When your home is mobile, you're able to visit all of the main surf spots without delay, having everything that you need on the ready.
Benefits of campervans for surf trips
Campervans are compact and versatile, giving you everything that you need without any frills. If you enjoy traveling with minimal baggage, then a campervan is perfect for you. Most campervans come with a spot to sleep, prepare food, and a basic shower room.
Where to rent a surf campervan in Portugal
As mentioned, you'll have a choice of places to rent from in Portugal. Atlantic Coast Campers comes highly recommended, offering campervans that can accommodate up to four people. They also offer the opportunity to book a surf package to enhance the experience. 
Mobile Homes (RV)
RVs and mobile homes aren't as popular as camper vans, but they are a great solution for larger groups of people. If you're traveling as a family or another couple, then an RV will give you that extra space for comfort. 
Benefits of mobile homes for surf trips
Mobile homes are bigger and typically more kitted out than a campervan. RVs offer more space and a place to sleep. As a result, they are a better option for larger groups and families. If you're traveling as a nomad entrepreneur, then you'll also benefit from the extra space to fire up your laptop. 
Where to rent an RV in Portugal
As with campervans, there is a selection of providers to rent RVs in Portugal. Most can be found on comparative platforms that allow you to adjust your budget and requirements to find the mobile home that best suits your needs. For example, Campanda's website lists a few RVs available in Portugal.
Six Spots to Surf and Camp in Portugal
The route you map out may be determined by the pick-up destination of your campervan. If you have a choice, we recommend starting in the north and working your way down south. Naturally, the route can also be reversed. 
1. Espinho
Espinho is the perfect spot to ease you into your surf trip. The water is usually less crowded and the surfing atmosphere is very laid-back. While most surfers focus on spots further down south, Espinho offers a decent, fun right-hand beach break. 
The local camping ground is Parque de Campismo de Espinho. It's a basic camping ground that should give you everything that you need. 
If the swell isn't on fire, or you're craving a cultural immersion, then you can visit nearby Porto. Known for its delicious port wine, beautiful scenery, and delicious food – you're in for a treat!
Distance to next destination: 122 kilometers
2. Figueira da Foz
Figueira da Foz is revered as Europe's best right-hand break. There's a selection of surf schools along the coastline for those that are still wet behind the ears. The general area is loved as a friendly and affordable destination.
When you've had your fill of surfing for the day, then we recommend that you head over to Parque de Campismo Orbitur Gala for the night. The grounds offer three shower blocks as well as bungalows if you want a break from the camper van. 
When you're not surfing, you can explore the rest of the area by walking through the beautiful scenery. The nearby town, Coimbra, also has a lot to offer in terms of culture and experience. 
Distance to next destination: 139 kilometers
3. Peniche
Peniche is an iconic surf destination in Portugal, boasting beach breaks on a sand bottom. Beginners, in particular, will love this spot as the conditions are usually more gentle. With that being said, there's still a lot of fun to be had by more experienced surfers.
Peniche Beach is one of the best places to camp. The spot offers space for motor caravanning, bungalows, and camping. The established area offers an affordable price for an impressive setup. 
In addition to epic surfing, Peniche has several other fun things to do. Make sure that you visit Cabo Carvoeiro, Fortaleza de Peniche, Berlengas Archipelago, and Peniche Port. 
Distance to next destination: 97 kilometers
4. Ericeira
Although not too far away, it's worth making a dedicated stop in Ericeira. The tranquil spot has a rich history – and unbeatable waves. There's a selection of spots to test your skills in the water, regardless of your level.
We rate Ericeira as a top digital nomad destination. Read our guide on remote work spots near the beach in Ericeira here.
Mil Regos Camping Park is Ericeira's best-known camping ground. The grounds offer a wide selection of amenities, including a skate park, bicycle rental, and pub. If you're looking to make friends on your trip, then this is a great place to start. 
There's a good chance that you'll fall in love with Ericeira and want to return at a later point. Read our guide on planning a surf trip to Ericeira from scratch over here.
The seaside community in Ericeira is welcoming and friendly. When you're not at the beach, we recommend that you visit the Old Town and Mafra Palace, both attractions that show off the fascinating history of the area. There are also plenty of seafood restaurants to enjoy. 
Distance to next destination: 50 kilometers
5. Lisbon
While Lisbon is best known for being a cultural hub, it also features a few decent surfing beaches on the outskirts of the city. Beaches such as Carcavelos, Praia da Poça, and Costa da Caparica are all nearby the bustling city, giving you the opportunity to enjoy the best of both worlds. 
While there aren't any campsites in the city center, there are a few to choose from on the outskirts of Lisbon. Begin your search with Orbitur Costa de Caparica, located 20 kilometers from the center. 
Lisbon is a must-visit city when planning a Portugal road trip. You could spend days getting lost in the city, but a few key attractions to visit include riding a tram, visiting Castelo de São Jorge (for sunset), and Mosteiro dos Jeronimos. 
Distance to next destination: 327 kilometers
6. Sagres, Algarve
Saving one of the best spots for last, Sagres is a bit of a further drive but worth every second on the road. There are so many incredible surf spots to choose from in Sagres (and surrounds) that you'll have a hard time leaving. Regardless of your level, there will be a spot for you. 
Sagres is also a hotspot for camping. Algarve camping options are many, each offering the chance to meet like-minded people. Orbitur Sagres is a great spot to start your search – but there is a really wide selection of options. 
To be honest, you'll probably spend most of your time in the water, and napping to refuel for the next session. However, Sagres is a beautiful area and we encourage you to explore. Visit the local cafes, go hiking, check out the views from the lighthouse and relax on the beaches. 
Read more about our guide to surfing in Sagres here.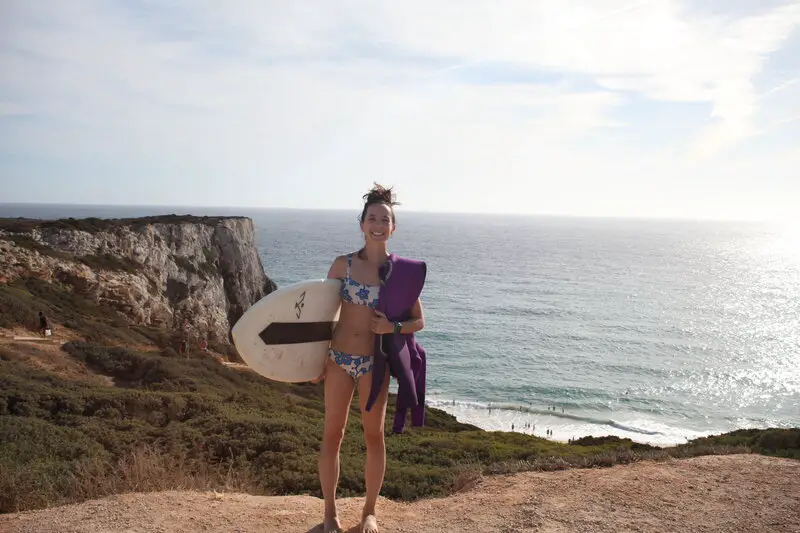 Tips for a Surf Trip in Portugal
You're probably frothing to get on the road, but it's important to iron out a few technicalities first. Here are a few tips to consider to make sure that the journey is smooth and enjoyable. 
Make sure that you have a valid driving license. If you're uncertain, make sure that you get an international driving license

Have a passport handy to show at the pick-up point

Basic insurance is offered by most rentals. Make sure that you have enough money to put down the security deposit and pay for more comprehensive insurance if you wish

Plan your route according to the toll roads. The toll roads may be quicker but they are also more expensive, with the potential to add a significant expense to your trip. Our suggestion is to follow the non-toll roads (which are more scenic as well)

Be warned that wild camping in Portugal is illegal. Play it safe and book to stay at a registered camping site

Prepare for the trip by packing enough food and water 

If you plan on working while on the road, then it may be worth investing in a

portable wifi device 
Enjoy a Surf Trip in Portugal
Portugal truly boasts some of the most spectacular swells. The excellent surfing potential combined with the rich culture of the country makes for an unforgettable trip. Campervan rental in Portugal is diverse, helping to meet the needs of various groups of nomad surfers. 
Stay safe, stay warm, and have a ripping time!
Interested in planning more surfing campervan trips? Read our blog on the ultimate surf van for a California road trip here.