Passion, music, culture and history runs thick in the blood of Havana. The city is sensational and quite unlike anything you've ever experienced – that's a guarantee! With the Cuban Revolution being a story in many history books, you can only imagine the impact that Cuba's fascinating history has had on its oldest city. We were lucky enough to visit Cuba, and have put together our list of top things to do in Havana, Cuba if you ever find yourself with the same luck.
Havana has always been a popular tourist destination, but for some reason, it has always intimidated me. When we planned our trip to Mexico two years ago, we thought we'd make the most of the long haul flight and visit another Central American country. But where to?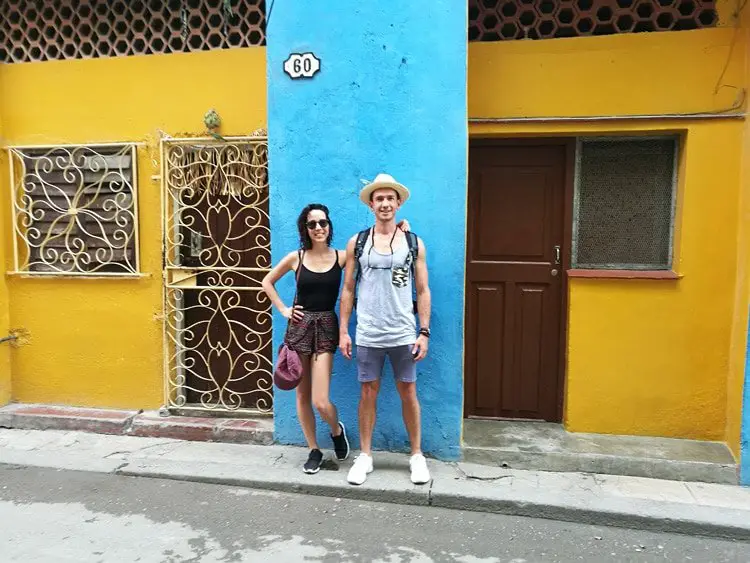 As fate would have it, we got an email soon after with an incredible flight special from TravelStart with an insane deal to Cuba. The decision was made.
Where To Stay In Havana
Havana has got a very obvious split between Old Havana and New Havana. As the name suggests, Old Havana, or Havana Vieja, is the older part of the city. It is also the part of the city that is home to the oldest buildings, most iconic museums and countless experiences geared towards tourists.
Despite Old Havana being the more touristy of the two areas, it feels significantly more authentic. As a country, Cuba has a rather tumultuous history which has prevented much development and you'll find that certain obvious commodities, such as WiFi, are a luxury and hard to come by. So while the city is accommodating for tourists, there's a definite local flavor that is undeniable and unfiltered.
When choosing where to stay in Havana, we would definitely recommend booking your accommodation in Old Havana. There are loads of Airbnbs, homestay opportunities, and hotels. All options have a very similar mood about them, and it can't be described as anything other than very Cuban. What you can expect is a small little balcony that overlooks the beautiful and seemingly abandoned buildings and oddly colored silk linen.
The locals are incredibly friendly and their hospitality is outstanding, regardless of where you choose to stay. To help you with your search for great accommodation, you can check out Apto Boutique Royal Route which boasts clean, spacious rooms with an exquisite view. Or you can browse the rooms at Villa Cuba BB for a more affordable option.
* Just to let you know that this article contains affiliate links. If you click on them we might receive a small commission, at no extra cost to you.

Important Things To Know
As mentioned, Cuba has quite a unique and interesting history. Years of communist rule and global isolation has stunted the development of the country. While this has made Cuba a fascinating, authentic and historically rich destination to visit, it also introduces some inconveniences that require serious preparation if you want to enjoy your Cuba trip.
WiFi
WiFi is a serious commodity in Cuba. If you are a digital nomad looking for a great working destination, Cuba is not the country to visit! Most accommodation spots will offer WiFi services at an additional cost. These prices are not cheap, and it is important to put WiFi into your budget.
There are public places, such as parks and squares, that have reception towers. You'll often find locals hovering on the benches with their eyes glued to their phones in these areas. To do the same, you need to go to a telephone store and purchase a WiFi voucher which typically lasts an hour before needing to buy a new one.
While this can be a bit of an inconvenience, it does have its perks. For example, you can actually interact with people when you are out as there are no cellular distractions. In addition, people have learned to honor plans and rock up on time to things because there's no readily available WhatsApp to let someone know that you are running late.
Insider tip: Make sure that you download a map to be accessed offline. This will help you navigate the city despite the lack of internet.

Language
Another rare commodity is the opportunity to communicate in any language other than their local Spanish. Being isolated from other countries for many years has prevented the locals from learning any other languages.
In the two weeks that we spent in Cuba, we only came across one English-speaker. It was on our last day in the country and he was our taxi driver to the airport – he had been studying English for six years!
So, brush up on your hand signals or do a crash course in Spanish. Either way, be prepared to adjust to Cuba's communication style.
Food
One of our biggest disappointments in Cuba was the quality of the food. Again, as a result of trade embargoes and reduced global connectivity, Cuba lacks diverse and flavorsome cuisine. In an effort to manage your expectations, be prepared for a lot of ham and cheese sandwiches.
With that being said, exploring Cuban cuisine is a necessity. There is a lot of fish, bread, and cheese to go around.
Insider tip: Pack a bottle of Tabasco sauce or chili if you wish to add a bit of fire to your meals. It can kick the very bland Cuban food up a notch.

Budget
One aspect of visiting Havana that shocked us a bit was the price of living. It is significantly more expensive to travel in Havana than we initially expected. This is because of Cuba's two- currency system.
The national currency, called the CUP or peso, is for locals, and locals only. The second currency is the CUC (or dollar) is used by everyone else. To put it in perspective, one CUC is equal to 25 CUP.
When planning your budget, keep in mind that you will be spending the dollar. This will make your cost of living in Cuba noticeably more expensive than that of the locals.
Top Things To Do In Havana
One thing is for certain, you will not be bored in Havana! There are so many things to see in Havana that you will go into stimulation overdrive!
The Malecόn
The Malecόn is a fun, free thing to do in Havana. It is a long esplanade-come seawall that stretches 8 km along the coast of Havana. However, the Malecόn is not your usual promenade. In addition to offering amazing views and capturing quite a relaxing atmosphere as the water's fluid motion is mimicked on the side walk, it also offers a wealth of fun opportunities.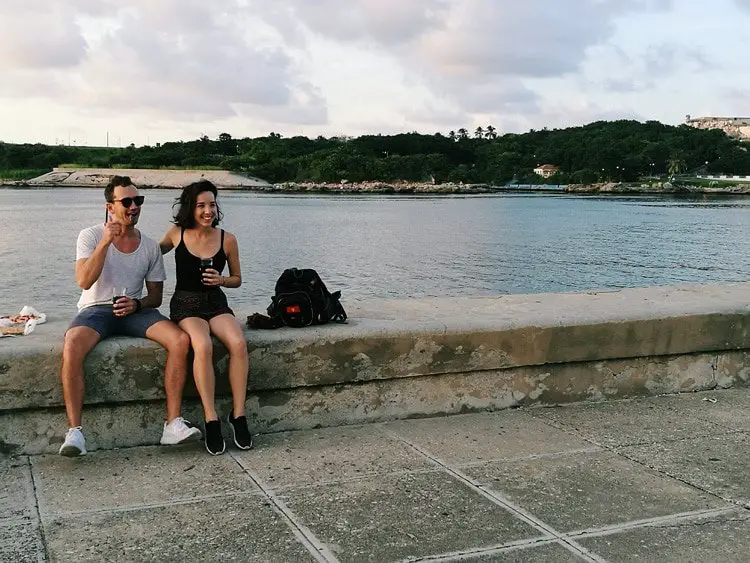 We visited the Malecόn several times, each experience offering a unique memory. One of the first times we went for a run along the ocean. Cuba is incredibly hot and our visit in August meant that we had to get up super early if we didn't want to die of heat on our trot. Luckily for us, jet lag worked in our favor and we managed a very beautiful run along the water's edge.
On another evening, we bought a Cuban cigar (a must-do in Havana), packed a couple of beers and sat on the Malecόn wall to watch the sun go down. It was really romantic and quite a special evening.
And finally, we soon learned that the Malecόn is party central for the locals. On weekends in Havana, you can stroll along the Malecόn in the evenings and pass countless little groups of people dancing to tinny music and drinking in jubilation. It is extremely festive and a great party spot. The atmosphere is friendly and ripe for a party!
There are a variety of ways to enjoy the Malecόn. Whichever way suits you, make sure you add it to your Havana itinerary because it is one of the best places to visit in Havana, Cuba.
Discover Architecture and History
Not even pictures can fully encapsulate the fascinating architecture and structure of Havana. On one hand, the city looks run-down and abandoned, with old vines creeping up on half-occupied buildings. Yet, on the other hand, the streets and buildings are filled with so much character that you can't help but be mesmerized. Visiting Havana truly is an unreal and out of this world experience!
One of the best things to do in Havana, Cuba, is to just explore the beautiful buildings, discover the captivating history and watch as the locals flow through the city streets. To be honest, every building looks like it holds an intriguing story, so it can be difficult to tell which are iconic and pivotal in the country's history, and which are not.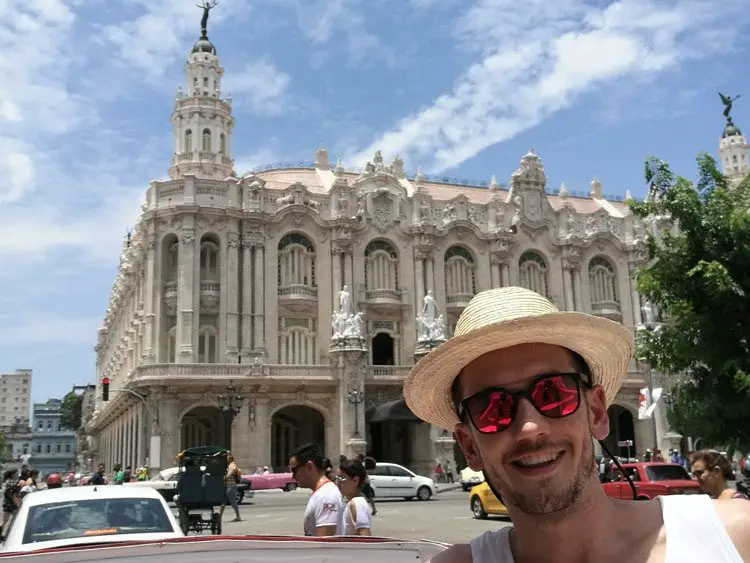 Our top three sights to tick off are:
El Capitolio
Castillo de la Fuerza
Plaza Vieja
We'd definitely recommend that you book a guided tour in Havana. It is definitely one of the best ways to experience the beautiful architecture and history of the city.
Learn About Fidel Castro
Arguably the most iconic figure in Cuban history is the face of the Cuban Revolution – Fidel Castro. His influence on the country's history and society is renowned and uncontested by any other.
When planning your trip to Havana, you simply have to make the effort to learn more about Fidel Castro. In addition to the countless tributes to him scattered throughout the city, there is also the Museo de la Revoluciόn which showcases Cuba's historical journey. Be advised that this museum is completely in Spanish, however, there are so many artifacts and demonstrations and it's well worth the visit.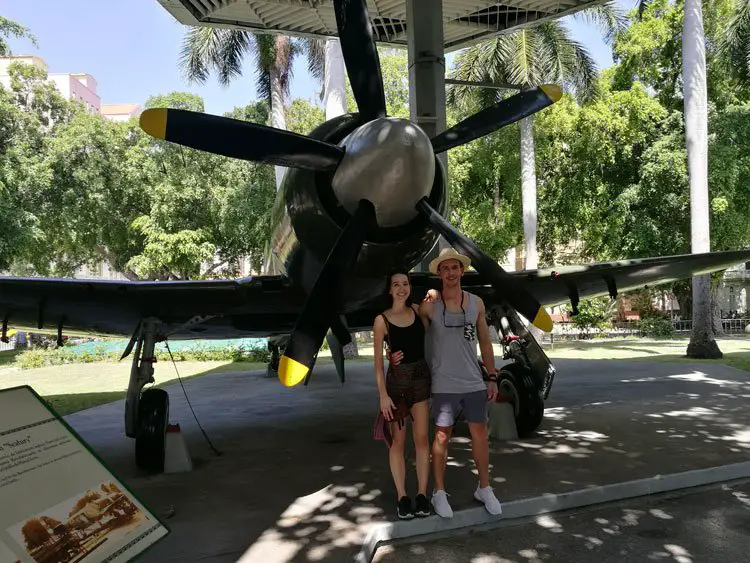 Insider tip: Look in the various stores for mementos of Fidel Castro – you won't have to look too hard – and pick up a souvenir of your time in Cuba!
Food and Drink
So while I mentioned that there's not too much to look forward to regarding the Cuban cuisine, you can't visit a country without diving deep into the flavors that they do offer.
With that being said, we have a few tips on how best to experience the Cuban food. Firstly, avoid the tourist traps, and there are loads of them in Old Havana. We walked past some of the very pushy touts trying to sell us overpriced, bland food and found a variety of local restaurants just around the corner. Here, the food was a fraction of the cost and significantly more authentic in taste.
The vibe is also a lot more laid back as you brush shoulders with the locals on a night out. We still only managed to order a sandwich – at least it was tuna this time – but the night was a huge success. We even made friends with a local couple who bought us beers with their cheaper CUC currency and spent the evening telling us stories in sign language. The scene from Fast and Furious 8 that was filmed in Havana was a hot topic of "discussion" (or should I say "reenactment").
There is one really special place that we would recommend you visit – Bodeguita del Medio. The local watering hole is known to be the home of the mojito and offers a memorable experience as you sip on the rum-inspired drinks with crowds that have poured out onto the cobblestone streets.
While we didn't necessarily have the most outstanding experience with the local food, we've heard wonderful things from other people. Our suggestion is to book a Cuban cooking experience or food tour and have a local guide you into the depths of their cuisine.
Adventure on Your Own
Havana has no shortage of epic tours and guided experiences, but one of the best ways to discover the city is to go off on your own.
We went on a few walks and runs through the city that brought us face-to-face with some incredible hidden gems. Without a doubt, our favorite spot that we discovered was an abandoned theme park that we, quite literally, ran into.
It was out of a movie! There were creeper vines hanging on the walls and decrepit buildings that boasted an untold, hidden history. These kinds of unique sights can only be discovered with a little bit of boldness.
Drive A Vintage Car
Finally, you have the most-photographed activity in Cuba – the vintage car! We were quite surprised to find that these cars were not posed in certain areas but scattered throughout the city as the main form of transport.
We booked a tour in a vintage car in Havana and it was one of the best things that we did!
The tour is well worth it – even if just for the photographs. However, the tour has a lot more to offer. The driver took us all around the city, stopping at key sights, and allowing us to hop out when we wished.
Without a doubt, this vintage car ride was one of the highlights of our Cuban experience!
Final Thoughts On What To Do In Havana, Cuba
Our time in Cuba was jarring, fascinating, intriguing, and most importantly, unforgettable. It was a huge culture shock, but not one that didn't come without its rewards.
If you have Cuba on your bucket list, make sure that you book your ticket soon! While the country has managed to hold out on being externally influenced up until this point, it's only a matter of time before it's integrity is infiltrated by the global market and increase in tourism.
Havana is one of the most interesting cities in the world, and we hope that our list of things to do in Havana helps shape your itinerary!