Imagine long stretches of tropical beaches, a vibrant and friendly local culture, and the most tantalizing food you've ever tasted – welcome to Oaxaca in Mexico! The incredible country holds a very special place in my heart, one that is deeply entrenched in years of childhood dreams. 
As a country, Mexico is steeped in fascinating history, an accolade that is celebrated in their lively modern culture. This is one of the first things that we noticed when we spent a weekend in Mexico City (from the comfort of our luxurious room in the Gran Ciudad de Mexico Hotel).
When planning our trip to Mexico, we thought long and hard about where we wanted to spend the majority of our time. We had three main criteria that helped shape our decision:

Coastal – so we can surf and enjoy the sun

Affordable – so that we didn't break the bank

"Local" – so that we could get as much an authentic experience as possible without falling into tourist traps
Oaxaca, a southern area in Mexico, ticked all of our boxes. They had kilometers of coveted beaches, a laid-back friendly atmosphere, and affordable accommodation options. 
Is It Safe To Travel In Mexico?
As far as safety goes, Oaxaca is one of the safest states in the country. As always, it is wise to take the necessary precautions when traveling to a new country. Make sure that you avoid certain areas after dark, keep your wits about you in busy areas, and don't be flashy with your belongings. 
A little bit of common sense can go a long way, and there is no need for the fear of safety to stop you from enjoying the phenomenal Mexican beaches. 
Discover The Oaxaca Coast
Arguably the biggest sell for visiting the southern Mexican state are the long stretches of beach that line its border. These coastal havens promise hours of fun in the sun – surfing the waves, sipping cocktails and mingling with the locals. 
Best Beaches In Oaxaca
We spent about two weeks in the area and fell deeply in love with its beauty. Here are our favorite beaches in Oaxaca. 
Zicatela
Found in the coastal city of Puerto Escondido, is the famed Zicatela beach. Zicatela stretches across a sandy expanse measuring up to three kilometers. The beach has also earned a notorious reputation as being the best surf spot in the whole of Mexico. The Punta is located on the southernmost point of the beach and offers a swell that only the bravest dare surf.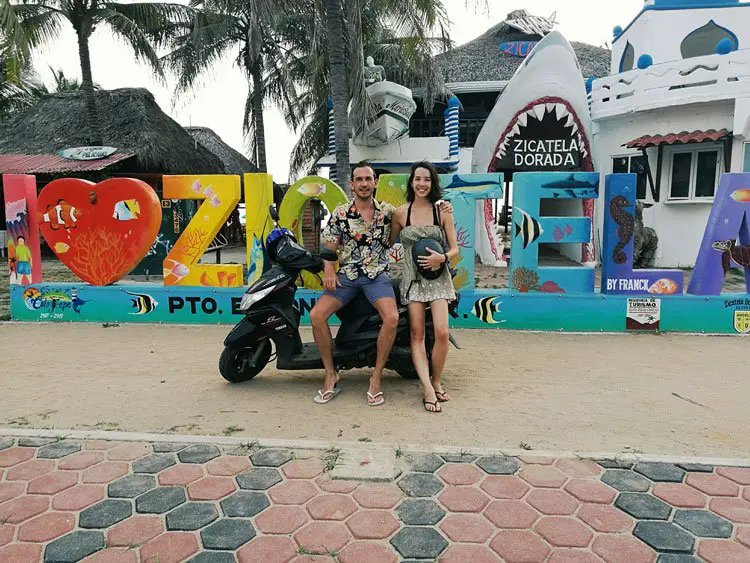 Ollie happened to be one of these brave surf warriors and picked up a dusty board which sparked his passion for riding waves. Up until then, Ollie hadn't been in the water for a while. Now it's safe to say, he hasn't let a weekend pass without getting in the water. The boisterous swell of Mexico's Zicatela is largely to blame for reigniting his passion. 
In addition to being one of the best surf spots in the country, Zicatela also offers a festive atmosphere. The long stretch of beach is speckled with groovy bars and restaurants that grant you the luxury of having your fill as the waves lap the sand. 
Our favorite spot was Palapita Bar which serves mouth-watering Pina Coladas. Make sure you visit during happy hour and watch the sun slip beyond the horizon. 
While in Puerto Escondido, we stayed at an amazing spot called La Playita. The owners were insanely friendly and just so happen to also be the owners of Palapita Bar!
Check out the rooms at La Playita here.
* Just to let you know that this article contains affiliate links. If you click on them we might receive a small commission, at no extra cost to you.
Carcavelos
A little ways away, but still in Puerto Escondido, is Carcavelos. The beach is loved as the ultimate surf spot for beginners. We rented a cheap scooter and rode to the parking spot which precedes a steep, descending staircase. 
The beach itself is a short, narrow strip of sand, with a deep dip created by hard-hitting shore break. There is a restaurant or two on the beach, but without much competition, the prices take advantage of the demand.  On a beautiful sunny day, there can be a bit of a struggle to find a spot to lay out your towel – especially during high tide – but we still had one of our favorite beach days here. 
There is also the opportunity to rent a surfboard and have a goof. In fact, Carcavelos is where I had my first surfing experience. The water is beautiful and warm, and the surrounding, leafy vegetation is quite magical. 
Zipolite
About 72 kilometers outside of Puerto Escondido is Zipolite. The beach is expansive, tropical and nothing short of heaven. We spent about four nights in a little wooden cabin that literally stepped out onto the shore. 
This little bit of paradise completely changed our world. There is very little to do in Zipolite other than relax, surf and drink tequila – and that's exactly what we did! The beach itself is known to be very popular among nudists and homosexuals, which made for quite a liberating atmosphere.
Many afternoons were spent reading in the hammock, surfing the break and strolling along the shore. Every evening we would take our pick of the many different bars. Alarmingly, there is also a fairly vibrant nightlife – considering the size of Zipolite. In fact, we had one of our best nights out in the sneaky little spot.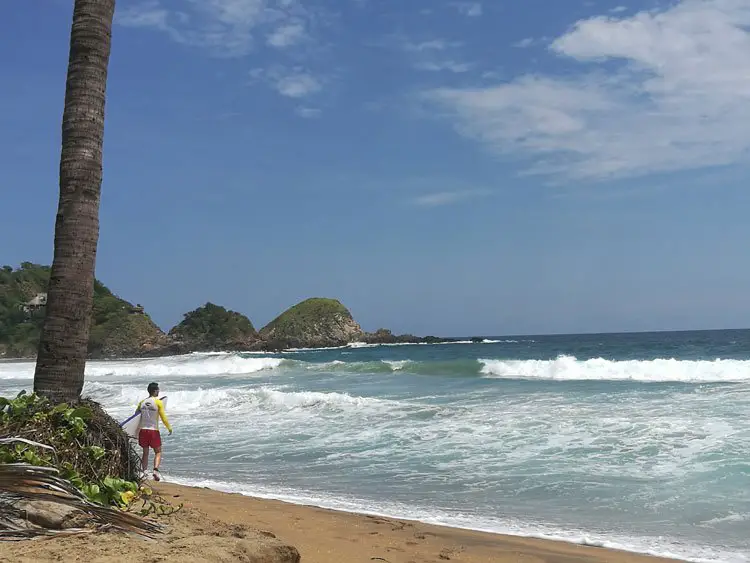 Cafe Maya was our little haven that opened up onto the beach and boasted a quaint little cafe. 
Check out the offerings of Cafe Maya here.
What's Your Favorite Oaxaca Beach?
While these are our three favorite beaches, Oaxaca boasts many, many more. There are countless Oaxaca beach resorts to choose from.
From luxurious hotels of grandeur to more affordable Airbnbs, one thing remains consistent throughout – the spectacular beaches of Oaxaca are your playground.