November is a fantastic month for surfing, teasing those of us in the southern hemisphere with whispers of summer and introducing powerful swell to those in the northern hemisphere. If you're looking for the best place to surf in November, then you'll be pleasantly surprised to discover an array of options.
Whether you're a beginner looking for a gentle beach break or an advanced surfer who loves to rip on the reef, there's a spot to enjoy. Here's our list of epic spots to surf in November for riders of all levels.
* Just to let you know that this article may contain affiliate links. If you click on them we might receive a small commission, at no extra cost to you.
November a touch too late? Read our suggestions on where to surf in October.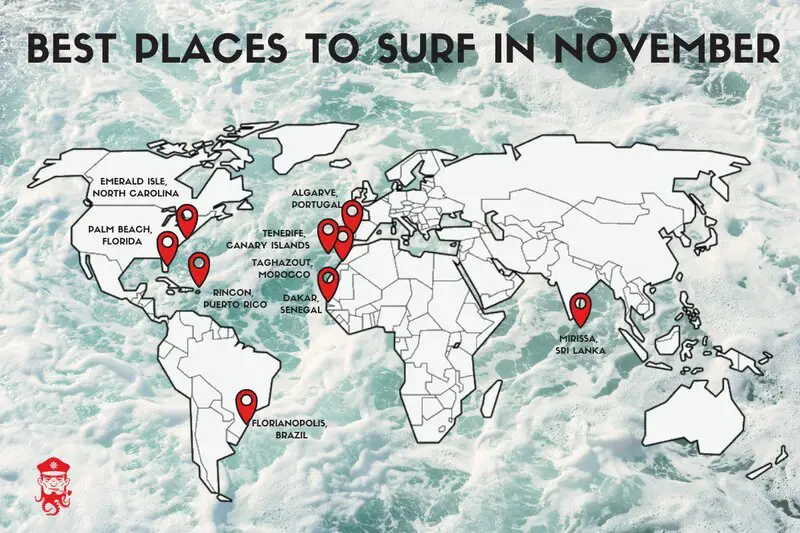 1.   Palm Beach, Florida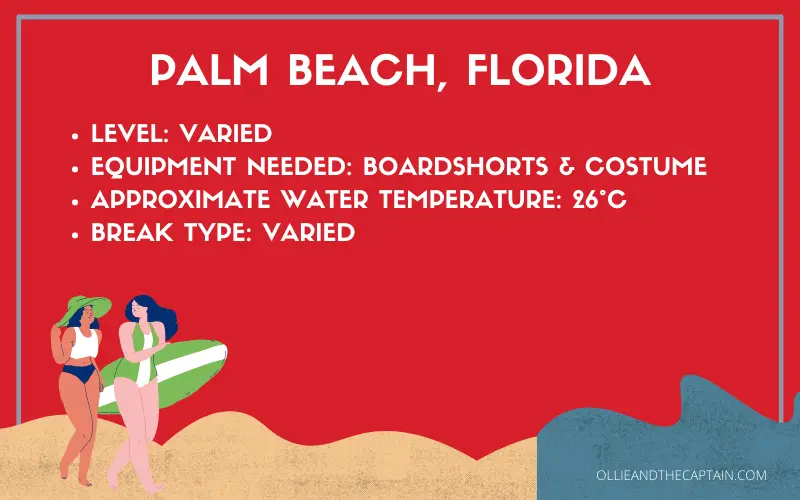 Florida offers some of the most consistent waves in the world, with a choice of reef break, beach break, and barrels to pick from. On certain days it works left, and on others, you're set for riding right. With Florida being a tropical favorite for storms, the sandbanks can shift quite dramatically which makes things quite exciting.
While Flagpole is the most popular surf spot in Palm Beach, there's also Reef Road, Sunrise, and Breakers. The waves can be enjoyed by most levels of surfer to some degree, but the localism at the best spots requires a little bit of confidence.
If you book a spot to stay that is close to these breaks then you can simply stroll down with your board under your arms in the mornings.
Book your place to stay in Palm Beach, Florida, here.
2.   Florianopolis, Brazil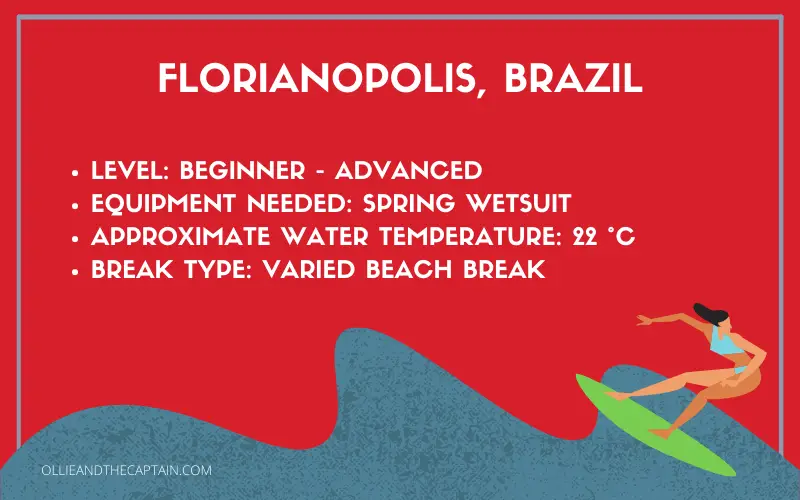 We visited Florianopolis and stayed in Campeche, attracted by the promise of good waves and a laid-back mood. Needless to say, there's a reason that Brazil's loved city of Floripa is a popular surf spot for wave riders around the world.
Read about our top things to do in Florianopolis, Brazil, here. Spoiler: it includes surfing!
With more than 42 beaches to choose from, there's a surf break for all levels of surfers. The small groundswell at Barra da Lagoa is perfect for beginners wanting to learn the sport, while Praia Mole steps it up a notch and provides a fun, exposed beach break. Advanced surfers will find their niche at Praia Joaquina which flaunts mostly left-hand beach breaks – with rips presenting an extra challenge.
Book a 7-day surf camp for all levels in Florianopolis, Brazil here.
Another great time to visit for surfing adventures is from early March to late May. The swell then subsides a bit and picks up again from late September to early November.
Book a place to stay in Florianopolis, Brazil, here.
3.   Mirissa, Sri Lanka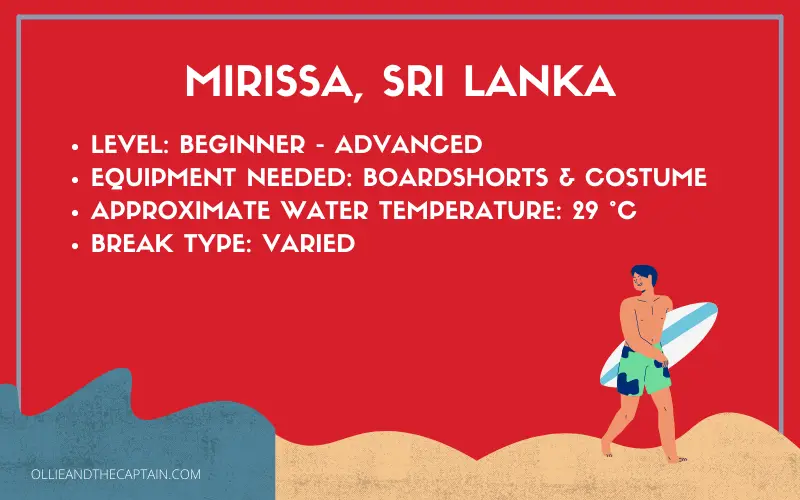 November is the start of the dry season in Mirissa, Sri Lanka, causing the swell to placate slightly after the heavy rains. Although cleaner, the waves don't compromise on size and you can expect large waves along the coast of Mirissa in November.
We mention that Mirissa can be surfed by all levels, although November is preferred for intermediate to advanced surfers due to the size of the waves. January becomes more friendly for newbies.
Book an 8-day private group yoga and surf camp in Mirissa, Sri Lanka, here.
Mirissa surf spots are mostly identifiable by the beach bars. You can expect fast reef breaks for intermediate to advanced surfers, so pack your reef booties for extra confidence.
Book your place to stay in Mirissa, Sri Lanka, here.
4.   Algarve, Portugal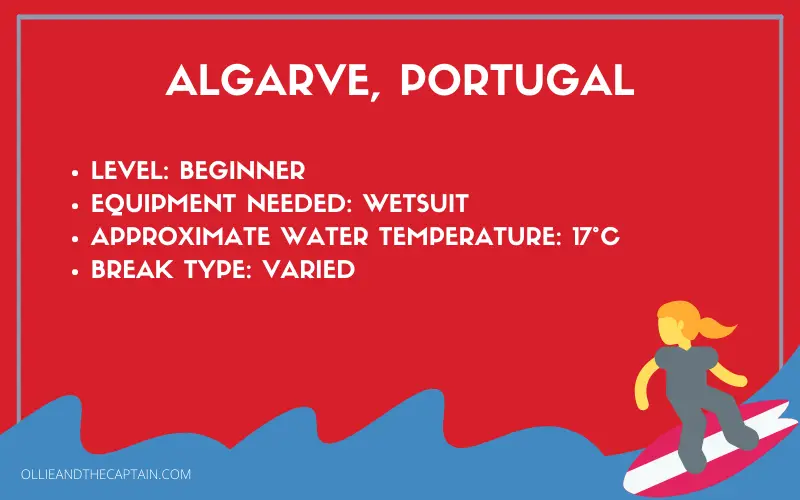 The Algarve is a spot that holds a lot of sentimental value in our lives. It was our first digital nomad destination and offered plenty of amazing surfing memories. Sagres, in particular, offers a break for all levels and adrenaline junkies.
Read our guide to surfing in Sagres here.
The Algarve is kind to beginners in November. While pros can certainly have a lot of fun, we have to give a shout-out to Arrifana which serves up a fun and sheltered beach break during November. The surrounding cliffs offer shelter from the wind, making the swell more consistent and playful.
Book a 6-day ultimate surf camp in Lagos, Algarve, here.
Be advised that the water in the Algarve can get chilly. While you can get away with a rashie and board shorts if you've got thick skin, you'll last a lot longer with a wetsuit.
Book your place to stay in the Algarve here.
5.   Tenerife, Canary Islands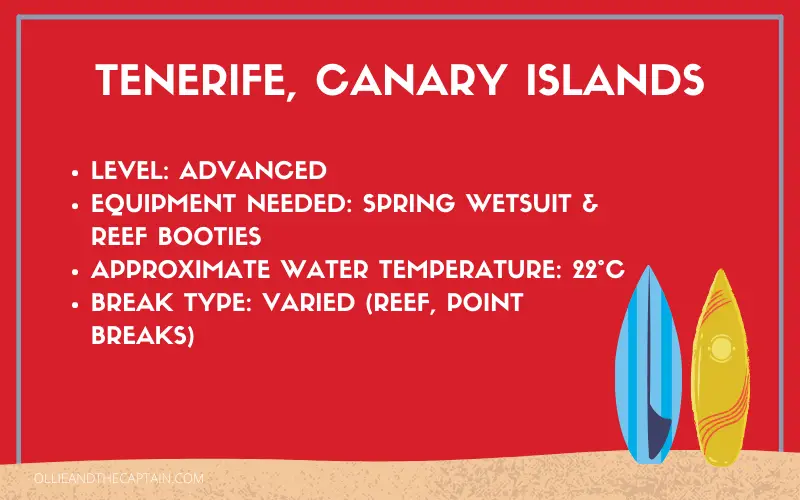 Tenerife has the perk of two incredible surf regions – one in the north and one in the south. Its popularity as a surfing destination has led to a wide choice of hotels and places to stay.
The north shore, in particular, gets the cross-Atlantic currents in the winter which highlights the shallow reefs as a favorite spot for experienced riders. The beaches in the north are the go-to for confident surfers as there are significantly fewer crowds and the waves offer spitting barrels and double overhead point breaks.
Book an 8-day surf camp in Tenerife, the Canary Islands here.
With this in mind, the south is also a great spot to go – for beginners and pros alike. It can be a lot more crowded, with localism a reality, but there's still fun to be had.
Book your place to stay in Tenerife, Canary Islands, here.
6.   Rincon, Puerto Rico
In many ways, Rincon is revered as the surfing haven of the Caribbean as it serves powerful waves and provides surreal barrels. Rincon is mostly reserved for intermediate to advanced surfers because of the force of the waves breaking on the reef, but there are a few beach break spots for beginners too.
Book your place to stay in Rincon, Puerto Rico, here.
Some of the best spots to visit are Playa Aviones which has swell for all levels that break over a forgiving reef, Middles is best for intermediate surfers, and gas chambers is a more dangerous spot for pros only.
The hurricane season ends in November so keep that in mind when booking your trip. Another factor to consider is the risk of localism – which can be a reality in most popular spots around the world.
Find out about four notorious surfing localism spots here.
7.   Taghazout, Morocco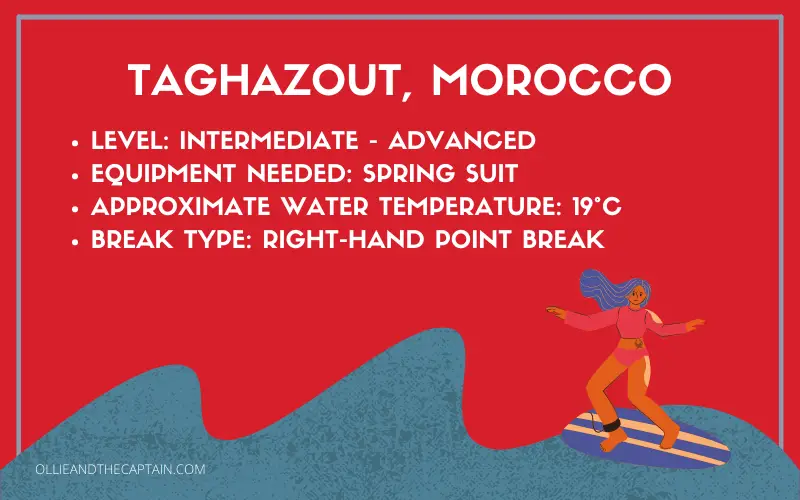 Morocco is a fascinating country to visit, and the surf in Taghazout adds another dimension to the vibrant experience. There's a choice of various breaks to choose from, suitable for all levels. However, Taghazout is best known for its rippable right-hand point breaks.
Traveling through Morocco? Read our guide to touring Marrakech here.
November is the start of the peak surfing season in Morocco as it starts to receive the powerful winter swell from the North Atlantic. On some days, you can expect waves reaching 12 feet, so pack your big-boy booties!
Book your 6-day surf and yoga holiday in Taghazout, Morocco, here.
If you're visiting as a pro, then Killer Point, Anchor Point, and Boilers will entertain you for the entire trip. If you're more on the beginner-end of the spectrum, then you'll probably find Banana Point and La Source more to your liking.
Book your place to stay in Taghazout, Morocco, here.
8.   Dakar, Senegal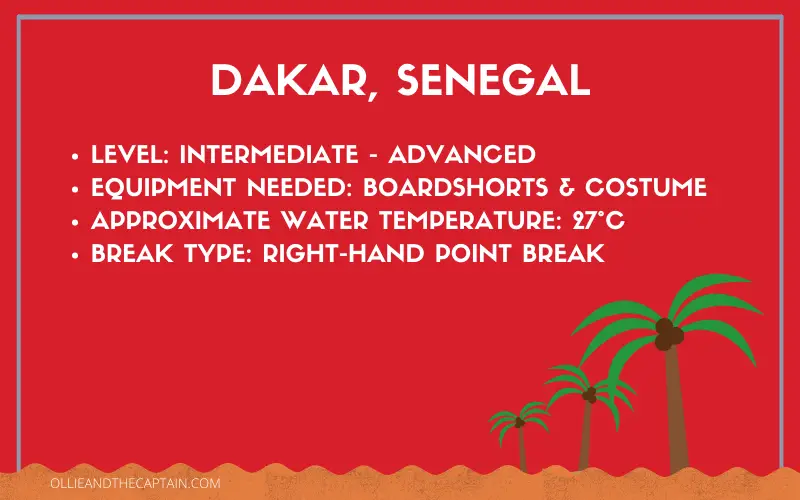 The Western African city of Dakar is the gift that keeps on giving, especially if you're a surfer. There's a choice of quality spots that are easy to access and enjoy. The low cost of living also makes it an affordable destination for surfers traveling on a budget.
Book a 7-day inclusive surf camp in Dakar, Senegal, here.
From November, the winter swells start to arrive from the north and continue to pump until March. The most popular spot in Dakar is undoubtedly the right-hand point break at N'gor Beach. The best part is that there are seldom crowds in the water, leaving more waves for those in the break!
Book your place to stay in Dakar, Senegal, here.
9.   Emerald Isle, North Carolina
According to an experienced local surfer, Mike Crews, the best time to paddle out in Emerald Ilse is from August to December – with November falling neatly in the middle. The best spot is by the Bogue Inlet Pier, but some experience in the water is needed to navigate the waters around the area.
Although the pier-adjacent waves are the most popular, there are several public spots that are just as fun – with parking spaces, bathrooms, and outdoor showers readily available.
Book your place to stay in Emerald Isle, North Carolina here.
Conclusion
These are just a few of the incredible surf spots to enjoy around the world in November. Whether you're a beginner looking to start your surfing journey, or a pro looking for the next challenge, there's a special spot for you.
Do you have any other surf destinations to add? We'd love to add them to our list! Feel free to send us a DM on Instagram and give us a head's up.
Read More
Looking for places to surf at other times of the year? Read more here…