They say that people who visit Bali get sucked in and find it difficult to leave. We've experienced this first-hand. There are so many incredible things to do around the island and just when you think you've seen it all – something new pops up. As you build your Bali itinerary, make sure that you add a Mount Batur sunrise trek high up on the list, because it's an experience that you don't want to miss. 
The two of us are adventure junkies and have done some pretty extreme hikes in Cape Town. When we heard about the opportunity to trek to the top of a steaming volcano in Bali, we jumped at the opportunity. 
The Mt. Batur sunrise hike proved to be one of the most incredible experiences we've had to date. If breathtaking views, a bit of an endorphin high and an enriching experience is up your alley, then make sure you read this post first – you'll thank us later.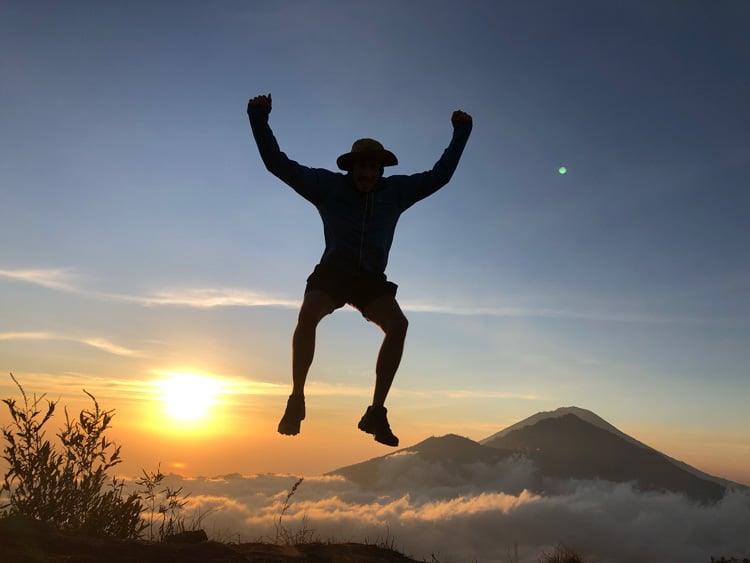 What & Where Is Mt. Batur?
Indonesia has more volcanoes than any other country in the world, and Mount Batur is one of two active volcanoes in Bali. The hike to the top rewards travelers with incredible views into the steaming crater and the beautiful waters of Lake Batur (after the ceiling of clouds lift). 
Mount Batur's height reaches an impressive 1717 meters. Although still active, the last major eruption occurred in 1963. As a result, a certified local guide is essential if you want to climb the volcano. Our advice is to organize a day trip to the north-eastern part of the island. Here are some tours that come highly recommended:
* Just to let you know that this article contains affiliate links. If you click on them we might receive a small commission, at no extra cost to you.
When To Go On A Mt. Batur Hike
Without a doubt, the best time to hike the volcano is at sunrise. Or should we say, you reach the top in time for the sunrise. A Mount Batur sunrise trek is an outstanding experience and one that is incredibly difficult to explain unless you see the magic for yourself.
It's best to head off on the Mt. Batur trek during the dry season (which runs from May through to September). During the rainy season, the route becomes slippery and the cloud cover can ruin the (unreal) view.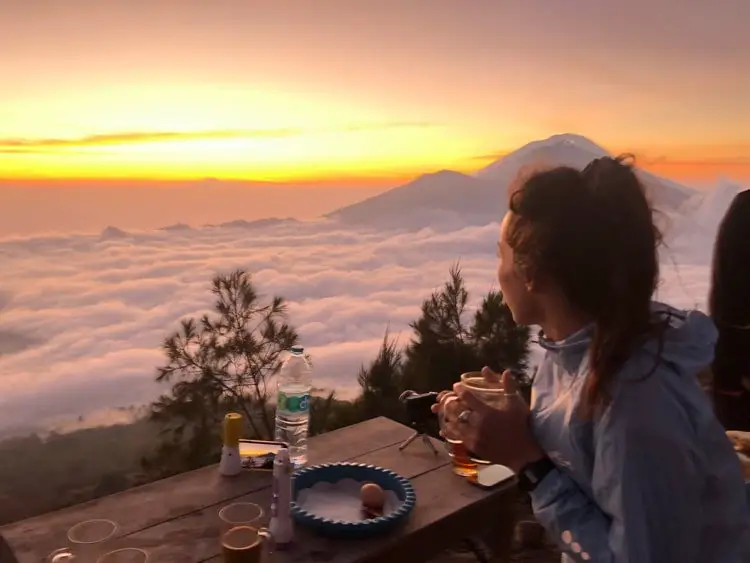 Prepare For Your Mount Batur Hike
This part is really important, and we wish that we had someone to tell us some of these top tips before heading off on the adventure ourselves. Before you book your ticket, take note of the following. 
The pick-up time is (bleeping) early.

The hike to the top is estimated to be about two hours. This means that to make it to the top in time for sunrise you have to start hiking two hours before. Depending on where your base on the island is, you may need to drive at least an hour or two to get to the base. We were picked up at 1:15 am by our tour guide – and this was a pretty normal time. However, this didn't make it any easier to roll out of bed. 

Dress appropriately.

The route is very dusty and can be quite unstable on the way up and down. If you can, wear proper hiking (or trail running) shoes with a decent grip. The alternative is to slip and slide your way to the bottom. In addition, make sure that you wear long pants and dress in layers. The top of the volcano is icy before the sun comes up.

Fuel your body.

Even though it's a really early wake-up call, try to give your body a little bit of fuel before you hit the trail. Whether you snack a banana, a yogurt or a hamburger, a little bit of energy goes a long way.

The top of the volcano is freezing in the morning.

We can not stress this enough. Wear long pants. Pack an extra jacket. Bring cash for a blanket. Knowing how hot Bali can get, this may sound like crazy advice, but trust us on this one. Waiting for the sun to come up can be a painful experience if you're unprepared. 

The Mount Batur difficulty level is moderate.

While you don't need to be an athlete to make it to the top, there are some sections that are steep and require a little bit of effort. If you're looking for a walk in the park, then this experience may not be for you. 

And on that note – don't push through.

Our pick up was at 1:15 am and we played with the idea of going out the night before and pushing through to the hike (rather than going to bed). We are SO glad that we decided against that and tucked ourselves in at 10 pm instead. Climbing Mount Batur with a beer-brain is not something that we advise.

Cash is king. If you want to stay warm by buying an extra coffee or renting a blanket at the top of the volcano then make sure that you pack cash. This may seem like a no-brainer (imagine card machines at the top of a volcano) but at least we can say we've warned you.
The Ultimate Mt. Batur Sunrise Hike Experience
The best way to enjoy a Mount Batur hike is with a local guide. We booked an epic Mount Batur sunrise trek and enjoyed every moment (except for the early morning). Arguably the most epic part of the experience is that it included a diverse itinerary. 
Most of the treks include additional stops for a more inclusive experience. Ours involved a hike up the volcano, a tour of a coffee plantation and a stop at the Tegalalang Rice Terraces. 
The Early Morning
When the alarm clock went off at 1 am, we were far from excited. Auto-pilot kicked in and we rolled into our exercise gear and stumbled outside just in time for our early morning pick up. 
By 1:20 am, we were in the car and back on the snooze train. When we woke up two hours later, we were at the base of the mountain and desperate for a coffee. 
It goes without saying that if you book the sunrise hike, you'll have to start early in the morning. It's up to you as to whether you want to stay awake through the night or catch some shut-eye, but we'd highly recommend that you get some rest first. Even though the hike itself isn't that hectic, the early morning is!

Climbing Mount Batur
We were met by our guide at 3:30 am and headed off into the dark. The local guides are great, familiar with the route and incredibly friendly. We were each handed a flashlight and a water bottle and made small talk with our guide until our minds were awake enough to hold a proper conversation. 
Halfway up, we got to a fork and had a choice of choosing the "hard route" or the "easy route". Both routes take the same amount of time, but the one is a little bit steeper than the other. We chose the easy way up but the hard way down – both are manageable for anyone with moderate fitness. 
The walk to the top is in the dark, but the reward at the summit is so worth it. For those that don't fancy increasing their heart rate, there are off-road scramblers that can zoot you to the top for an extra fee. 
View From The Top
Once at the top, you're met with a glorious view. Even in the faint darkness, the shape of Mount Agung can be seen in the distance. We powered up to the top which meant that we had to endure the cold that much longer.
The cold at the top is a real thing. Very real.
As the sky lightened, we were met with the most amazing view. A blanket of clouds hovered below us and the stars slowly started fading away, being replaced by the rising sun. We were served a (rather interesting) breakfast of a banana sandwich, boiled egg, chocolate and cup of coffee. 
Once the sun was up, we got a tour of the crater, stood in the steam that is still being exuded by the volcano, and got a history lesson on the volcanic activity. Those moments at the top of the mountain were some of the most breathtaking that I've ever experienced. 
Running Down 
When it was time to make our way to the bottom, we decided to accept the challenge of the "hard route". We are always looking for ways to push our boundaries, like the time that we decided to hike Christ the Redeemer in Rio rather than take the tram like a normal person.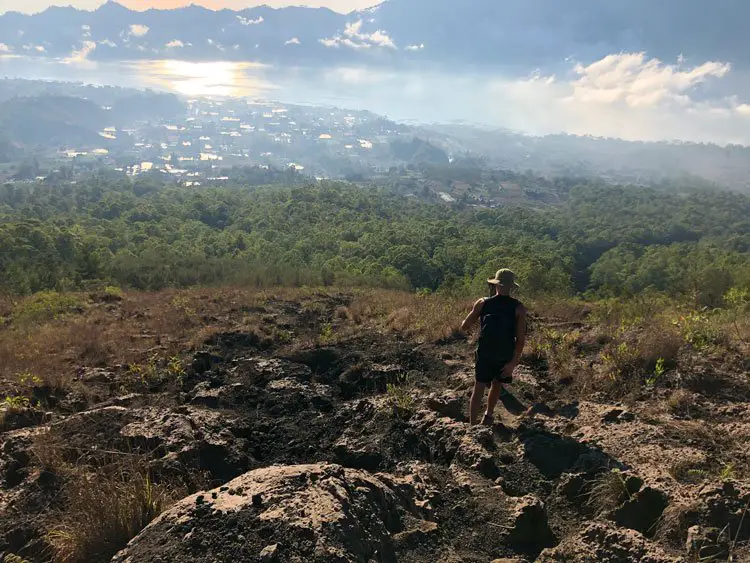 So, we decided to run down the "hard route". I'm telling you this so that you know it's an option. However, be advised that unless you're a mountain goat, like Ollie and our guide, this can be a rather amusing experience. The ground is slippery and I nearly saw my butt a good couple of times.  
By the time we got to the bottom, our adrenaline was pumping and our bodies were overheating. This was a stark contrast to the freezing cold that we had felt only moments before on the top of the volcano. 
We got into the car, downed a liter of water, and got ready for the next stop.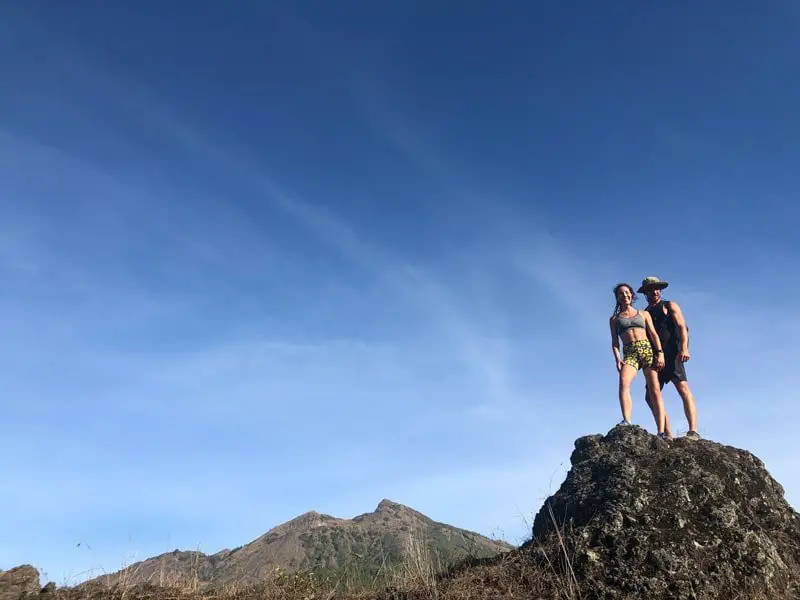 Coffee Plantation
The coffee plantation was really fun and educational. Walking through the grounds, we were taught all about various plants including spices, herbs and, of course, coffee beans. 
We were shown the delicate process of making Kopi Luwak (civet coffee), which currently happens to be clouded in controversy, before being escorted to a seat with a beautiful jungle view. Here, we sat and were served tastings of eight different coffees and eight different teas. 
From mixed spice tea to avocado coffee, we sipped and licked our lips until we had picked our favorite.
Tegalalang Rice Terraces
The Tegalalang rice terraces in Ubud are iconic images of Bali. Those lush green steps that so many beautiful influencers photograph actually exist. These rice terraces were the third and final stop on our Mt. Batur itinerary. 
By now, the day had heated up a lot (Bali is very hot) and our weariness had kicked in. However, the rolling terraces are something truly magnificent to marvel at. We trotted down and took a few pictures, taking in the beauty of their structure, before hopping in the cab and making our way home.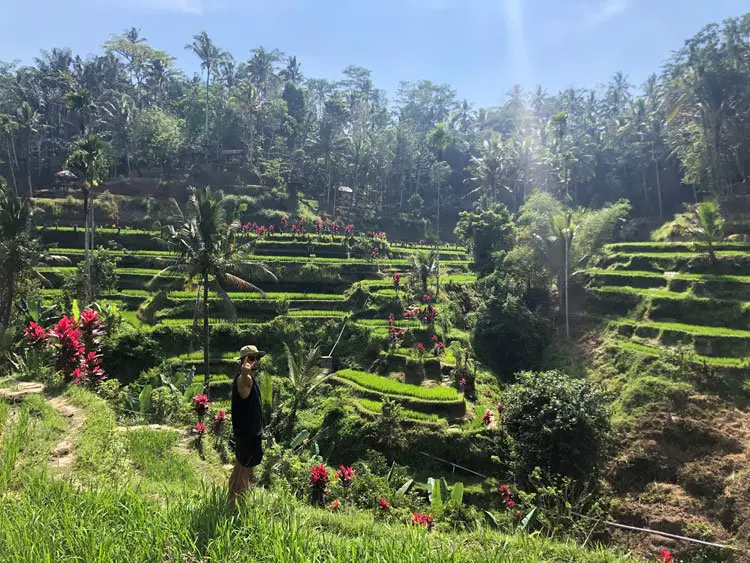 Arriving Home
One of the best parts of the whole experience is that we arrived home in time for breakfast special at our EPIC accommodation (Camp 208, Canggu). It was 11 in the morning and we had traveled to the other side of Bali, hiked a volcano, toured a coffee plantation and visited one of the most iconic rice terraces in Bali. 
Final Thoughts On Mount Batur Trekking Experience
We're big fans of adventure and the outdoors. If you look at any of our top experiences in the various countries that we've visited, such as our best things to do in Florianopolis, you'll be sure to find at least one active and adrenaline-filled activity. 
But with all of the cool things that we've done, and beautiful things that we've seen, very little can compare the magnificent beauty at the top of Mount Batur at sunrise. Book yourself a tour and set three alarms – this is an unparalleled experience!