South Africa and safari go hand-in-hand. As South Africans, we've enjoyed moments in the bush, watching the wildlife go about their daily business (and most likely roll their eyes in amusement at our gawking facial expressions). However, chances are that if you're new to safari, then you may be wondering what exactly to expect from a South African safari – and we're here to tell you.
Funnily enough, Ollie has spent a few nights in the bush but I've only gone on safari day trips. This past December, I had my first overnight safari experience. Together with Ollie's family, we spent four incredible days at Madikwe Game Reserve. Here, we saw sights that would eternally blow my mind.
I asked the others if these fantastic sightings were standard when you spend four days in the bush and I received a very cryptic answer. They said that every South African safari is unique and special in its own way. There's no way to anticipate what you'll see – only that you'll have an unforgettable time.
With this in mind, there are a few things that can help prepare you for your safari – and here they are.
Warning: this post has an image that may unsettle sensitive readers
South African Safari At A Glance
If you want a quick South Africa safari cheat sheet, then here it is.
You can go on safari in destinations throughout South Africa, but try to book during the dry season.
Stand a chance to see the famed 'Big Five' in action.
There is very little cell phone reception when on safari – so turn on your "out of office".
Safari experiences can be customized to fit all sorts of budgets – from a big group of backpackers to an intimate luxury 5-star experience.
If you can, try to book a guided tour as the chance of catching crazy sightings are significantly higher.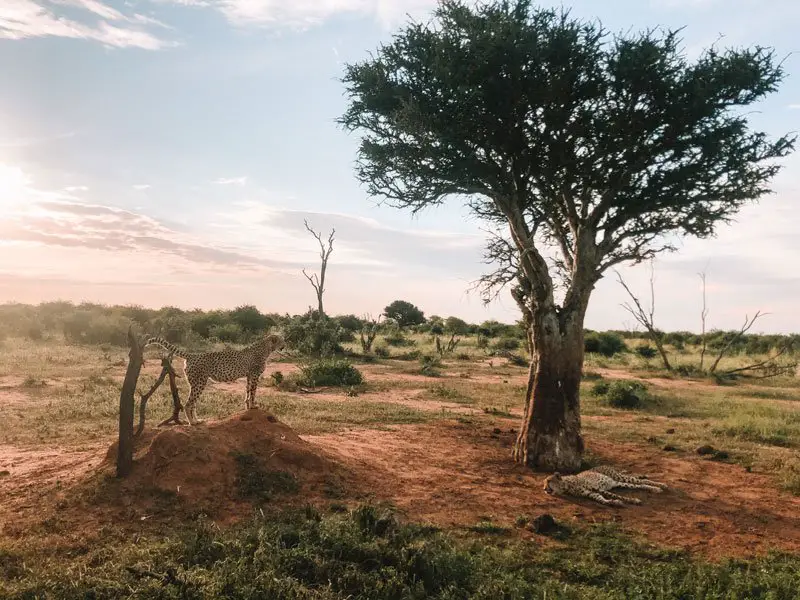 Self-Drive Safari Vs. Guided Tour
When you go on safari, you'll have two main options. The first is to drive your own vehicle and enjoy a self-drive safari. The second is a guided experience where you hop on a game vehicle with 2 to 10 people.
With both options, you can choose a self-catering or fully-serviced lodge to come back to at the end of each day.
We strongly recommend the latter because the guides are able to share their expertise and knowledge, massively boosting the experience. Another major perk about having a guide is that they are often connected to the other drivers with a radio. Half of the sightings that we saw is because the network of rangers shared golden nuggets of information with each other, and subsequently with us.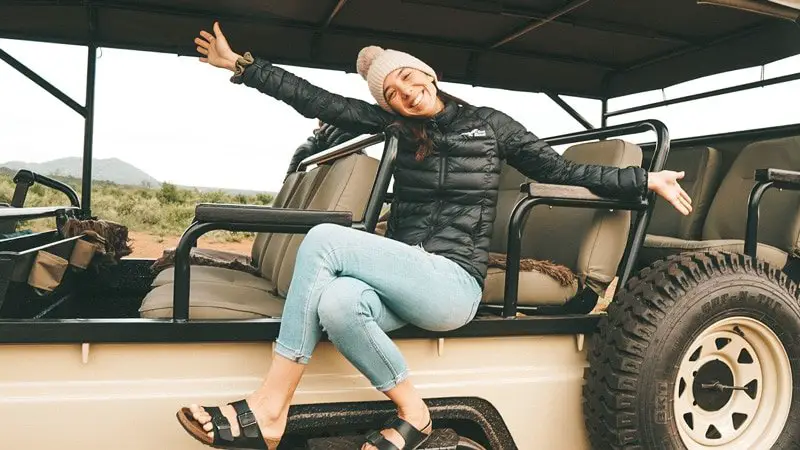 If you do opt for the lodge route with a guide (or ranger) then it's important to note that a gratuity is expected. Each lodge has its own guidelines for how much this should be, and they will share it with you beforehand. This gratuity is typically split between the guide, the tracker (if there is one) and any cleaning staff that help on the grounds and in the lodge.
* Just to let you know that this article contains affiliate links. If you click on them we might receive a small commission, at no extra cost to you.
Where To Go On Safari, South Africa
One of the beauties of South Africa is that there are a couple of great areas to go on safari. With this in mind, there are two main areas that are the most popular (in our opinion). The one is coastal, and the other is inland.
Of course, there are plenty of other reserves scattered throughout the country, each offering a uniquely South African experience.
We went on a floral safari in Grootbos Private Nature Reserve – and it was out of this world!
Kruger National Park (And Surrounds)
When thinking about a safari in South Africa, the Kruger National Park and its surroundings are many people's first thoughts – and there's a reason for this! There's no better place to see wild animals, incredible sightings and indulge your eyes in the breathtaking African landscape.
Pros:
With large, unfenced reserves, Kruger sightings are considered unparalleled
Kruger is considered the "home of safari" in South Africa
There are plenty of lodges to choose from, all adding to the vast, wild experience
Cons:
Some of the reserves may be difficult to access, and a bit more expensive as a result
Many areas in the region are considered malaria-risk zones

Garden Route
The coastal area that stretches from Cape Town to the Eastern Cape is full of beautiful reserves just waiting to be explored. From Addo Elephant Park to Garden Route Game Lodge, there are countless conservation reserves teeming with wildlife.
Pros:
As the area is coastal, you can enjoy marine safari as well
The Garden Route is one of the safer areas in South Africa
Traveling through the area is easy with well-maintained roads
A great addition to a Cape Town and Garden Route travel itinerary
The area is malaria-free
Cons:
The Garden Route can be slightly pricier than the rest of the country
The wet season runs during winter
The game sightings are rumored to be less diverse and wild as Kruger (as the reserves are smaller)
Regardless of where you choose to go, it's important to do your research. Some safari areas in South Africa are in malaria zones. It's a smart idea to do a bit of research before booking your experience – so take any required medication and pack your insect repellant!

When To Go On Safari In South Africa
The best time to go on safari in South Africa is normally in the drier seasons as the bush is less dense, making it easier to see the animals. The dry season differs depending on where you want to go on safari as South African climate changes depending on which part of the country you are visiting.
Normally, South African safaris in the Kruger are best in winter. So, if you're planning your trip to South Africa in June and July, then the Kruger is the best area to go.
If you plan on visiting South Africa in November, then the Garden Route is a better option as its dry season runs during the summer (October until April).
With this being said, South Africa is abundant in wildlife and birdlife, so you're in for a treat throughout the year.
What To Expect
I've already mentioned that a lot of the sightings and experiences are unpredictable. But with that being said, there are still a few routine-based parts of the experience that you can expect.
What Will You Do?
A typical day on safari will include two game drives. One in the morning, and one in the evening. These are the best times to be out in the bush because the animals are either waking up or finishing off their day. Most animals try to avoid the heat of the day and use these burning hours to catch a nap or keep cool in the dense bush.
Your morning safari will begin very early – around sunrise. In the winter, the sun rises a little bit later, but in the summer, this can be as early as 5 am. You may be tempted to roll over, hit the snooze button and burrow back into your pillow – but don't! After every morning game drive, we returned back to the lodge, chattering away about the incredible sights we had seen. Besides, the early morning coffee and biscuit break make it well worth it.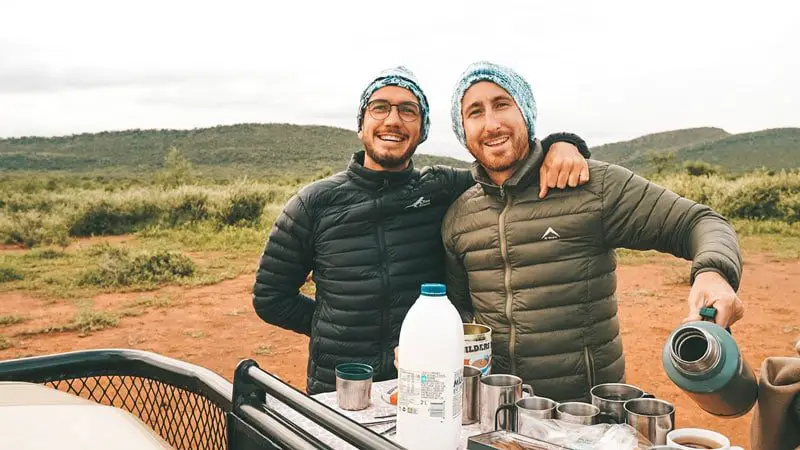 The evening safari is timed around sunset. Expect to pack your cooler box with your adult drink of choice and drive around in search of something spectacular.
Each game drive is about two to three hours in length, with bush toilet breaks included. In between these safari drive adventures, you can expect to kick it by your lodge and take in the beautiful, relaxing surroundings. Needless to say, pack your swimming costumes, board games, and books – because there is a lot of chill time to enjoy.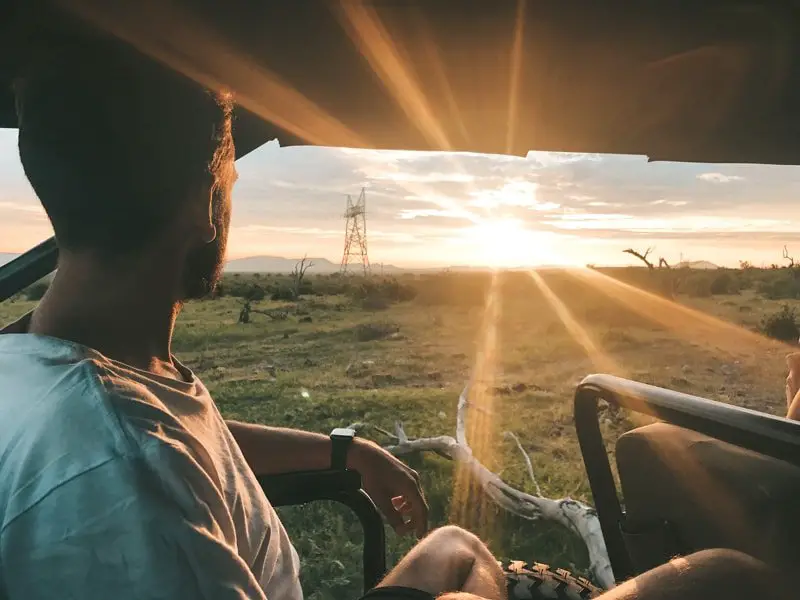 What Will You See?
While on the game drive, you can expect to see so many amazing animals. What we recommend is that you go to a place that is home to the Big Five (rhino, lion, buffalo, elephant, and leopard).
There are also plenty of birds – so pack your bird book, binoculars and any other bird-identification gadgets that you may have.
In addition to these iconic wild animals, you can expect to see various types of antelope, zebras, giraffes, wildebeest, wild dog and much, much more.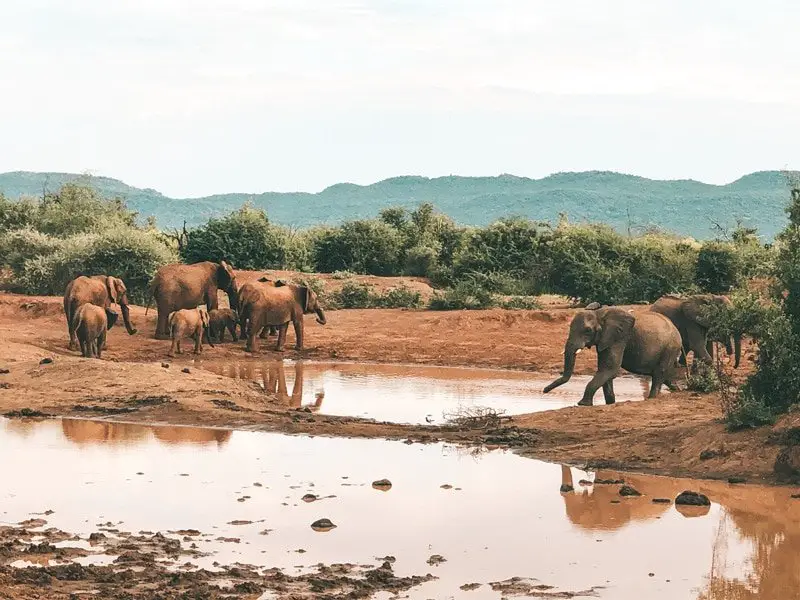 Our highlights
But it's not just the types of animals that you'll see, but also what they are doing. For example, on our trip, we saw two cheetah rubbing faces before one of them got up and urinated directly on one of the surrounding game vehicles. We witnessed a baby wildebeest take one of its first steps, a hyena cleaning out a giraffe carcass and a pack of wild dog pups chasing an adult to make it throw up.
It's wild out there!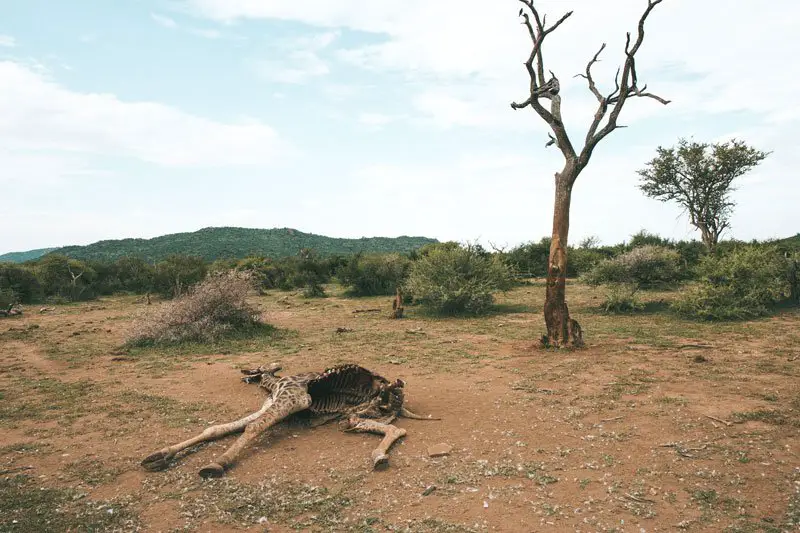 And if you're as lucky as we were, your lodge will have a great viewpoint of the bush. This means that you can expect some fantastic sightings without even leaving the lodge. I'll admit, when a herd of elephants sauntered up to the watering hole with a newly born baby in tow, we were even tempted to skip the game drive and watch the giant mammals instead.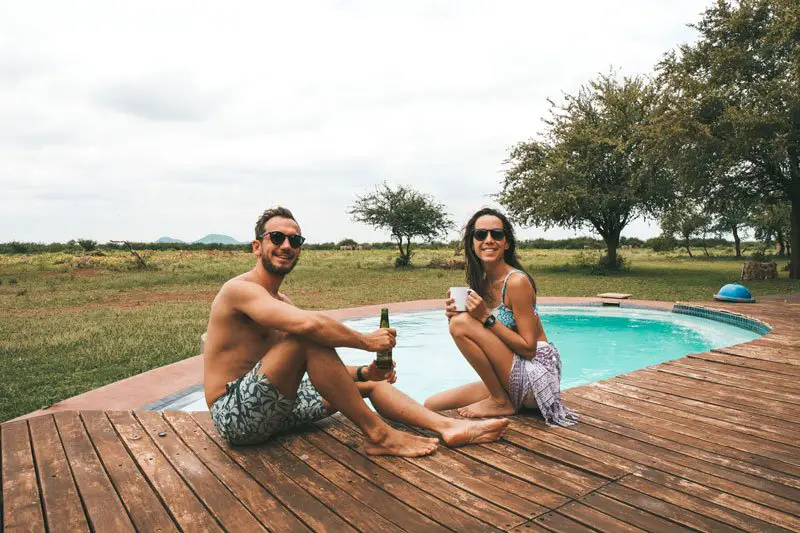 What To Pack and Wear For Safari In South Africa
In the summer, the days can get really hot – in a sweltering, there's a waterfall coming down my arm kind of way. In addition to packing your costume for cooling off in the pool, I highly recommend that you pack sun-protective gear such as;
Sunblock
Hats
Sunglasses
After sun
In the same way that it can get really hot in summer, it can get very cold in winter. Although the days do tend to warm up as they go on so keep this in mind. To combat this difference in temperature, I recommend wearing layers. The vehicles are open-top and the fresh morning air can get quite icy. So, pack beanies, jackets, jerseys and layered tops.
Pack clothes that are neutral in color so that you don't stand out like a sore thumb in the bush. As you spend a lot of time outdoors, I'd also suggest that you choose lightweight clothing that covers and protects your skin.
Make the most of your experience by packing your camera, a tripod (if you have), a pair of binoculars and an extra battery. We used our Sony a6500 and got the most fantastic shots. We made these pics even better by applying our lightroom presets which are currently on sale.
As an added bonus, I'd highly recommend that you pack a bottle of Amarula, our self-claimed official drink on safari.
Final Thoughts
Safari in South Africa promises to be a truly unforgettable experience. There's nothing like having to share the attention of your loved ones with a lazy lion and bathing elephant. Your early mornings on the back of a game vehicle and relaxing afternoons by the pool with a gin and tonic will stick with you forever.
There is something truly special about a safari trip, and South Africa will not let you down. I hope that this basic guide has shared some insight on how to best prepare to enjoy a variety of South African wildlife and landscapes.