As a South African visiting South Korea for the first time, I experienced a serious culture shock! There are so many cultural, culinary and traditional differences to enjoy, and it completely blew our minds. To help guide you on the best things to do in Seoul, Korea, and how to get around, we thought we would share our experience with you. 
We've broken down this basic guide into five basic sections:
Where to stay in Seoul

How to get around Seoul

When to visit Korea

Top 15 Things to do

Surprising South Korean facts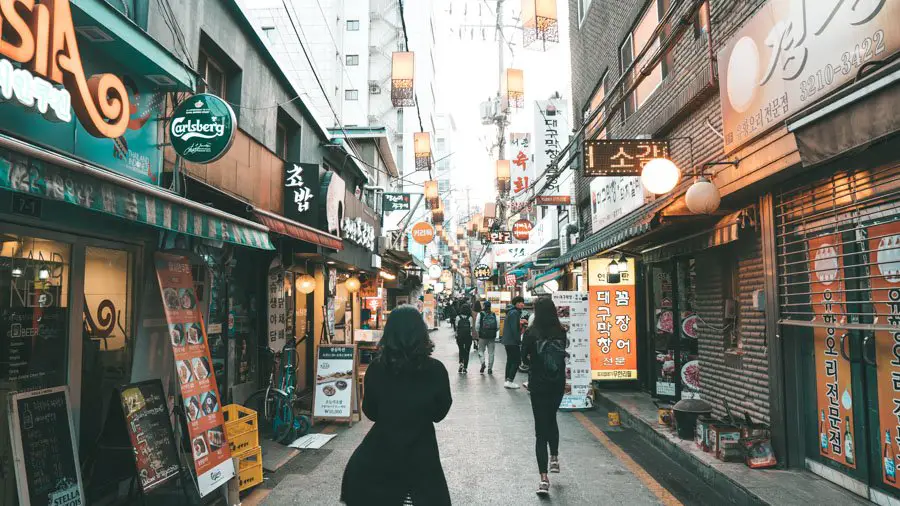 Watch our Seoul VLOG here
Where To Stay In Seoul
Seoul is a big city, and finding the right place to stay can mean the difference between a good trip and a great trip.
So, we have made choosing the best place to stay easy for you.
Each of the red and yellow areas is normally the most trendy and mostly geared towards tourists (as there are many tourist attractions within these areas). When visiting Seoul, staying close is recommended. 
We would strongly suggest that the best place to stay in Seoul is Mapo-gu (I have circled it in the image above). This is an especially great area if you are visiting Seoul as a digital nomad.  
Mapo-gu is close to enough shops, themed cafes, bars and nightlife to keep you entertained for weeks. Check out some awesome deals in The Mapo-gu area below:
* Just to let you know that this article contains affiliate links. If you click on them we might receive a small commission, at no extra cost to you.
Other popular areas include:
Hongdae

– a buzzing student area with a pumping nightlife

Gangnam

– a high-end, pricier area in Seoul

Itaewon

– a trendy area with a rich global influence

How To Get Around Seoul – Transport And A Local Sim Card
Once you've landed in Seoul, you'll need to set yourself up to travel and communicate freely. These tips can help you do so effectively.
How To Get A South Korean Sim Card
The first thing you need to do is buy a sim card. You can get one for 40 USD which gives you unlimited access to super-fast mobile data all over the city. There are various data plans at kiosks in the airport as you exit departure. All of them are priced rather similarly. 
My favorite thing about Korean sim cards is that they also connect you to high-speed wifi whilst in the underground train system and on buses. 
Ahhhh the first world.

Public Transport
The public transport system in Seoul is probably one of the best in the world. So, soon as you land you should buy a T-Money transport card too. This will give you access to all the trains and buses. 
If you purchased a sim card first, the card that the sim came in might be a T-Money card. So check this first before you buy another one. Otherwise, you can buy these cards at kiosks all over the city.
You can put money on your T-Money card in any of the subway stations and most kiosks. 
Just make sure you have cash with you as the machine doesn't accept credit cards.

Which Maps To Use In South Korea
Say goodbye to Google maps in South Korea. They don't use it as a safety measure against their friendly neighbors to the north. GPS is also a massive struggle here as maps can't navigate with it very well. 
Most local Koreans us a map called Navar but unless you speak Korean this ain't the option for you. 
We used the Kakao Map (iOS & Android) to navigate and Subway Korea (iOS & Android). These are your best tools to get around. 
When To Visit Korea
Korea gets swelteringly hot and humid in the summer and below zero degrees celsius in winter. We would suggest the shoulder season of spring or fall to get the most temperate conditions. 

15 Things to do in Seoul, South Korea
There are so many incredible things to do, see and discover in Seoul. However, if you only have limited time and want to refine your bucket list, then the following 15 activities are a great place to start. 
1.     Book a trip to the Demilitarised Zone (DMZ)
This is the area between North and South Korea. Here, you can learn all about the war between the north and the south. You can even look over into North Korea from the observation deck. The only way to experience the DMZ is with a tour guide, which is great because you get the benefit of their historical knowledge.
Visiting the DMZ is a full-day activity and should be considered a day trip from Seoul. It's located around 50 km from the city and promises to be a powerful and insightful experience. 
2.     Marvel At The Starfield Library
This is a super awesome library with towering walls of books. It's the perfect place to catch up on your conversational Korean – or if your Korean is as bad as ours, maybe just an epic shot for the 'gram. Either way, it's worth popping your head in.
The public library is home to more than 50,000 books and located in the COEX Mall in the Samseong District. This means that there are loads of cafes and shops to explore once you've taken your compulsory pic. 

3.     The View From Seoul Tower
Seoul Tower is a huge mast on top of a hill close to Itaewon. From here, you can enjoy a great view of the city. We decided to hike up to the tower at night so that we could get an awesome view of the city lights at night. Inside the tower are restaurants, cafes and shops where you can get a bite to eat or drink and watch the sun go down.
Handy tip: Make sure that you check the closing time to make sure that you have enough time to enjoy the facilities. 

4.      Join A Food Tour
The food in South Korea is out of this world. As a country, they are not abundant in fresh ingredients – and the high prices reflect this. For example, we saw a box of tomatoes on sale for 10 USD where in South Africa, the same would cost you about 2 USD. 
This lack of fresh ingredients has made Koreans very creative with their recipes and I absolutely LOVED the food. You can expect a lot of spice, uncertain meats, and interesting combinations. My favorite were the various dumplings, spicy pork and rice and of course the kimchi! Joining a food tour is a fantastic way to be guided through the culinary world of South Korea. 
5.     Discover The Festival Of Lanterns
Once a year, Seoul hosts the Festival of lanterns which lasts for about 2 weeks in November. You'll find a magical array of lanterns created by artists from all over the world. When we visited, the theme was "Your Seoul, Light through Dream" and there were stunning lanterns of folklore, fairy tales and stories from across the globe. 
The show is down by Cheonggyecheon Stream and runs for about 1km downstream. Of course, you will need to visit the lanterns at night to experience the true beauty.

6.     Indulge In Korean BBQ
This experience is AMAZING! At a Korean BBQ, you are seated in a restaurant with a BBQ grid and coals in front of you. You then order your meat and cook them on the coals. The meal is paired with various vegetables that you make little leaf parcels out of to combine all sorts of flavors. 
We did this on our first night and were super confused! But it's really simple actually. Walk in, sit down and order your meat. That's it! All the veg and other toppings are included in the price. Oh and don't forget to order some soju with your meal.

7.     Drink Soju
On that note, number 7 on this list is to drink soju. It is a rice wine spirit and it blew my mind when I heard that it is the most-sold spirit in the world! Even more than vodka and tequila! 
Soju has about 20% alcohol volume and can be drunk as a shooter or mixed into a small cup of beer to make what is called 'somak' (which is great). Just beware of the headache the next day if you have too much.

8.     See The Night-Time Lights
One of the top things to do in Seoul is getting an awesome shot of one of the many lit up alleyways in Seoul. The narrow streets with the iconic neon signs in Korea was something we really wanted to see. 
Thankfully, these streets can be found all over the place. Our favorite areas where we found these streets were in Meyong-dong and Gangnam. We also used our Vivid lightroom presets to perfect our photo. 
You can view these great presets and get them for yourself.

9.  Visit The Korean Palaces
Seoul has a wonderfully rich history just waiting to be explored. Although there are lots of amazing Seoul attractions that highlight this history, we'd definitely recommend Changgyeonggung Palace and Gyeongbokgung Palace. 
These two locations are so spectacular that we spent the day just wandering around the grounds at both palaces and got a ton of beautiful photos. 

10.  Pop In At Themed Cafes
Korea is full of amazing themed cafes. They are often only temporary attractions that stay open for a year or two. So check online before you go to make sure they are still open. 
We went to the following:
2D café – A cafe painted in a way that makes it look like its something out of a comic book. Really mind-boggling. 

Cat café – Prepare yourself for cuteness overload here. We spent a few hours hanging with a mob of furry friends. Highly recommended. 

Ball pit swimming pool café – Ever wanted to jump into a swimming pool filled with balls. Well, here is your chance. Embrace your inner child and dive straight into the deep end. They also have some very interesting cocktails so come thirsty.

11.  Tick Off Common Ground
This is more of a warning than a suggestion. We read about Common Ground and were super excited to go. But when we arrived, it was basically just a pricey clothes department store in some containers. Essentially, it was full of overpriced food and even more expensive clothes. Not really our cup of tea. 
However, if you're a box-ticker, then it's worth the visit. It's located in an area of Seoul that we had never been to before, and there are also some cute shops with a few stores worth seeing.

12.  Stroll Through Hancock Village
This beautiful ancient village sits on top of a hill and serves as a heritage preservation site. It is incredibly picturesque and encapsulates the ancient Korean experience you were looking for. 
We took a stroll from the bottom of the village to the top and visited all the quaint Korean shops along the way. This is also the area where people dress up in traditional Korean attire. If this tickles your fancy, then you'll be pleased to know that there are plenty of stores that rent out the garb.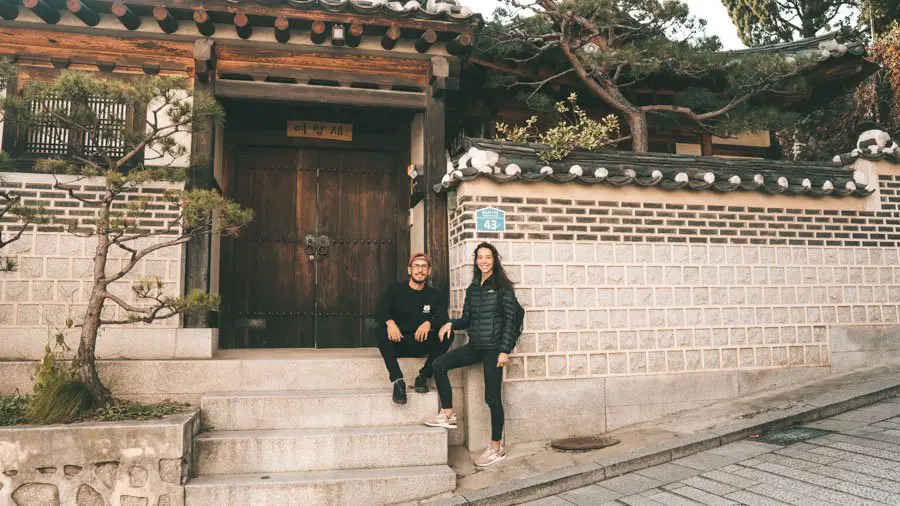 13.  Treat Yourself To Myeongdong Street Food
If you love street food this is where it is at. Make sure you come hungry to this part of town where all types of Korean street food can be found. Here, you can find anything from the best dumplings in town to strawberries coated in black beans. Petty weird but worth a try. 
Handy tip: Make sure that you bring along some cash. While the surrounding stores accept cards, the street stalls themselves often don't offer the facilities to swipe. 

14. Day Trip To Nami island
A visit to Nami Island is a great day trip from Seoul. Take the train to the Nami Island station and then jump on the ferry to the island (or book a tour). 
Technically, it's its own cultural country and you pass through 'immigration' to get there, but you don't need your passport – just a vivid imagination. It is a beautiful island forested with some amazing trees that turn all sorts of colors in autumn. 

15.  Walk Through The Pink Muhly Grass
During autumn, Korea's pink muhly grass is nearly fully grown and shining bright in color. It's a popular activity for both locals and foreigners to "hike" along the Han River route and get swept up in silver and pink grass. 
Although only possible to experience during certain times of the year, it's worth planning your trip around it. The experience is quite surreal and completely unforgettable. 

10 Surprising South Korean Facts
As I mentioned, South Korea was a huge culture shock – in a fantastic way. While spending a month in the country, we learned some very interesting facts about the culture, way of life, and development of South Korea. 
1.     They Have Amazing Internet Connection
The South Korean internet is out of this world. Any random café that you walk into will have an internet connection with speeds of up to 100mbps. In layman's terms, that's CRAZY FAST! This made working in South Korea as a digital nomad an absolute pleasure as we could work from basically anywhere. 
In addition to their incredible Wi-Fi, their mobile data services are excellent too. We purchased a sim card at the airport for about 40 USD which gave us unlimited data for 20 days. 
We could find LTE in most locations – which was fantastic – but the real cherry on the top is that your phone automatically connects to the Wi-Fi terminals in the metro automatically. This has got to be one of the most first-world experiences that us South Africans have had.

2.     Their Crazy Alphabet
The Korean alphabet is super difficult to read at first but on closer analysis, its makes a lot of sense. There are only 24 characters in the Korean alphabet which was invented by King Sejong in 1446 who wanted the Korean language to be simpler to read and write. 
The alphabet is made to be as intuitive as possible. For example, the 'Oh' sound is a letter shaped like an O as this resembles the shape our mouths make when creating the sound. We took a few duo lingo lessons and learned some useful phrases but were still a long way away from being conversational. 
The Korean people seem to appreciate the fact that you are at least trying to communicate in their language, however badly we may have pronounced some words.
The local Koreans were also super helpful and friendly when they saw us struggling with the language. On a few occasions, a local would stop to help us with a translation or to communicate with someone else if they could speak English. They saved our asses a few times.
3.     Awesome Public Transport
These public transport systems are pretty damn precise. The metro runs until just after midnight and the buses run super frequently all over the city. Most bus stops have a digital board showing the time till the arrival of each bus and they arrive regularly in a clean and spacious fashion.
You can use buses and the metro by using a card called a T-money card. We got one free one with our sim card that we purchased (talk about dual-purpose packaging) and you can buy one at most convenience stores. 
Be advised that when loading them with money in the metro, that the machines are cash only.

4.    Super Spicy Foods
If you come to South Korea, prepare for some spicy food. Many of the staple dishes come with a fairly strong dose of spice. Our favorites were the kimchi dumplings and dakgalbi (chicken and veg stir fry mix). You must try both. 
Some Koreans don't believe that westerners can handle their spicy food so we took it upon ourselves to prove them wrong, often resulting in Candi needing the bathroom a lot (haha, just kidding… or am I?).
5.     GPS struggles
This one baffled me. South Korea, in all her technological glory, presents such an odd problem for those of us accustomed to navigating with Google Maps. Google maps is super basic. Even with the limited things Google maps can do, it still can't perform pathing functions which makes navigating tricky. 
This is due to the South Korean government not wanting their neighbor to the north to have too much information on their maps. I think it serves as some sort of tactical safeguard.
There are some alternatives to Google Maps. The best we found was the Kakao T app which we were able to use to figure out the public transport systems. The locals use an app called Naver which we tried to use but it was all in Korean.
Regardless of the app we used though, GPS location tracking was really sketchy in figuring out where we were and would jump all around. The best way to navigate is to figure out where you are and follow the map diagram rather than following your blue GPS dot just to be safe.

6.     Drunk Old People Hiking/Drunk Men In Suits
Koreans like to party. We were told that drinking a lot after work was a regular thing for many Korean office workers and that it was even expected of younger employees. We witnessed the aftermath of this first hand on the metro and in the streets where really well-dressed businessmen would be sleeping against a pillar or passed out on the train. 
No one around seemed to find this all that unusual and even would help to prop a man up if he was falling out of his seat on the train which was comical. This is not to say that all Koreans are degenerate drunks. So before anyone starts a war in the comment section lets just say that a small minority of people were this way.
Oh, and it's also a thing for older Koreans to go hiking on the weekends, spend the day drinking on the mountain top and then happily stumble back down. We witnessed this on several occasions. 
When visiting the pink grass, we saw people hiking up with hiking poles even though the walk was only 20 minutes and wondered why they would need them. When we saw them walking down the hill we quickly saw why.
7.     Home To The World's Most-Sold Spirit
Most people would say vodka or gin, but hold onto your chair, the world's most sold spirit is soju. We hadn't even heard about it before visiting South Korea. This 20% proof spirit can be purchased anywhere for about a dollar and is drunk as a shooter or mixed with beer to create what is called 'somak'. 
This stuff is pretty tasteless and packs a punch. Prepare those headache tablets for the morning after. We sure needed them.
There are lots of customs around drinking Soju such as the youngest person should pour the drinks and, when accepting a drink, use both hands to receive it. We barely scratched the surface with all the customs but it sure was fun to give them all a try.

8.     A Huge Karaoke Culture
On one of our nights out, we somehow ended up in a karaoke house when you pay for a private room with a television and a karaoke setup and proceed to drink, smoke and sing until your ears are ringing. 
Karaoke is HUGE. Everyone loves it and takes part no matter how awful your singing voice is, and we surely sang terribly much to the amusement of our Korean hosts.
9.     Insanely Busy Streets During Events
We went out in Itaewon on Halloween and we were not prepared for the density of the crowd that we were caught up in. We were pressed up against the front and the back of the street with the only option of going in the direction of the mob. 
One of our Korean hosts told us that during some festivals, it gets so busy that they put out ropes in the streets so that you can use your arms to haul yourself through the tightly packed streets.

10.  Short skirts are accepted but not cleavage
Skirts are cool but cleavage is a no-no. Not sure why on this one. Perhaps you can help us out in the comments below. Even when the weather is cold, you'll see groups of girls walking around in turtle necks and mini-skirts. 
Final Thoughts On Travel To Seoul
This Seoul blog doesn't even scratch the surface of the weird and wonderful experiences available in the city. We didn't even touch on K-pop, the habit of expelling mucus publically and the incredible stationery stores. 
But, we hope you enjoyed our basic travel guide, and we'd love to hear about your own thoughts and experiences. Be sure to follow our travels on Instagram and on Youtube for video on content like this!