We recently found ourselves an incredible flight deal on our way to Cuba. The only 'downfall' was that we were going to have to spend 20 hours in Istanbul on the way there (and back). What was supposedly an inconvenience ended up as one of the most magnificent adventures. We accepted the challenge to explore Istanbul in a day.
Turkish Airlines were epic enough to put us up in a hotel and organize our transport to and from the airport. All that was left for us to do was see how full we could pack our Istanbul itinerary.
* Just to let you know that this article contains affiliate links. If you click on them we might receive a small commission, at no extra cost to you.
Arriving at 5 am, we managed to drop off our luggage at the hotel. We gobbled down a buffet breakfast, changed into something a little less plane-grunge and picked up an Istanbul tourist map from reception. There was so much to do and very little time. We managed to fit in the majority of the big sights and had a magnificent day out.
If you find yourself with only one day in Istanbul, our following recommendations should start you off in the right direction.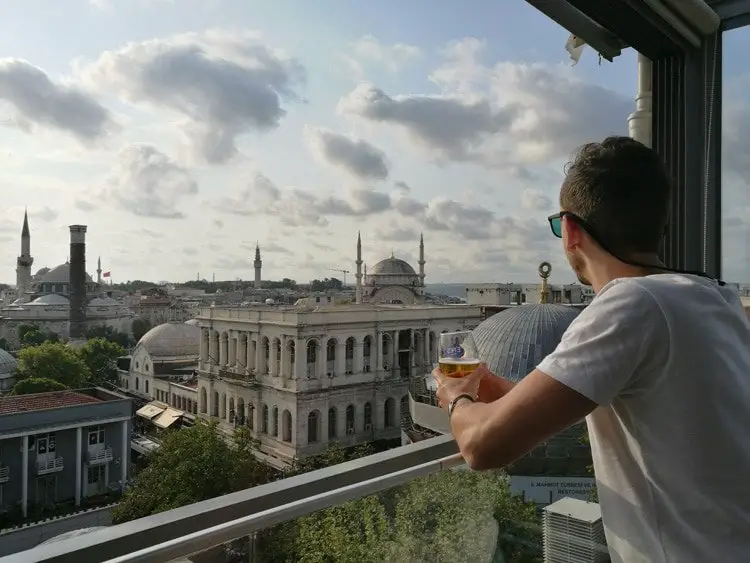 Getting around Istanbul
Istanbul has all of the usual European public transport networks including metro, buses and even ferries. While the buses have their own lines to bypass traffic, they make frequent stops which can cause a delay. Their metro system is fairly efficient and affordable – a single ticket can cost you as little as USD $0.50.
Istanbul also has the Marmaray commuter rail line which runs from as early as 6 am to midnight. If you are in a rush to tick off as many things to do in Istanbul in one day as possible, then you may want to get a taxi from the airport which will give you a direct route to where you want to go.
Need to know
Whether you are making the most of an Istanbul airport layover like us or planning a longer Istanbul visit, there are a few things you should familiarize yourself with.
Safety – traveling to Istanbul is a fairly safe choice. However, the aviation industry has been a target for terrorist attacks and so there are several heavily armed men surrounding the airport. This intimidated us at first, but when we realized that it is a safety precaution we felt more comfortable. It is important to fully co-operate with the security at the airport.
Currency – Turkey uses the Turkish lira which equates to approximately USD $0.20. Many traders accept USD dollars or Euros which may be more convenient if you are only spending 1 day in Istanbul. Just be advised that the exchange rate will not be that great.
Dress – Turkey is predominantly a Muslim country. While they are not too strict about what you wear, we definitely recommend that you respect their culture and dress modestly, especially if you plan to visit any mosques. A comfortable pair of shoes, a T-shirt and shorts are more than appropriate.
Top 10 Istanbul Sights
Pondering what to do in Istanbul for a day? You will not be short of options! The vibrant city is full of culture, history, tasty food, and magnificent architecture. We managed to fit all 10 of the below sights – and a nap – in approximately 15 hours!
1.   Hagia Sophia Museum
The domed monument was originally built as a cathedral and then became a mosque before serving as a museum today
There are two floors to explore – a ground floor and gallery above
The crown of the dome reaches an incredible 55 meters above the floor
Hagia Sophia is a magnificent work of architecture that beautifully encapsulates a blended history. Said to have been born out of the riots in AD. 532, a visit to Hagia Sophia is an incredible historical experience. The museum is open between 9 am and 7 pm, with the ticket office closing at 6 pm.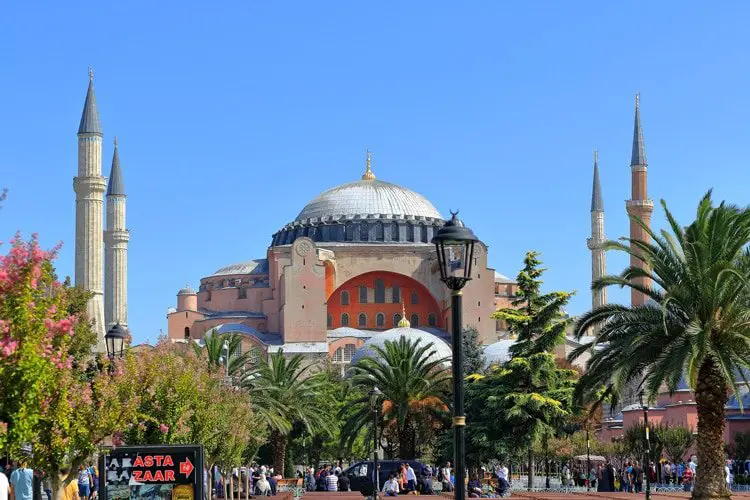 2.   Grand Bazaar
Wander through one of the world's largest and oldest covered markets
Embrace the fact that you will probably get lost
Discover authentic Turkish jewelry, carpets, textiles and – of course – Turkish delights
The bazaar has 64 streets and 22 entrances – that's huge! So, take your time to chat with the vendors and don't be afraid to bargain down the costs. If you are feeling pressurized, feel free to leave politely and move on. By the way – the market is closed on Sundays!
3.   The Blue Mosque
Sultan Ahmed Mosque is known as the 'Blue Mosque' because of its blue-tiled interior
The mosque was built between 1609 and 1616 as an imperial demonstration of strength
The mosque is a short two-minute walk to Hagia Sophia
Although a popular tourist attraction, the Blue Mosque is still an active place of worship and is closed to non-worshippers for approximately half an hour during the five daily prayers. An astounding building in both architecture and history, it is really important to visit the mosque with respect and dress modestly.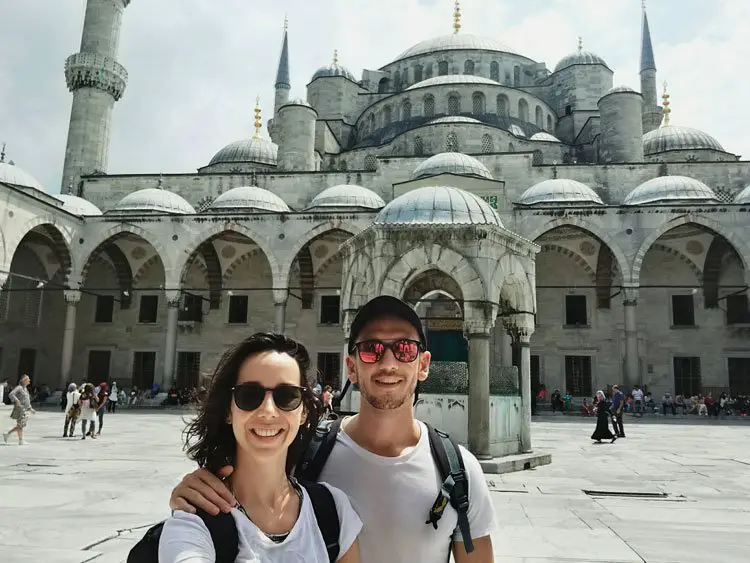 4.   Basilica Cistern
An incredible collection of ancient cisterns underneath the city of Istanbul
It was originally built after the Nike riots as a reliable water supply
Venture beneath the city and discover a breathtakingly beautiful historical monument
If you've seen any pictures of Istanbul, you've probably seen a pic or two of the Basilica Cistern in all of its glory. We are not quite sure how those pictures came to be as we really struggled to capture the eery beauty of the underground system, but it is definitely worth a visit for an affordable 20 Turkish Lira (to be paid in cash).
5.   Misir Carsisis
Indulge your senses with a variety of fragrances at Istanbul's spice market
It is the most popular covered market after the Grand Bazaar
The bazaar is located nearby Eminönü port which offers a great view of the river
Misir Carsisis is a real treat to explore a variety of flavors, fragrances, and tastes. Much like the Grand Bazaar, there is a lot going on so don't feel pressured to purchase – but rather take your time, negotiate and move on when you want to.
6.   Bosphorous River Tour
Experience Istanbul from a different perspective on the water
Discover palaces, fortresses, and mosques from the river
Float down the river that separates European and Asian land
As we arrived before most places were open, the Bosphorus River Tour was the first thing that we did in Istanbul. It was epic. It is a great way to see both "continents" of Turkey and kick-start your Istanbul trip.
7.   Sultanahmet Square
Sultanahmet Square is a great starting point to visit various iconic attractions by foot
Today a historical square, it was previously the Hippodrome of Constantinople
Discover the Serpent Column, Obelisk of Theodosius and the German Fountain which can all be found in the square
Sultanahmet Square is a great starting point for exploring the history of Istanbul. We were able to tick off three items off of our monument checklist (thanks to Google Trips) and be in walking distance of the majority of other major attractions.
8.   Turkish food
Largely derived from Ottoman cuisine, Turkish cuisine is simply delicious
Taste authentic Turkish delight
Sip on Turkish tea and/or coffee in the streets of Istanbul
Every time we finished an activity, we'd treat ourselves to exploring a part of the Turkish cuisine. There are so many different ways to experience the fusion of flavors found in Turkey. Snack on goods sold at the market, find a local restaurant and eat on the streets, or go to the top floor of a building and enjoy sweeping views of the city. We tried all three!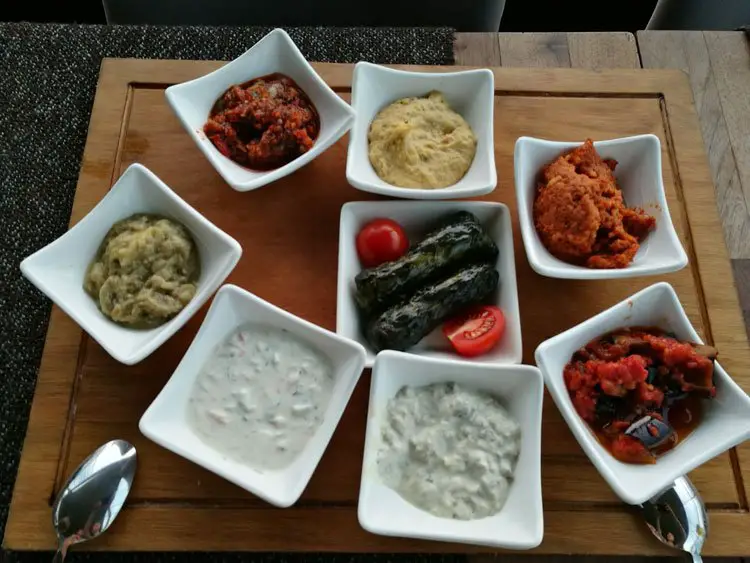 9.   Sunset from on high
Visit one of the many rooftop bars or restaurants for sunset
Sip on Turkish tea and watch the sunset over iconic landmarks
Soak in every moment as the sky explodes in color
If you are lucky enough to find yourself in Istanbul around sunset, you simply have to make a plan to watch the sunset. There is something incomparable about watching the sun slip behind the horizon, illuminating all the landmarks you've visited on the way down. Take care that if you want to enjoy a beer as you watch the sun go down, it will cost you as alcohol in Turkey is very pricey.
10.  Galata Tower
Discover Istanbul's medieval stone tower
Take in a spectacular 360-degree panoramic view of the city
Explore the surrounding historical landmarks such as Istiklal Avenue and Pera Museum
The Galata Tower is an iconic Istanbul landmark. You may have seen when playing 'Assassin's Creed' or the short animated film 'Hezarfen'. The tower is known to offer the most incredible sweeping views of the city and is a definite must-see if you have time.
Top Sights In Istanbul That We Missed
Naturally, we didn't have enough time to do everything. If we had more time, there are other activities we would have loved to do. If you are spending more time in the city, here are a few bonus things to do in Istanbul
1.   Hot air balloon
A sky scattered with hot air balloons is an iconic site for Turkish skies. If you have the time (and money) then we would definitely recommend that you book a ride in a hot air balloon. The experience is said to be super special, and the views to be magnificent.
2.   Topkapi Palace
One of the larger museums in Istanbul, the Topkapi Palace previously served as the main residence for the Ottoman sultans. The museum is open every day except Tuesdays and is a great attraction for those interested in history and culture.
3.   Turkish bath
The Turkish bath blends the steam bath of Central Asia and the Roman bath culture. There are many Turkish baths (or hamams) scattered throughout the city to enjoy a bit of relaxation. They are normally open from as early as 6 am and is a great way to unwind before or after a long day.
If you are in and out of Istanbul but want to see as many of the iconic sights as possible, you may want to consider a tour. You can easily do an "Istanbul in a day tour" which will allow you to tick off Istanbul top sights without the stress or fuss of planning.
Final Thoughts on Istanbul in a Day
Our time in Istanbul was short and sweet, but we loved every second. We ran the ground flat and managed to fit in as much as possible. By the time we got on the plane, we were shattered and ready to sleep the entire flight.
If you find yourself in Istanbul – count yourself lucky as it really is a special place. Full of history, culture, beautiful architecture and delicious food, it will forever be one of our favorite destinations.