When you think of Rio de Janeiro, you probably think of feather-clad women celebrating the annual carnival. We've just spent one month living in the vibrant city and let's just get one thing straight – there are so many things to do in Rio.
The former capital of Brazil, Rio de Janeiro is home to six-million 'Cariocas' who are just as colorful in character as their reputation suggests. If you plan on traveling to Rio, we would definitely recommend that you try to tick off as many of the following Rio de Janeiro attractions as you possibly can. If you don't plan on traveling to Rio – perhaps you should consider it.
1.   Tijuca National Park
One of the top Rio de Janeiro points of interest is Tijuca National Park, the world's largest urban forest and one of our favorite day missions. The easiest way to get to Tijuca is by taxi or uber as the road is super windy and the public transport to get there is not exactly reliable (we did try).
Once there, you can literally spend the entire day exploring the magnificent beauty of the forest (read jungle). We passed beautiful waterfalls, found hidden caves and even managed to spot a few Toucans and a sloth.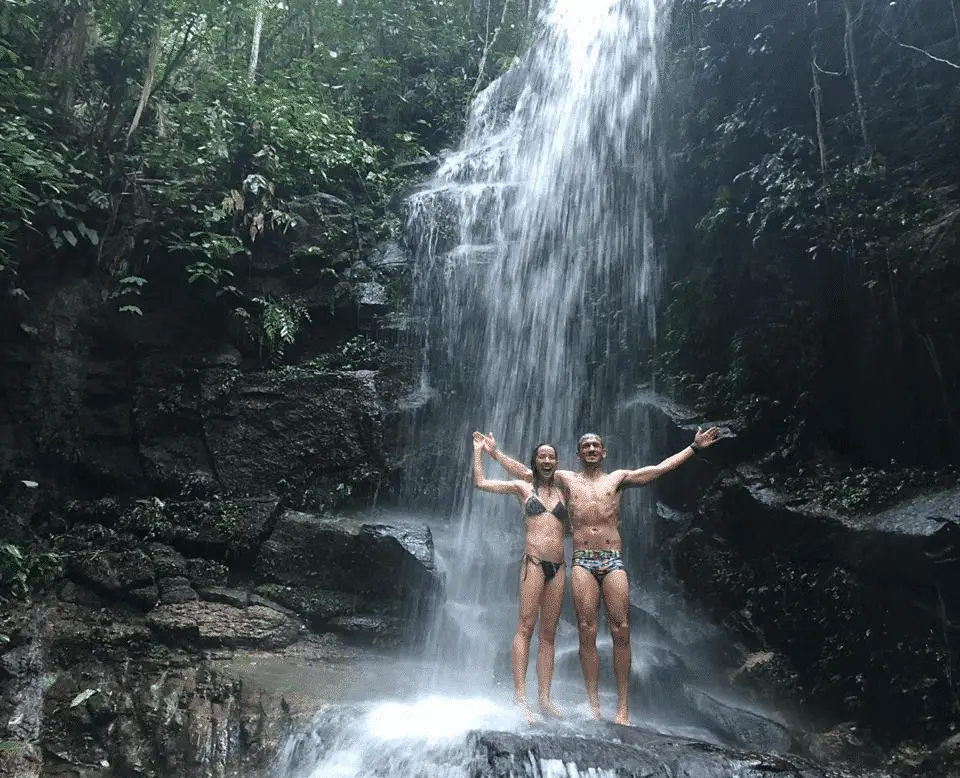 If you not looking for an exhilarating adventure but still want to visit the park, you can drive right into the gates and find a comfy spot by the waterfall. This is a very popular activity for people wanting to picnic under the lush leaves.
Insider tip: Download a Google Map of the area to help you navigate your way around. There are lots of paths and very little signal once inside.
* Just to let you know that this article contains affiliate links. If you click on them we might receive a small commission, at no extra cost to you.
Surf – Ipanema Beach
Some of the world's best surfers found their passion in the Brazilian waters. The waters are temperate and the waves are wonderful. Whether you are a beginner or a pro, we definitely suggest that you find yourself in the ocean with a surfboard at some stage.
There are surf lessons available all along Ipanema Beach, and boards can be rented for those who are comfortable on their own. As we were going to be in Rio for a month, we figured we'd buy a second-hand board to save money on rentals. It was well worth it as many sunny afternoons were spent surfing (or crashing with) the waves at Diabo and Aproador.
Eat the Local Acai
Acai is a superfood berry locally found in Central and South America. While acai is fairly pricey across the world, it's widespread availability in the region means that it not only more affordable but also easily bought.
You can find an acai street vendor on practically every corner in popular areas in Rio. If not, you simply have to step inside a snack bar and ask – they will most likely sell.
While a lot of places stack on the sugar in the form of condensed milk, chocolate, and syrups; we would definitely recommend that you try it as is. The best way to experience the local acai is to pop into one of the many acai bars and have a bowl with fresh fruit, coconut shavings or honey granola.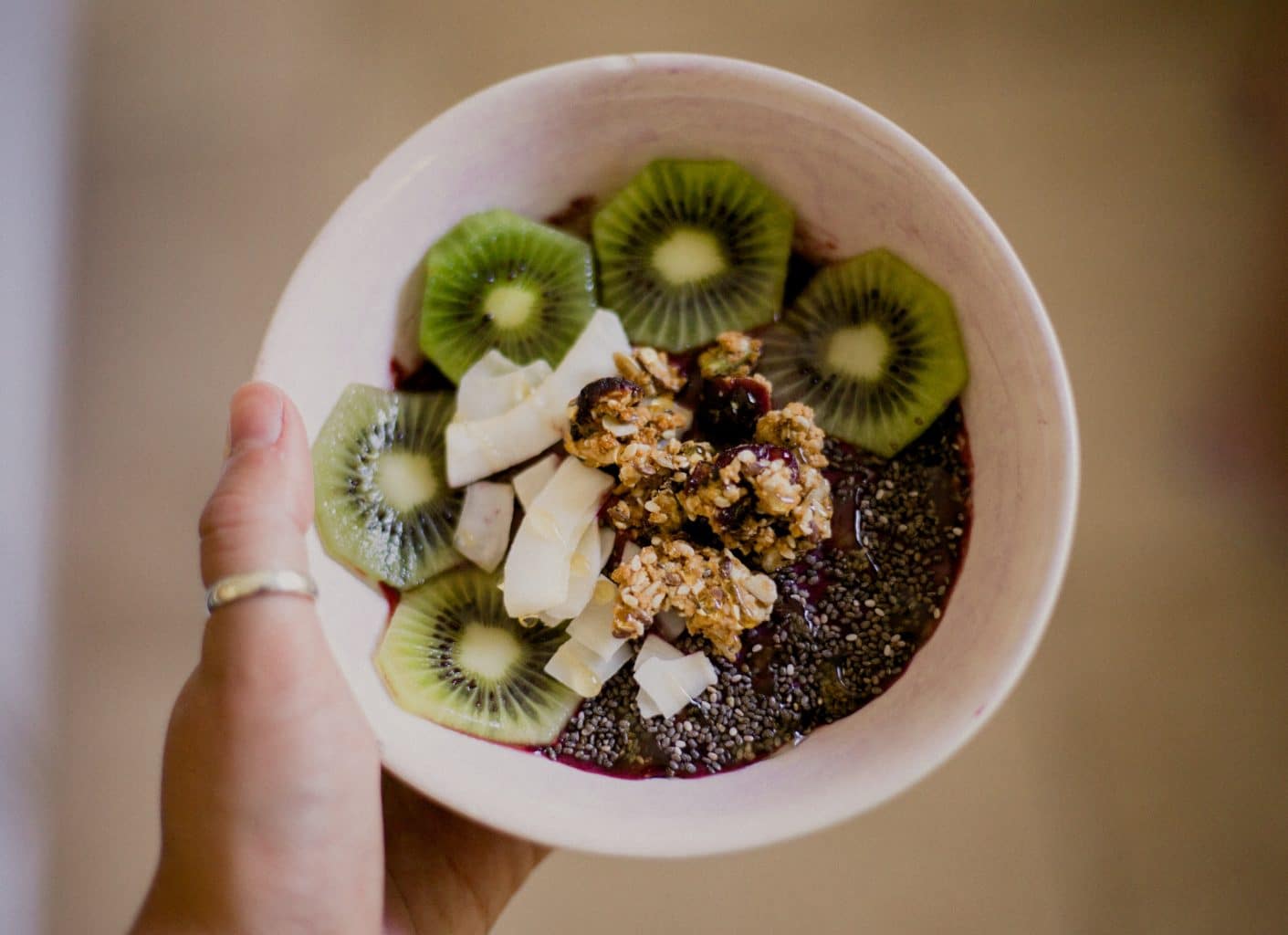 Go on a Food Tour
Rio is filled to the brim with unique flavors. Taste delicious local pastries, fresh tropical fruit, and wholesome cooked meals wherever you go. The most exciting way to find the best food in Rio de Janeiro is definitely on a food tour.
We did a food tour guided by Eat Rio and it was one of our best days out. Not only did our tastebuds do exploring, but so did our feet as the itinerary took us all over the city. The tour started off at one of Rio's colorful fresh food markets where you can pick out really affordable local foods. Be sure to check out the size of the avocados – not that you can miss them, they are huge!
Next, we made our way to Tacaca do Norte, a traditional Amazonian restaurant in Flamengo. The flavors that came out of the small kiosk-style restaurant blew us away! For the first time in a long time, we tasted authentic food, unlike anything that we have ever tasted. Here we ordered a bowl of tacaca to share, which made our tongues go numb after chewing on the Jambu leaves, a glass of cupuaçu juice, and the best acai in Rio.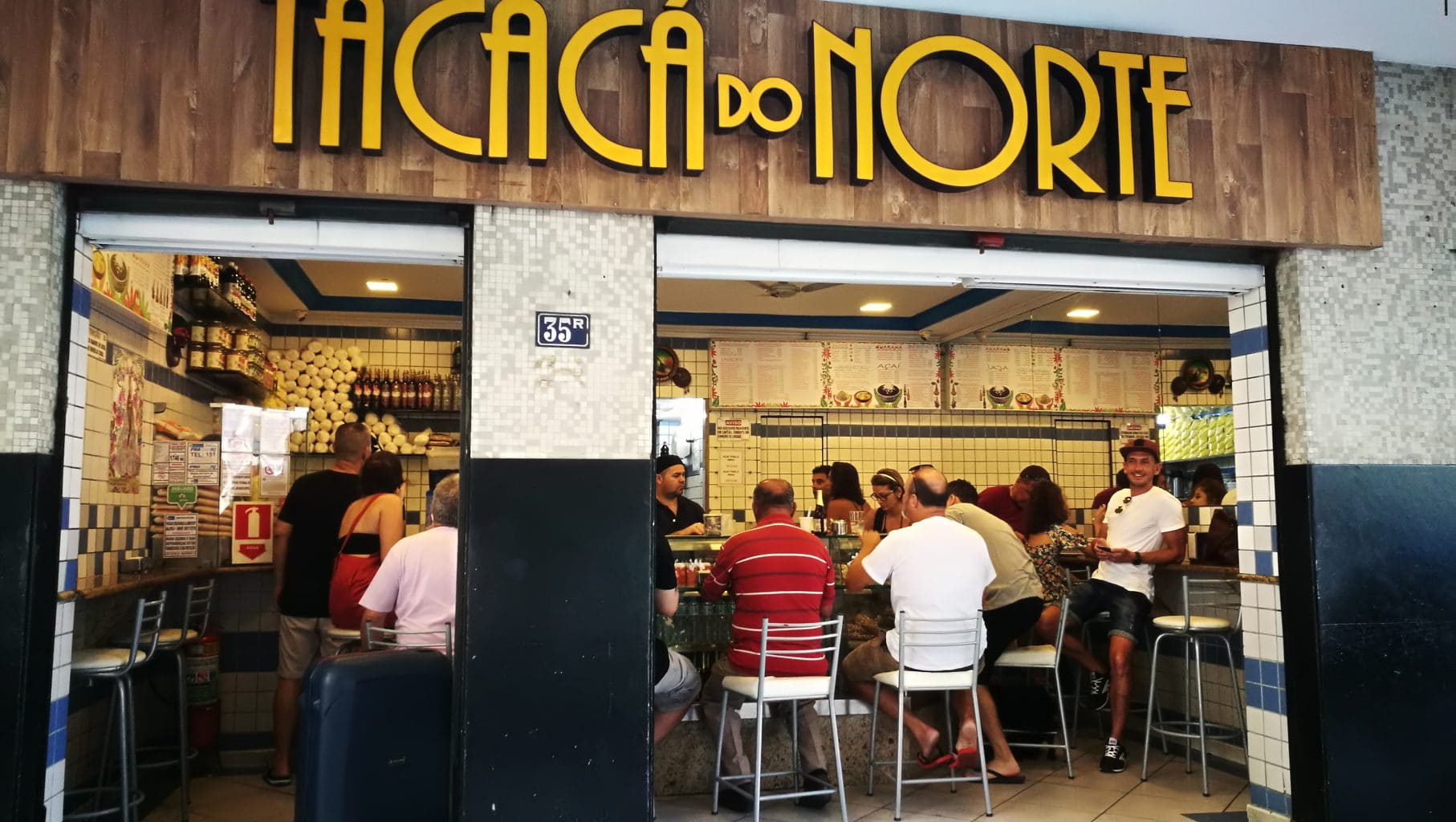 Our next stop found us at a 100-year-old bar in Santa Theresa. Armazém São Thiago was as authentic today as we can imagine that it was a century ago. We got eight different flavors of their "bolinhos mistos", or mixed balls in English, to share and spent hours chatting over some local beer and delicious food.
Finally, we found our way to the harbor wall in Urca. We watched the sun go down over the water while sipping on some more beer and snacking on pastries. If you are looking for a food tour in Rio, there really is no option other than Eat Rio – we highly recommend them.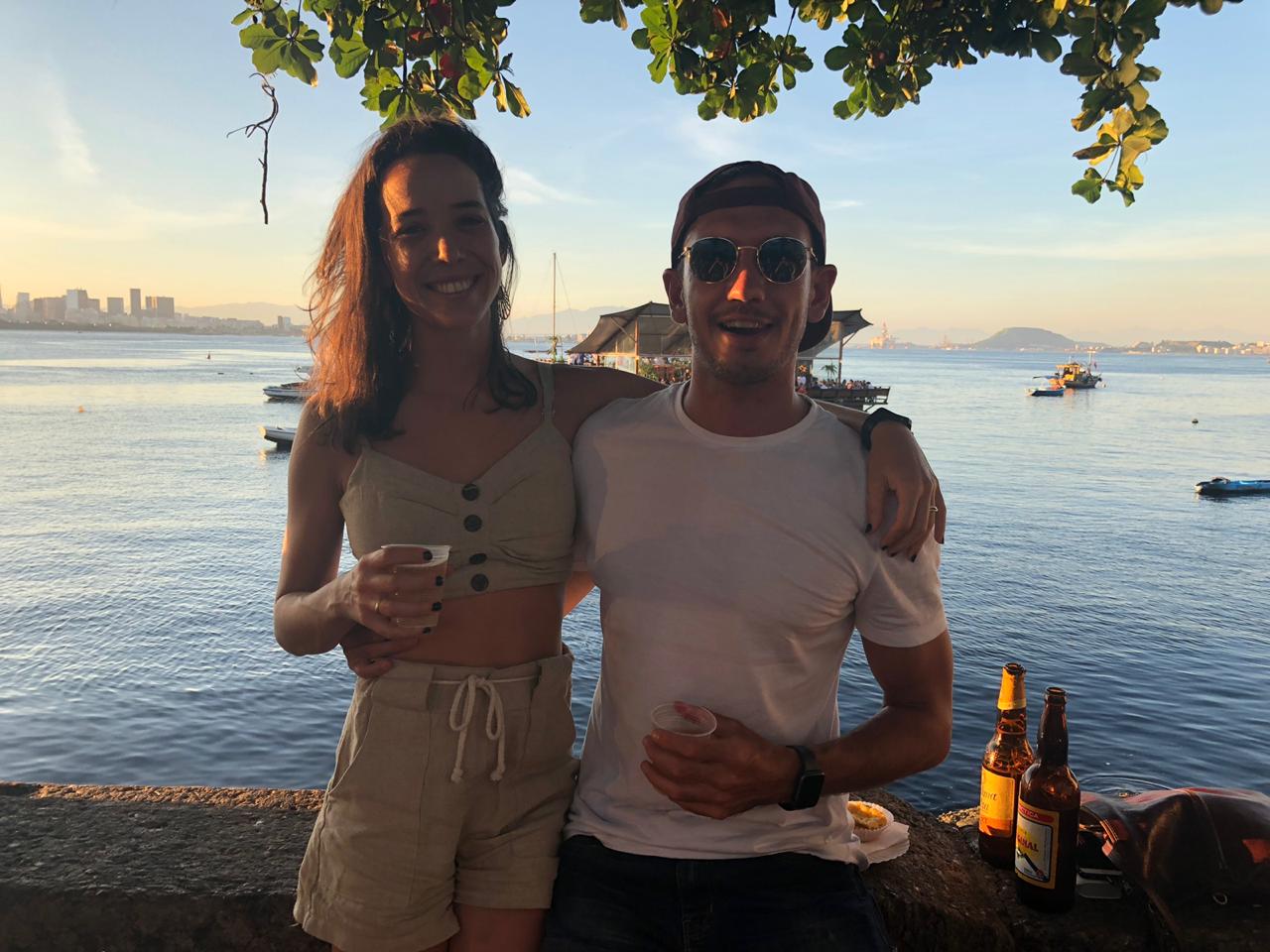 Christ the Redeemer
One of Rio de Janeiro points of interests that should be on everyone's bucket list is to visit Christ the Redeemer. There are two ways to get to the top. You can either choose the comfortable route and take the tram, or you can push your boundaries and hike Christ the Redeemer.
The hike to the top was a great experience and we would do it again.  It was our first experience of anything remotely Amazonian and we loved it. Although the hike is along a popular route, we wouldn't recommend it for anyone who doesn't consider themselves fit enough to handle a hot and steep incline.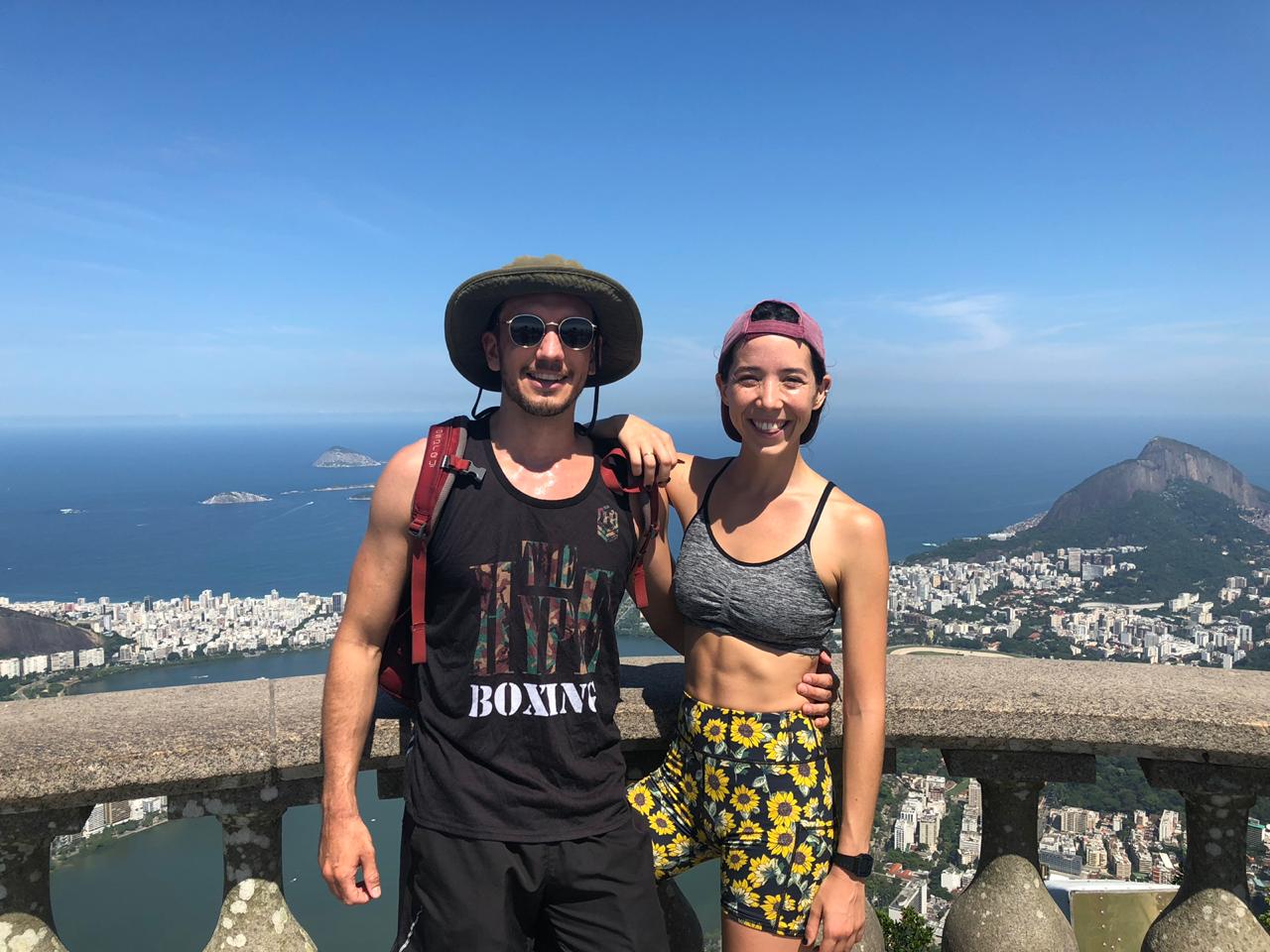 Top travel tip: They only accept cash at the monument. So if you choose to hike and pay at the top, make sure that you have enough cash on your body.

Sugarloaf Mountain
Sugarloaf Mountain is another one of Rio's most iconic landmarks that you need to add to your list of what to do in Rio de Janeiro. We decided to hike up to the top of Urca, which is a quick 20-minute walk along an incredibly beautiful route. Once at the second cable-car station, we climbed on board and sailed to the top of Sugarloaf.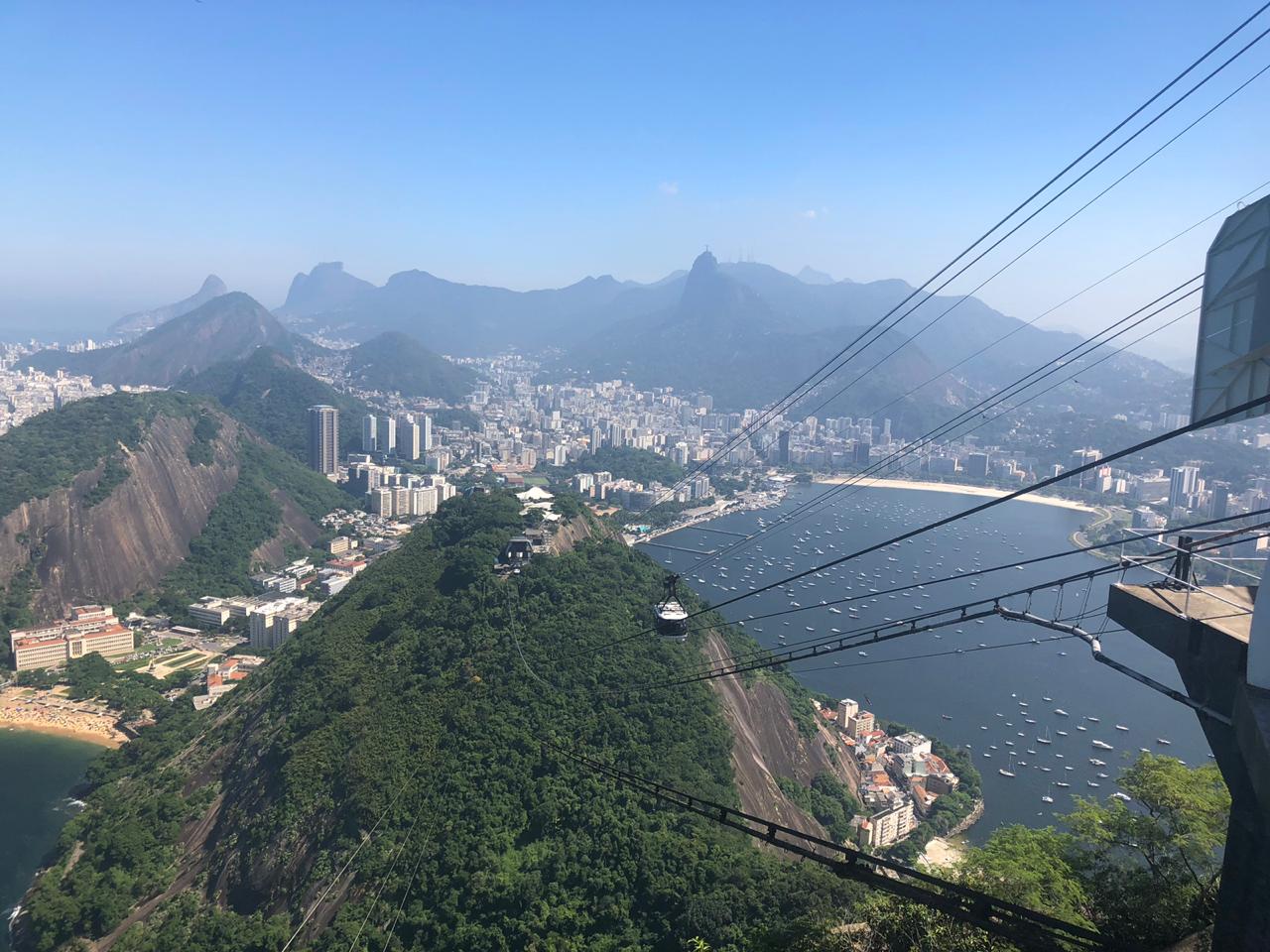 The panoramic views from the top are breathtakingly beautiful. We wandered around for some time, pondering how we were going to avoid the tourist traps. Deciding to make the most of the journey to the top, we peeped our heads into Classico Beach Bar and browsed at the menu. The beers weren't too badly priced – so we took a seat and absorbed every moment at the top. We would recommend that you do the same!

Buy a Rio de Janeiro Beach Bikini and Speedo
The G-string bikini is a classic sight to see on any of the beaches in Rio. It's great to be able to see women of all shapes and sizes, confidently wearing their teeny cozzies. Even the men are on board with their small speedos.
Do yourself a favor and pop into any of the local markets and buy yourself an affordable bikini and speedo to wear on the beaches. The feeling of liberation is great – and the tan (or burn) you receive will be even better!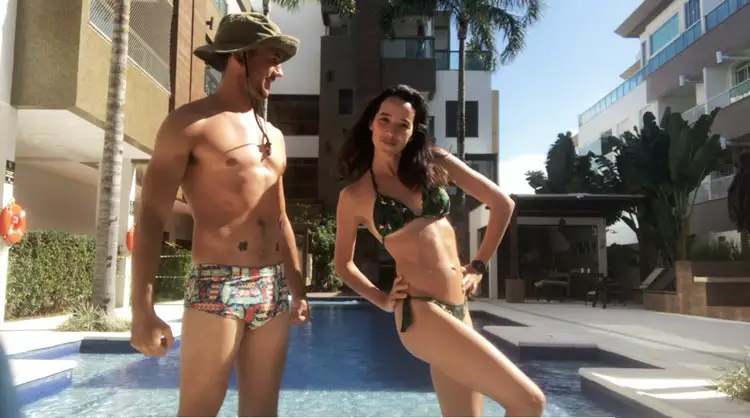 Embrace Beach Culture at Ipanema and Copacabana Beach
On the topic of the beach, make sure that you embrace the beach culture in Rio. Whether you like the sand or not, you can't help but get sucked into the vibrant lifestyle. There is always something happening. The most popular beaches for tourists are definitely Ipanema and Copacabana Beach where you will find throngs of people living their best lives.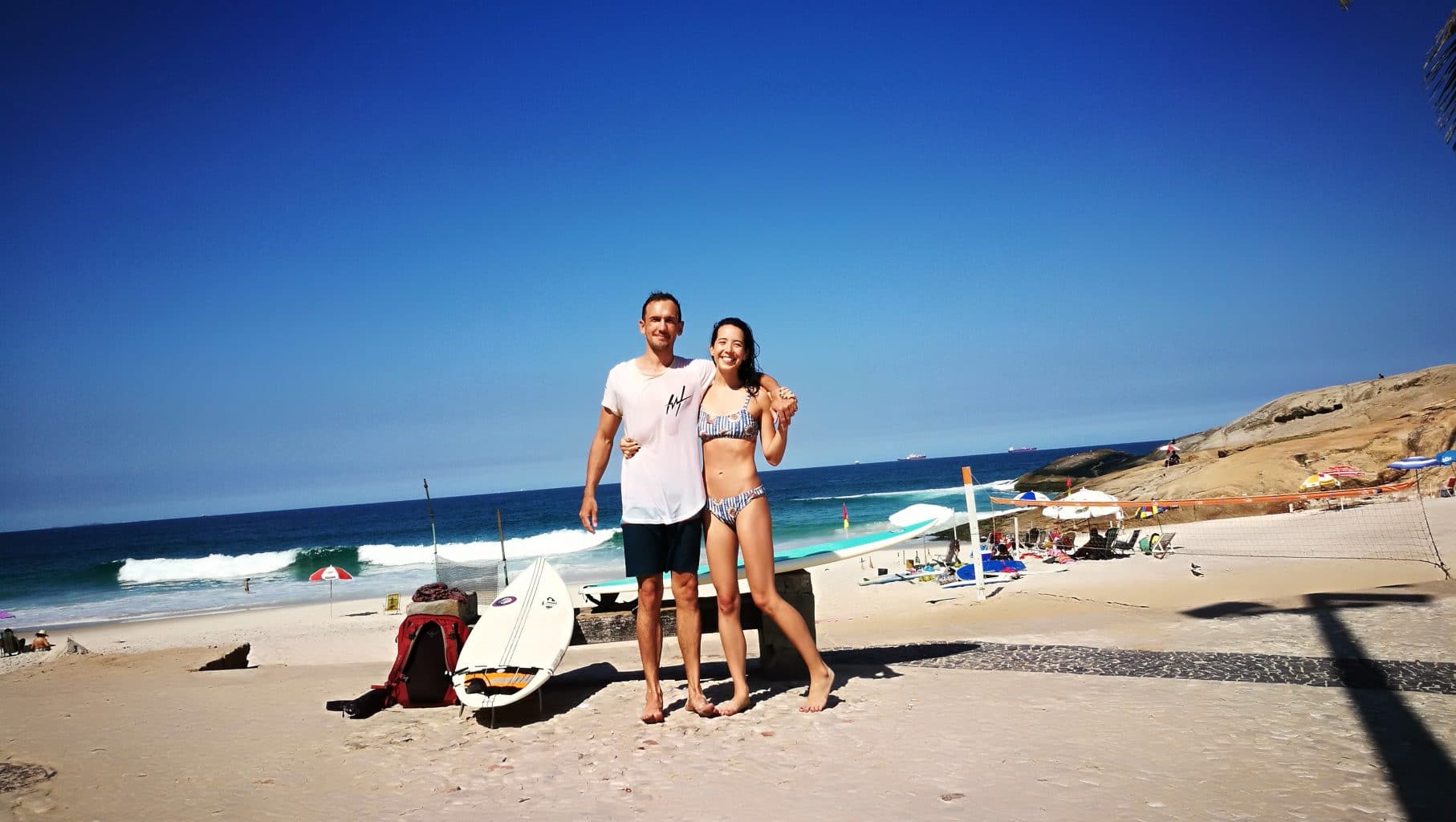 We've traveled to several destinations, and it's the exciting beach culture in Rio has made Brazil one of our favorite spots. People enjoy tanning, surfing, playing volleyball and drinking caipirinhas all along the stretch of sand. From early in the morning to late at night, you can pull up a chair from one of the many vendors and enjoy the Brazilian sun!
Samba in Rio de Janeiro at Night
Brazil is the birthplace of Samba. With deep African roots that go as far back as the 17th century, Samba is not only an entertainment factor in Brazil but also historical. At the cultural core of Samba is Pedro do Sal.
The rustic square of Pedro do Sal is located in the slightly off-beat area of Gamboa. Every Monday and Friday night, locals flood the street and vendors line the sidewalks for live music acts and to dance the night away.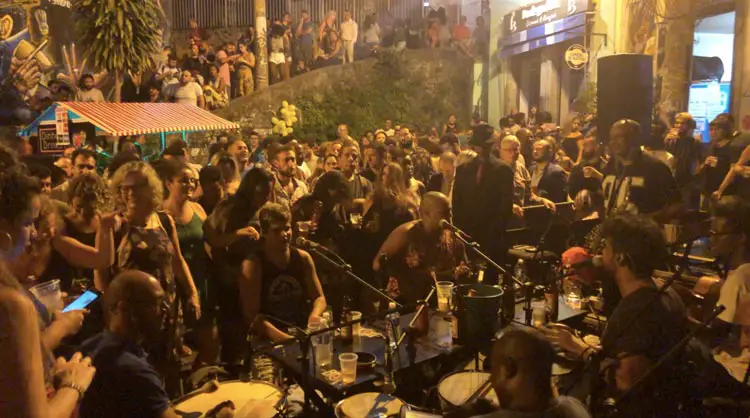 We took the metro to a station nearby and walked the rest of the way. The metro is a super easy and affordable way to get around Rio, however, Uber is just as good and a lot cheaper than in other places in the world.

Selaron Steps in Lapa
You probably recognize the Selaron steps from Snoop Dog and Pharrell's "Beautiful" music video. The colorful ceramic staircase was built by a Chilean-born artist in honor of the Brazilian locals. Today, countless tourists visit the 125-meter staircase and snap their pictures for Instagram.
Located in Lapa, the Selaron Steps are a must-see attraction in Rio. Take your time to explore the surrounding Bohemian area while you are there, it is full of culture!

Closing Thoughts
These are our list of top activities to help guide you on what to do in Rio. Our biggest tip for traveling in Rio is to tick off the major tourist attractions, and then do as the locals do!
The language barrier is a real concern, so try to prepare by taking part in some Portuguese lessons beforehand. We used Duolingo and it managed to get us by!
There are lots of scary stories about the safety of Rio. While it is very important to remain vigilant and be cautious of the areas you visit (and the time that you visit them), we never felt unsafe. In fact, we found the locals to be some of the friendliest people that we have ever met!
We've got some other exciting vlogs and blogs coming up, so don't forget to subscribe to our YouTube channel to stay up to date on new content!