Have you considered living in Santiago as a remote worker? When you think of top digital nomad destinations, your mind most likely drifts to super affordable East Asian countries with a decent wifi connection – Bali, Thailand, Vietnam… 
However, South America has a few hidden gems, and Santiago is one of them. The bustling city has largely been ignored because of its complicated political history. Instead, people consider the snow-capped peaks, beautiful glaciers, and long-left break in Chicama. 
If you are a surfer, then you'll be pleased to know that Chile has some epic surf breaks that you can enjoy on a long weekend. Make sure that you visit at the right time of year by reading our month-by-month guide surf destination guide here.
Santiago offers its own unique quirks as an alternative digital nomad destination that is surprisingly well suited for remote workers. If you're planning on living in Santiago as a digital nomad, then read on for a few tips and suggestions. 
* Just to let you know that this article may contain affiliate links. If you click on them we might receive a small commission, at no extra cost to you.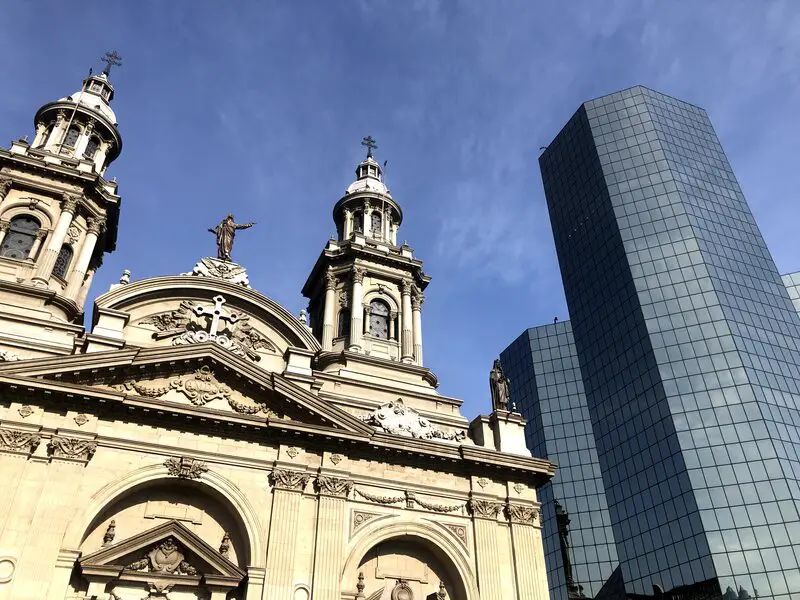 Benefits Working in Chile
As far as digital nomad destinations go, Santiago is an understated option. The city is a hub for creativity, passion, and connections. The city pulses with activity and it's difficult not to respond to the surroundings.
Here are a few reasons that we vouch for living in Santiago, based on our own experiences.
Urban lifestyle with a creative and inspiring environment
Close proximity to outstanding natural wonders

 

Growing technological hub and innovative

launchpad for startups

Affordable cost of living
Decent internet connection

 

Similar timezone to US citizens
Choice of coworking spaces
Digital Nomad Visa in Santiago, Chile
There is no specific digital nomad visa for staying in Santiago. Instead, visitors should follow the general entry requirements as demanded by your country of origin. 
The need for a visa depends on your nationality, the duration, and the purpose of your visit. You can read more here. 
For example, citizens from the United States can enter without a visa and stay for up to 90 days. It's possible to extend your stay for another 90 days for a cost of approximately $100. 
Are you at the start of your journey to become a nomad entrepreneur? Read our digital nomad business guide here.
Is Santiago, Chile, Safe?
This is a question that we should've asked ourselves before arriving in the city. Honestly, Santiago is not one of the safer options for being a digital nomad. A combination of political unrest and big city life can put travelers at risk. 
However, it's possible to travel and live in the city responsibly, you just need to take the necessary precautions. Make sure that you stay in a safe area, and avoid going near the demonstrations and protests. 
Join organized tour groups that can guide you through the city, avoid flashing valuable belongings, and keep your wits about you. 
Santiago is a fascinating city, and it deserves to be explored. A little bit of preparation can go a long way!
If you're feeling concerned, then you can read our guide on safety in Santiago here.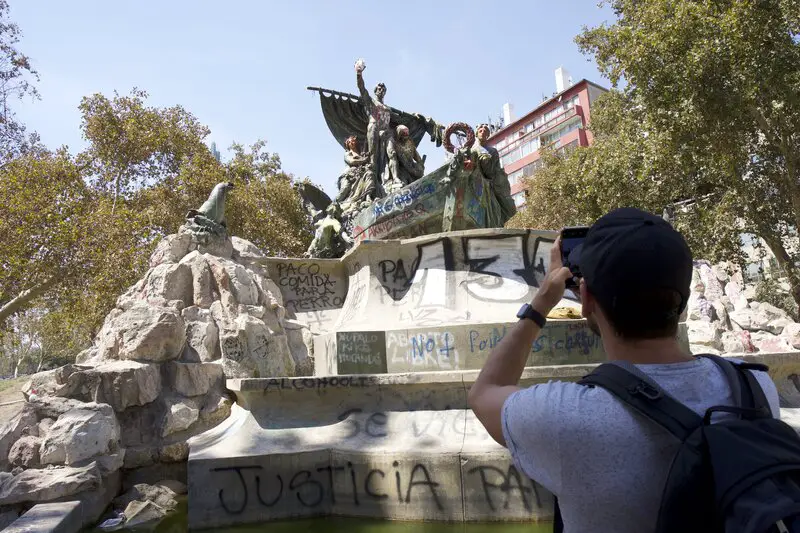 Best Time to Visit Santiago
The heat in Santiago can peak to uncomfortable temperatures, while the winter can get very chilly. If you want to have a relaxing, comfortable experience in the city, then we suggest going in the shoulder seasons. Spring (September to November) and fall (March to May) promise temperate and comfortable weather. 
If you plan on taking a trip to the iconic Patagonia region or surfing Chicama, then you need to consider these seasons too. For example, Chicama's swell performs best between March and November. This is also the best time to visit Patagonia – making it a win-win!
The cheapest time to fly to Chile is in the month of August, as it is considered the "off" season. 
Browse flights to Santiago, Chile, here.
Best Area to Stay in Santiago, Chile as a Digital Nomad
Santiago can be dangerous if you stay in certain areas. With frequent protests and demonstrations, you run the risk of being caught in a mob or in the crossfires of tear gas. To be safe, it's best to book your accommodation in one of the safer areas that are recommended for foreigners. 
Centro
Centro is a fantastic option for history enthusiasts and first-time visitors to Santiago. It's in the heart of the city and offers easy access to historic buildings and attractions. Right by the Plaza de Armas, Centro boasts stunning architecture and cozy coffee shops. 
Bellavista
Calling all night owls, Bellavista is a fantastic option. Loved as the trendy, hipster area, Bellavista is populated by a young, alternative crowd. There are lots of things to do in the area, so take your time exploring Bellavista and the surroundings. 
Providencia
If you have a little bit of a budget to play with, then Providencia is a great area to stay. It's known as the foodie hotspot and is packed with entertainment areas, beautiful parks, and commercial venues. The area is a financial hub and is home to a young, trendy crowd. 
Browse places to stay in Santiago, Chile, here.
Where to Work in Santiago
The public transport system in Santiago is fairly decent, meaning that you can easily move around to a coworking space or coffee shop of your choice.
Working remotely in Santiago can be done from the comfort of your own home office, a comfortable coffee shop, or a productive coworking space. The city boasts established offices like WeWork, as well as smaller, local spots. 
Kickstart your coworking office space search with Get Croissant.
More remote workers are taking the opportunity and living in Santiago, which means that there's also the chance to connect with like-minded nomads.
If you're looking for a digital nomad community, then you can read our suggestions on digital nomad forums here.
Cost of Living in Santiago, Chile
The cost of living in Chile is an age-old question that depends on how you spend your money. Overall, it's possible to live a cost-effective lifestyle – and here's how. 
Accommodation
You can live in the good areas of Santiago without breaking the bank. A simple apartment that offers everything that you need can cost as little as $800 per month, giving you easy access to public transport, plenty of activities, and a safe space to return to each night.
Food and Drink
We always recommend buying groceries and cooking for yourselves when traveling as a nomad. Eating out can get a bit expensive, and it isn't really sustainable. Eating out and buying groceries costs roughly $500 per month. 
Working Space
A decent coworking space with all of the expected amenities can cost approximately $220 per month. As with accommodation and other lifestyle choices, it's possible to find both cheaper and more expensive alternatives.
Daily Living
Daily living in Santiago is as affordable as everything else. Using public transport can save a lot of money, with a trip costing less than $1 depending on the time. You can budget an estimated $350 for regular activities and general exploring.
Make sure that you dedicate a bit of your budget to exploring the surrounding regions. We spent a bit of time in Valparaiso and were mesmerized by the street art. 
Read more about the Valparaiso street art in our blog here – and get a sneak preview of some of the masterpieces!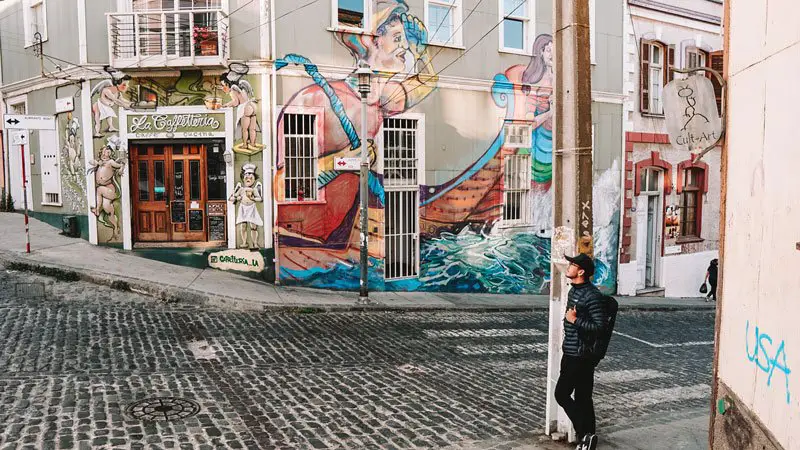 Life in Santiago as a Digital Nomad
There are so many incredible, fascinating things to do in Santiago. When you're done exploring the city, make sure that you take advantage of the many unreal day trip opportunities. If you have longer, then we highly recommend taking even longer trips. 
Here's a rough list to get you started on your Chilean adventure in Santiago. 
Explore historical centers including La Moneda Palace and the various museums
Take a trip to Cajon del Maipo
Visit Cerro Santa Lucia
Ride the funicular at Metropolitan Park
Stroll through the Cementerio General de Santiago
Have a coffee at the Plaza de Armas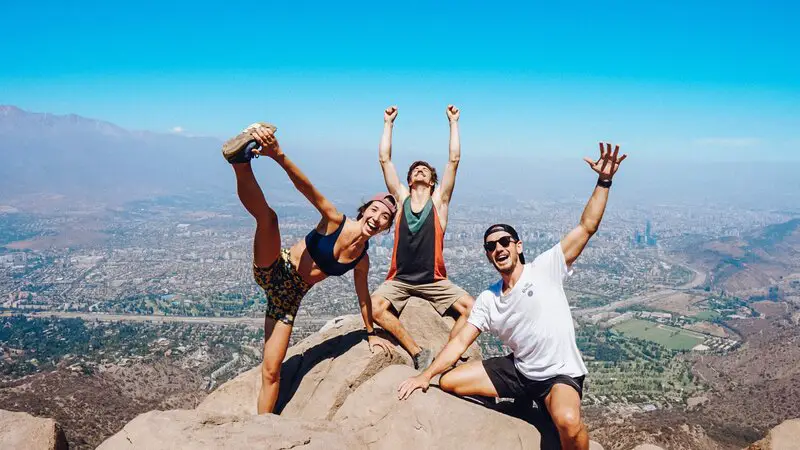 To Santiago – and Beyond!
If you're on the fence about living in Santiago, Chile, then we hope that we pushed you over the edge. It really is a fascinating city that has a history and culture unlike any other that we've experienced. The combination of the bustling city with nearby natural wonders makes it the perfect place to visit and enjoy a stint of working remotely. 
Looking for more digital nomad guides? Start your search here…