The digital nomad movement is on the rise, and we're proud to be working in the heart of it. There's something beautiful about exploring the world while working productively and, of course, surfing up a storm at the world's best spots! The opportunity of coworking in Bali while surfing every day is sublime.
There are many reasons that we consider Bali to be one of the best digital nomad destinations in the world. Arguably at the top of this list is the fantastic surf that dominates the shores of the island throughout the year.
To strike the balance between a thriving surf life and a productive working schedule, coworking in Bali is a huge asset. To help you get started on your journey, we've put together some of the best places to stay and work in Bali that are a stone's throw from your favorite break.
Interested in Bali as a digital nomad destination? Read our blog here.
* Just to let you know that this article may contain affiliate links. If you click on them we might receive a small commission, at no extra cost to you.

Surfing in Bali
Bali is renowned for being one of the best-surfing destinations in the world. For good reason! It's hard to believe that conditions like those in Uluwatu, Medewi, and Canggu can exist. But they do, and seeing is believing.
While the surf in Bali is fairly consistent throughout the year, the best swell arrives in the dry season which begins in May and ends in September. With that being said, you can surf in Bali most days. Keramas, in particular, performs very well in the wet season.
Planning your travels according to the surf season? Read our month-by-month guide here.
Some of the best spots to surf in Bali can be found in Medewi, Canggu, Uluwatu, and Keramas. The island is scattered with secret spots which can be very tempting when the crowds rock up – which they do. However, we do encourage you to familiarize yourself with the current and swell before paddling out.
Whether you're an absolute beginner who's wet behind the ears (excuse the pun) or a seasoned surfer, there's a spot for you. Bali caters to beginners and there are several surf schools and rentals available.
Best Coworking Spaces in Bali Near Surf
While surfing can quite easily take up half of your waking hours, the other half is most likely spent doing your job. While popular office spaces like Dojo and B Work make it to the top of most lists, there are plenty of other options out there.
When looking for a space to live and work, it's important that you have the fundamentals ironed out. The following spots tick all of our boxes when it comes to working and coworking in Bali.
Want to find out more about coworking spaces? Read our blog here.
Camp 308: Canggu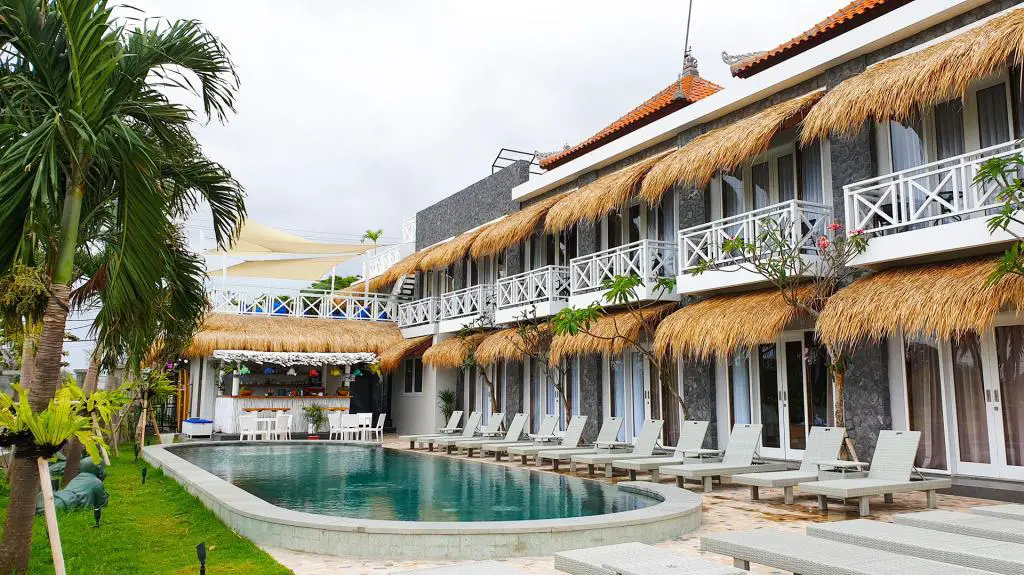 Camp 308 Coliving and Coworking is our personal favorite spot in Bali. Located on the outskirts of Canggu in Pererenan, Camp 308 has everything that you need in a central and convenient location.
The prices are affordable and the views from the first floor are spectacular. A short 500-meter stroll (or lazy scooter ride) will find you on the threshold of a pumping surf spot, and the coworking space is a few meters from the comfort of your room but not inside your room. Although, there is a spacious desk if you prefer to hibernate with an airconditioner.
Perhaps the cherry on the top is Sundeck Kitchen, the restaurant on-site that serves up the most delicious fluffy pancakes and vegan curry soup.
What do we love?
Quiet, but vibrant, neighborhood (it's not easy to strike the balance)
Incredibly close to Ollie's favorite surf spot
Coworking and coliving in one space
Fantastic host and staff
Book your stay at Camp 308 here
Rapture Camp: Uluwatu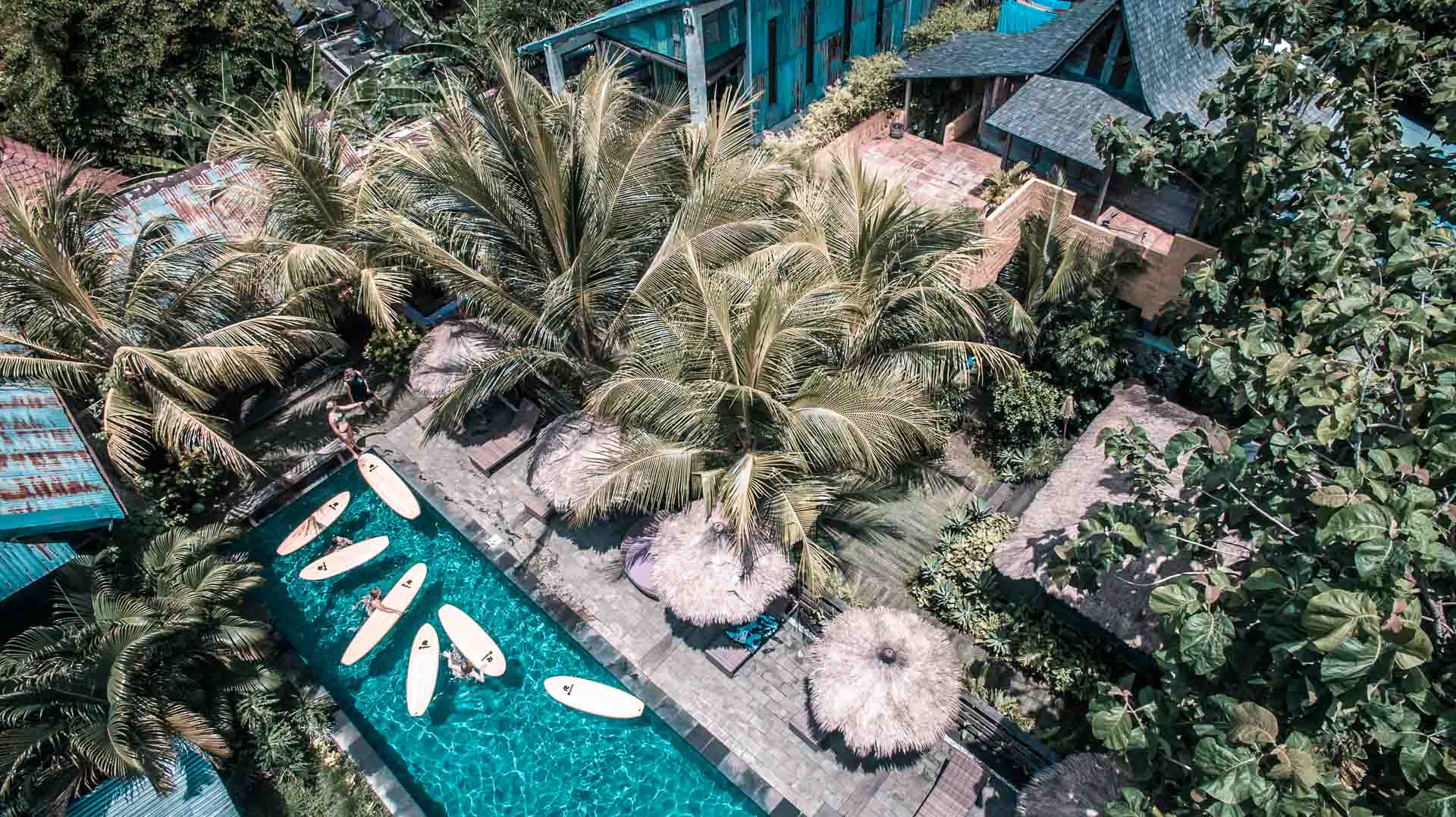 If you're looking for a fool-proof surfing and coworking in Bali experience, then you can always trust Rapture Surf camps to provide. The group is renowned for providing some of the most epic surf camps across the world.
Located in Uluwatu, which is home to the much-loved surf spots of Uluwatu and Padang Padang, Rapture Camp Bali caters to beginners to professionals. There's a thriving social atmosphere at the camp, with space to fire up your laptop and make magic happen.
Rapture Camp is one of many surf camps available in Bali. Looking for more? Read on here
What do we love?
A communal living arrangement for social travelers
Located nearby some of the best surf spots in the Bukit
Daily yoga sessions available in the camp
A guided experience if desired
Book your stay at Rapture Camp Uluwatu here
Bombora Medewi Wave Lodge: Medewi
Medewi's surf spots are known (and loved) to be significantly less crowded than other spots. This makes it the perfect place to grab a few waves before settling down to work for the day. Bombora Medewi Wavelodge allows you to kickstart this routine with ease.
The close proximity to the beach and a restaurant on-site means that you have ultimate convenience. There are desks in the room and a place to work outdoors, but if you choose to sit outside then prepare to be distracted by the surf!
With several rooms to choose from, you'll be sure to bump into a few regular, friendly faces that are either on a business trip or taking a short vacation. Having a cocktail at the pool bar is an awesome way to make friends!
What do we love?
Everything that you need in a central space
A quiet, more authentic experience of Bali
Close to Medewi point break surf
Very friendly and helpful staff
Book your stay Bombora Medewi Wave Lodge here
Merusaka Nusa Dua: Nusa Dua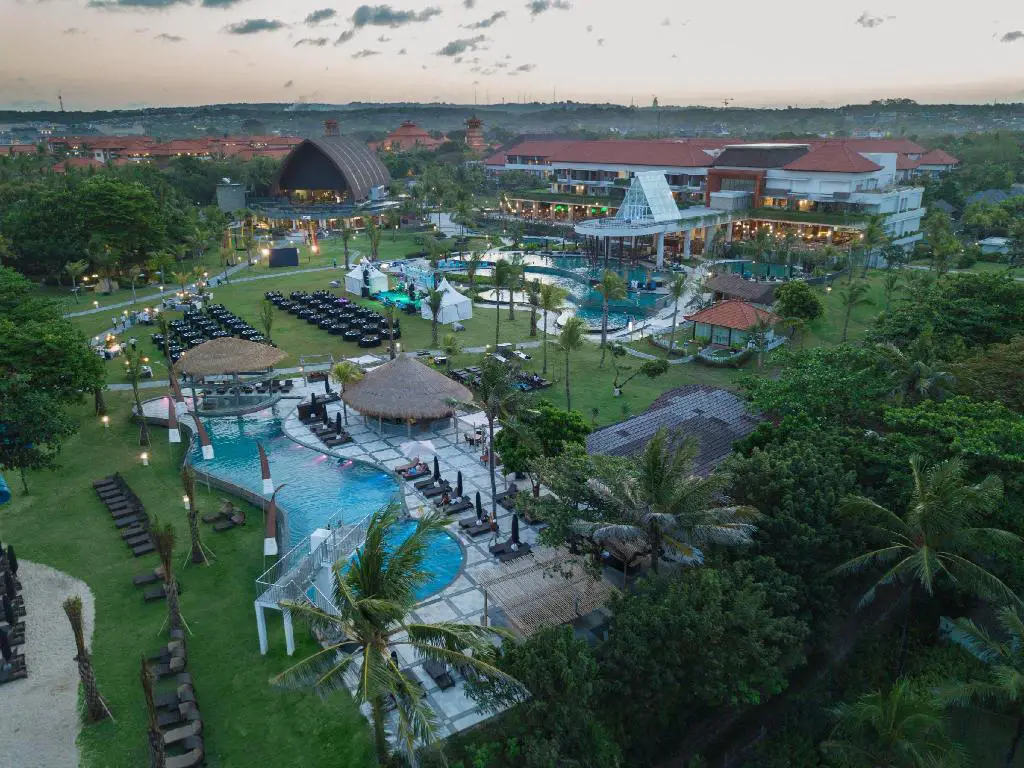 While the longboarders congregate at Batu Balong, and the shredders hit Uluwatu, those that love a consistent, right-hand break surf at Nusa Dua reef. If this tickles your fancy, then Merusaka Nusa Dua is a fantastic spot to stay.
This spot offers a lot of privacy and plenty of space to be productive with your work day. The stylish rooms are large with a desk, access to a pool, and filled with comfort-orientated amenities. The rest of the property boasts board rooms, a dining hall, and private beach access.
If you're looking for a resort feel when coworking in Bali, then staying at Merusaka Nusa Dua is a great choice.
What do we love?
Ultimate luxury and privacy
Extensive working facilities
Access to a private beach
Lots of space
Book your stay at Merusaka Nusa Dua here
Vision Villa Resort: Keramas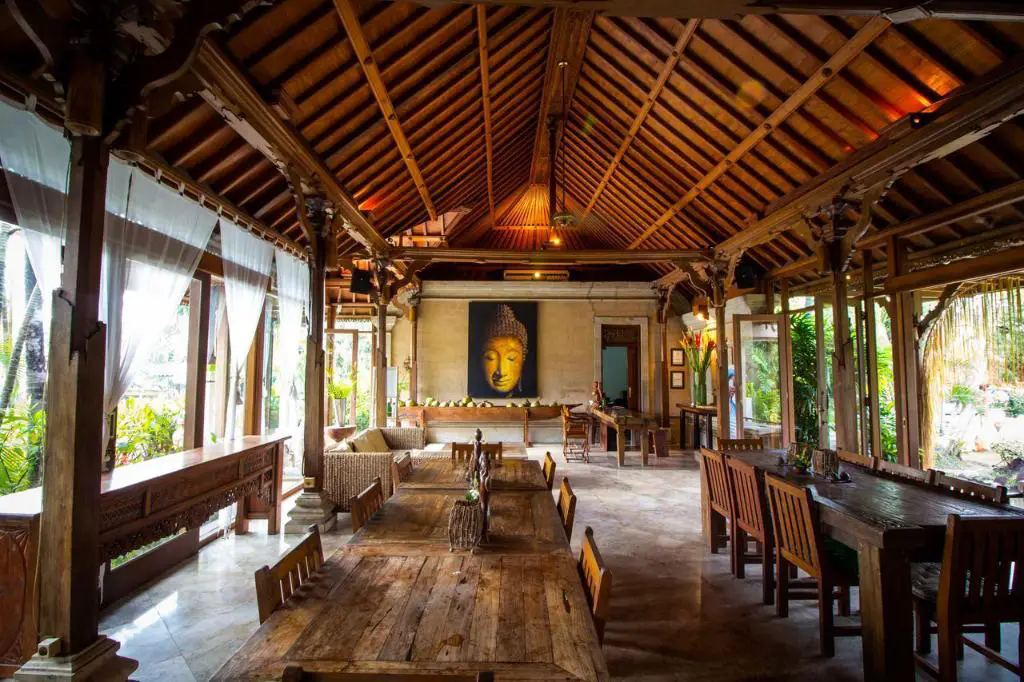 Visiting Bali in the wet season? Then you'll want to stay close to Keramas and use the area as your coworking and coliving base spot. Vision Villa Resort is a great place to start your research.
Vision Villa Resort offers luxurious living at an affordable rate, giving you everything that you need for a productive working experience. The beautiful rooms are fitted with a desk, and the outdoor area is relaxing and inviting.
As an added touch, there is daily housekeeping a bar, and even a massage facility. Having a stressed day hunching over the computer? Then a surf and massage are all that's needed and you can get both at Vision Villa Resort.
What do we love?
The perfect spot to stay in the wet season when Keramas is pumping
Stylish, spacious rooms that encourage productivity
Yoga on offer
Large meeting room for business retreats
Book your stay at Vision Villa Resort here
Ready to Work in Bali?
One of the reasons that Bali has moved to the top of our list for digital nomad destinations is because the island caters to remote workers.
These are just a few of the many great places to live and work while having the surf on your doorstep.
Interested in discovering more amazing digital nomad destinations for surfers? Read our blog here.