A Nusa Penida day trip has been on Ollie's bucket list for as long as he can remember. Chances are that you've seen the breathtaking picture of the T-Rex shape jutting out and framing Kelingking Beach. If you haven't, you need to check it out! 
The island's beautiful reputation means that a Nusa Penida Day Trip was on our list of top things to do in Bali. However, rather than follow the itinerary of a tour group, we decided to venture off on our own. Here are our tips and suggestions for your DIY Nusa Penida tour in one day!
Where Is Nusa Penida Map-Wise?
We chose Bali as one of our digital nomad locations due to its stunning natural surrounds, epic surf spots, friendly atmosphere, and incredible food. A short 31 kilometers away (or a 45-minute speed boat trip) is the paradise island of Nusa Penida.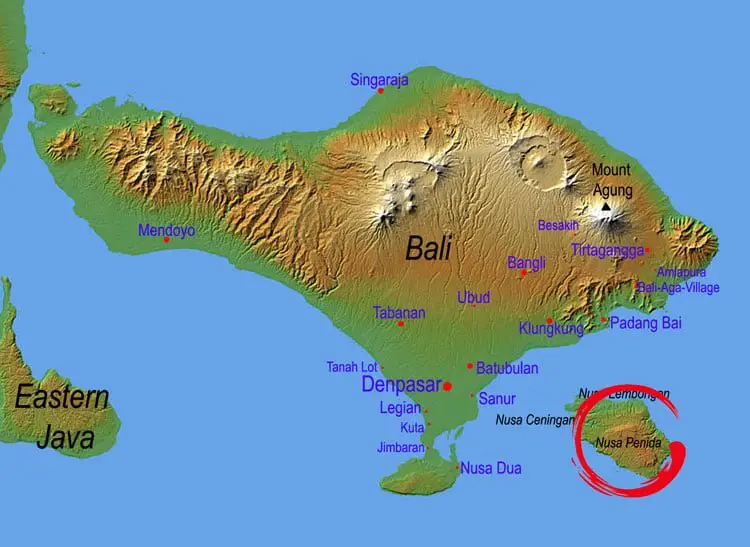 The haven is just past the tiny Lembongan Island and framed by its neighbor islands Bali and Lombok. You can easily spend more than a day on Nusa Penida, in fact, we actually suggest that you do, because there are so many amazing spots to visit and explore. 
From the iconic sight on the west of the island of Kelingking Beach to the infinity pool at Angel's Billabong and the relaxing beach of Crystal Bay. Whether you can only afford a single day, or a week, you have to get yourself to the island. 
If you are unsure or uncomfortable with heading to the island by yourself, here are some tours that you might like:
* Just to let you know that this article contains affiliate links. If you click on them we might receive a small commission, at no extra cost to you.
How To Go To Nusa Penida From Bali
There are several harbor departure points from Bali to choose from, depending on where you are staying. We were staying in Canggu and the closest of these points was Sanur. We booked return speedboat tickets for an affordable price of USD $25 each (return).
This is a super awesome site for comparing Nusa Penida speedboat tickets and times!
With our tickets secured, we jumped onto our rented scooter early in the morning. Our hour-long journey was rather smooth as we made our way from Canggu, through Denpasar and arrived at Sanur Beach Port an hour before departure. We grabbed a quick coffee and a bite to eat, checked in with the agency and climbed on board the boat at 8 am. 
Scheduled speedboat departures start as early as 7:30 am and we returned on the 5 pm boat.
The boat ride was smooth and fairly quick. Despite the boat being full, we never felt uncomfortable or crowded. It wasn't long before we arrived in the gorgeous clear waters and soft sand of Sampalan Beach in Nusa Penida. 
How To Get Around Nusa Penida
The first thing to do when you arrive on the island is to find your mode of transport. The roads on Nusa Penida are pretty awful and full of potholes. I strongly suggest that you let the most experienced driver take the lead on this one. 
There are scooters for rent basically as you leave the dock. The vendors will immediately take you to the most expensive ride which costs around USD $25 for the day. However, we rented a very entry-level bike for USD $7 and the scooter drove just fine with both of us on the back.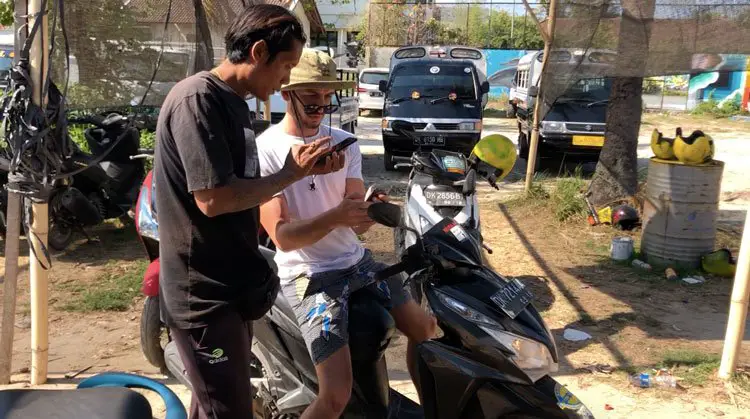 The best thing to do is to download an offline map and use it to navigate your way around the island. Nusa Penida is larger than most people anticipate, and the bad state of the roads means that it can take a lot longer to get from one point to the next. Make sure that you factor this in when planning your route. 
One more thing to note is that helmets are not commonplace in Nusa Penida and are not rented with the bikes. If you want to ride with a helmet, make sure that you bring your own along. 
Top Things To See On A Nusa Penida Day Trip
A Nusa Penida one day tour only showcases the tip of the iceberg, but it's an incredible experience and very well worth the visit. We adventured with a mission, and managed to tick off three main spots!
Kelingking Beach
The view from the top is arguably one of the most iconic sites on Nusa Penida. In fact, it's considered one of the most instagrammable spots on Nusa Penida. The T-Rex shaped part of the island juts out from the mainland, cradling one of the most pristine beaches we had ever seen. 
From the top, we could see manta rays (yes, more than one) swimming in the crystal clear waters, with bathers snorkeling around them. This spot is everything that we could have hoped for – and more. Kelingking Beach should without a doubt be added as a primary stop on your trip to Nusa Penida. 
Now, while this spot is incredibly beautiful, there are a few things to note. 
Firstly, the hike down to the beach is insanely steep. We were wearing our costumes, island get-up, and flip flops. Our shoes quickly came off for the extra grip and our upper arms got a solid workout by grabbing enthusiastically onto the make-shift balustrades. We like to think of ourselves as fairly fit individuals, but with the heat of the day and the dusty path, we found the descent (and ascent) to be a sweat-breaker. On the plus side, it did filter out a few tourists (which grow in numbers later in the day you go).
Secondly, there is a small vendor at the bottom selling the essentials such as water and bananas at the bottom. These prices are inflated due to the high demand and little competition, so we definitely recommend that you pack extra water. 
Our time at Kelinking Beach was limited due to our desire to explore Nusa Penida more, but we took the time to swim and relax at the bottom. If you can, pack a snorkel and goggles and try to swim alongside a manta ray!
Angel's Billabong
Our next stop was Angel's Billabong. Although not a very long distance away, the roads are particularly bad and can get quite crowded when cars try to pass each other on the narrow streets. However, the view is spectacular and with every bump on the bike!
Angel's Billabong is very well-known for the natural infinity pool that flows into the clear waters. Travelers can have a refreshing dip in the waters to cool down and be mesmerized by the casual breathing of the tide. 
We stopped at one of the local restaurants at the top and shared a Bintang (the local beer) with a view. How can so much beauty manifest in a single spot?
Sampalan Beach
Noticing how much longer it took us to get from point to point, we decided that these two attractions had made our Nusa Penida trip more than worth it. So we hopped on the scooter and took the scenic ride back to Sampalan Beach where our boat was departing from.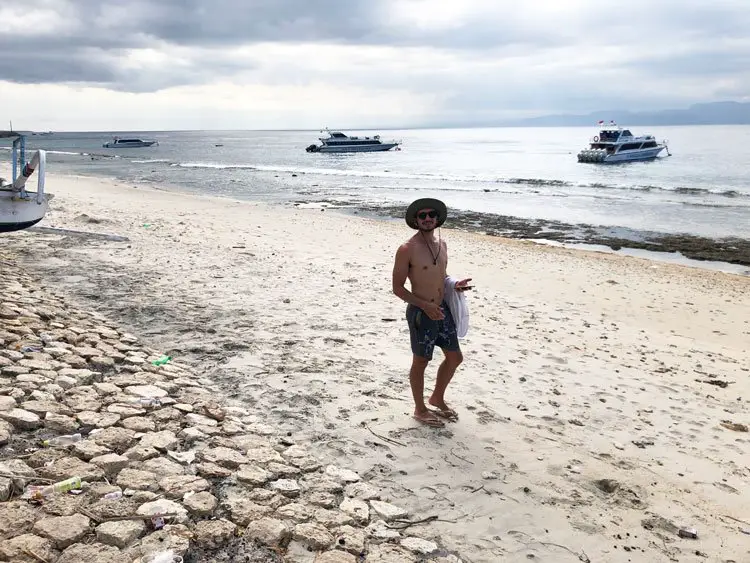 Having arrived a little earlier than needed, we bought ourselves a coffee and laid out our beach towel to enjoy the beauty of the harbor. The soft sand along the stretch of Sampalan Beach felt incredible underneath our feet after a riveting day of exploring. We even managed to fit in a 30-minute nap on the sand, being lulled to our favorite memories by the sound of the soft ocean. 
More to do on Nusa Penida
Once our speed boat docked back in at Sanur Beach Harbor, we started the hour-long scooter journey back to base in Canggu. We were completely sated and incredibly happy. 
If you are lucky enough to be able to spend more time in Nusa Penida, then do it. While our one day tour of the island left us grinning from ear-to-ear, there was so much that we didn't manage to get to. 
Some of the other popular island attractions are:
Crystal Bay Beach which has waters has clear as its name suggests. 

Pura Goa Giri Putri Cave offers a uniquely spiritual experience.

Snorkeling at Toyapakeh.

Broken Beach which is named that way because of its fascinating archway.

Thousand Island viewpoint which boasts a view of unparalleled beauty.

Tembeling Beach, natural pool and forest which is a beautiful hideaway.

Inland experience and views from Teletubbie Hill viewpoint. 

Nusa Penida Day Tour Options
We decided to tackle the island ourselves, and wouldn't have had it any other way. Each discovery felt like an accomplishment and we could adventure at our own pace (which just happens to be annoyingly speedy for many people).  
However, there are several amazing Nusa Penida tour package options to enjoy and take advantage of. This is a great way to experience the island without the stress of having to navigate the area yourself. 
Here are some top Nusa Penida tours to choose from:
Final Thoughts on Our Day Trip To Nusa Penida
We crashed into bed that night with full hearts, massive smiles and a huge pain in the butt. You would too if you had ridden close to four hours on a scooter. But we'd do the entire thing over in a heartbeat. Ollie managed to tick off one of his bucket list items and we discovered a little bit of heaven on earth. 
If you find yourself in Bali, or any part of Indonesia, you should definitely organize to travel Nusa Penida. Whether you choose to accept the challenge yourself or go with the comfort of a tour.