A surf trip in a camper van is an incredible way to explore a new location and indulge in the sweet surf break that it offers. France, in particular, boasts incredible surfing opportunities for wave riders of all levels. Motorhome touring in France is an incredible way to enjoy the coastline with your surfboard. 
It's not hard to come by a camper in France, and the biggest challenge that you'll find is picking the best one for you. The Atlantic coastline is 4,668 kilometers long, and offers unbeatable surfing conditions, throughout the year. 
If you want to find out more about the best places to surf every month, read our month-by-month surf guide here.
While some surfers travel in an RV or motorhome, others prefer the versatility of a campervan. Here's all that you need to prepare for an epic surf trip along France's motorhome routes. 
* Just to let you know that this article may contain affiliate links. If you click on them we might receive a small commission, at no extra cost to you.
Options for

 

Motorhoming in France
Before you map out the route and wax up your board, you need to decide which vehicle is best to meet your needs. 
RV (Motorhome) in France
An RV offers space and comfort to kick it after a surf – whether you're a beginner finding your feet, or a pro shredding tubes. 
Benefits of a touring France by motorhome
A motorhome is a fantastic option for traveling in slightly larger groups or families. With more space to sleep and work, a motorhome (or RV) is the perfect home away from home on the road in France.
Where to rent an RV motorhome in France
There is a choice of places to find RV rental. France may boast a few choices, but we recommend Auto Europe. The website has a choice of urban plus motorhomes, family plus motorhomes, and even premium options.  
Surfing Campervan in France
Campervans are another great option. Slightly smaller, but equally as effective. 
Benefits of campervanning in France
Campervans allow you to travel across France's gorgeous landscapes with flexibility and maneuverability. A campervan is also a great option because it offers all that you need to live comfortably, without being clumsy. 
Where to find campervan rental in France
It's as easy to find a camper in France as it is to rent an RV. One of the best sites is Van-It, with a selection of campervans available to rent without breaking the bank. There are all different sizes, perfect for an unforgettable surf trip.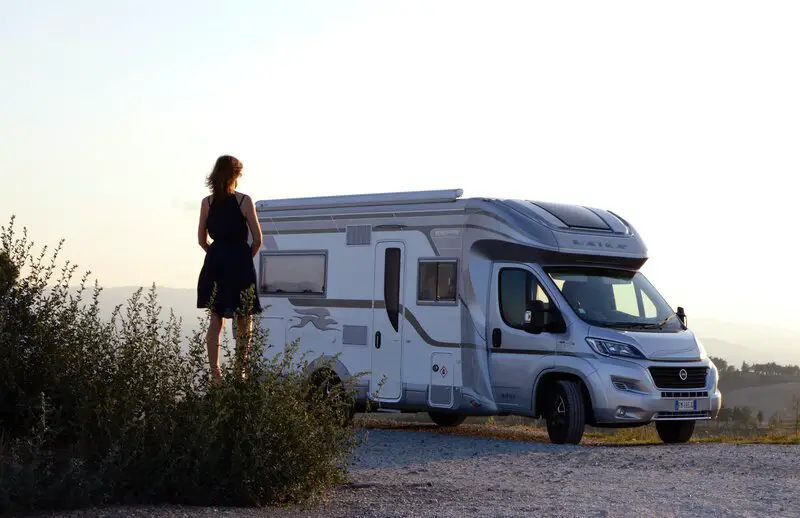 Seven Stops: France Motorhome Routes for Surfers
Once your bags are packed and your fuel tank is full, you can get going. There are so many amazing spots to stop and surf along the coast of France, and we encourage you to take your time. Even so, there are a few spots in particular that we'd like to point out for you to circle on your map. 
1. Yport, Normandy
Yport is one of the more popular spots to surf in Normandy. Nearby, Etretat is also a great option. The classic wave breaks as a left-hand point break over flat rocks and promises to be a lot of fun. There are very few crowds meaning that you can enjoy the waves without getting flustered. Keep in mind that swell consistency isn't the best in Normandy, so it's best to manage your expectations. 
If you're looking for a place to park your vehicle overnight, then Le Rivage is a fantastic option. Located on the top of the cliff, the spot boasts an epic view and the opportunity to read the waves. 
When the swell isn't working in your favor, then you can explore the little French village Fecamp. The combination of art, history, and the marina makes the spot a charming location for a holiday. 
Distance to next destination: 552 kilometers
2. Pors Peron, Bretagne
During the winter months, Pors Peron transforms into a clean, consistent wave. When the conditions are right, the exposed beach break is another surf spot that's worth adding to your itinerary. Just like Yport, there are few crowds, meaning more waves to go around.
Pors Peron is largely considered one of the most beautiful beaches in Brittany. Camping Pors Peron is a simple campsite that offers everything that you need, without the fuss. They offer great facilities, just a stone's throw from another beach. 
If the waves aren't working, then you can always drive to the nearby medieval town of Pont Croix. The little town is filled with gorgeous historical sites, delicious restaurants, and captivating culture. 
Distance to next destination: 325 kilometers
3. Saint Gilles Croix de Vie, Vendée
Saint Gilles Croix de Vie is home to a much-loved surf spot that isn't as well known as others. It's a gentle spot that suits surfers of all levels (and ages). Boasting a fairly consistent beach break, wave riders can shoot either left or right, as long as you don't mind riding slightly smaller waves.
Camping Les Cypres is the camping ground of choice near Saint Gilles Croix de Vie. In many ways, the camping grounds cater to surfers and share access to both Saint Gilles Croix de Vie as well as La Sauzaie. 
While the beach is arguably the biggest attraction in the area, there are other fun things to do in the area. A lot of activities are centered around nature, such as the Le Grand Defi, but there are also many cultural sites to visit, such as the Vendee Miniature Museum.
Distance to next destination: 234 kilometers
4. Montalivet, Bordeaux
Montalivet is a standard surf spot that breaks over a sandy bottom, offering rides to surfers of all levels. There's potential to get a really long ride, depending on whether you visit when the conditions are right. 
Although it's located slightly further away from the beach, Camping Le Bonheur Est Dans Le Pré is the campsite of choice when stopping over at Montalivet. The extra drive is worth it, as the space is beautiful and serene. 
A lot of the attractions in the area pivot around natural beauty. For example, there's the option to explore the nearby vineyards and empty beaches. The local village of Vendays-Montalivet is also a great spot to grab a cup of coffee or mingle with the friendly locals. 
Distance to next destination: 67 kilometers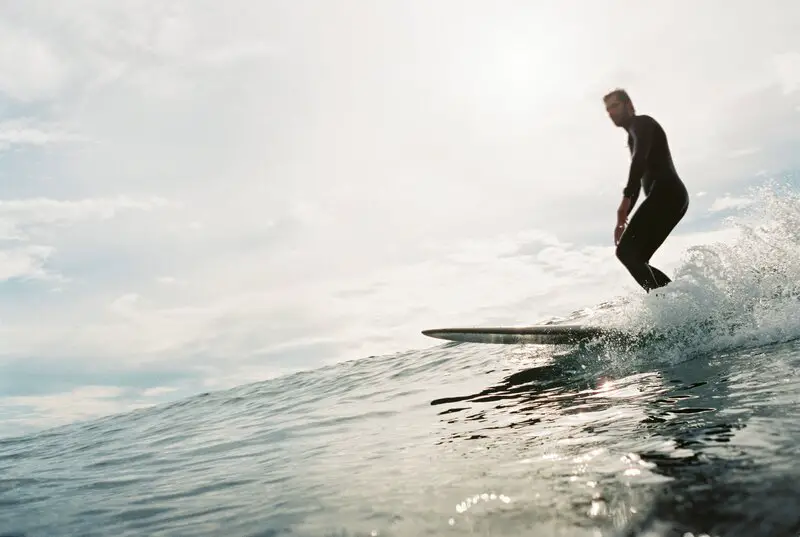 5. Le Porge, Nouvelle-Aquitaine
Le Porge is an hour's drive from Bordeaux and the surf spot in Le Porge is the perfect place for beginners, with a choice of two schools ready to teach beginners as well. The wide-open beach boasts fun peaks and exposed beach breaks. 
La Grigne is a large campsite that can become quite busy in summer. The campsite is within walking distance of the beach and offers a beautiful, forested area to relax after fun in the water. 
Even if the swell isn't working, it's worth visiting the local beaches in Le Porge. Traveling a short distance in each direction will bring you to Lacanau, Andernos-Les-Bains, and Carcans. 
Distance to next destination: 187 kilometers
6. Hossegor
Hossegor is the pride and joy of surfing in France. The consistent wave breaks in four main spots, suited for various skill levels. The entire town is set up around surfing, and there are more than enough surf schools, rentals, and waves to go around. 
Want to return to Hossegor at a later stage? Read our blog on planning the ultimate Hossegor surf trip here.
There is a choice of several campsites to choose from in the area. Depending on what you hope to achieve from the trip, you can browse campsites around Soorts-Hossegor and take your pick!
If you're traveling as a surfing nomad, then there are several places that are perfect to live, work, and surf in Hossegor. Read about them in our blog here.
When you're not surfing, you can explore the rest of what Hossegor has to offer. Take a stroll in the forest, visit the farmers market, pop into a sunset bar, and grab an ice cream from Café de Paris. 
Distance to next destination: 38 kilometers
7. Bidart, Biarritz
There are several spots to surf in Biarritz, but Bidart's surfing beaches are a great place to start. Choose between Ilbarritz for all levels, Pavillon Royal for experienced surfers, and Erretegia for surfers from beginner to experienced. 
There are several camping spots to choose from, some of which are right in front of the surf spots. One of the best campsites is Camping Erreka which offers a bit of luxury in an authentic and natural environment. 
The beautiful, coastal town in the Basque country is dripping with culture and offers the opportunity for traveling surfers to immerse themselves. Visit the local golf course, the lookout deck at Rocher de la Vierge, and the Cathedrale Saint-Marie de Bayonne. 
Tips For Traveling Through France In A Motorhome
Whether you're taking a campervan to France from your home, or you're renting one in the country, there are a few details to note. 
A valid driving license is essential
Make sure that you have the vehicle's original registration document handy
Be careful to stick to the speed limits in France
Stock up on snacks and water for late nights
Invest in a

portable wifi device

if you plan on doing any work on the road
Keep an eye on the expected climate and temperature to make sure that you're prepared
France is a fantastic digital nomad destination, especially for surfers. Read more about our top destinations to work and surf around the world.
Bags Packed and Surfboards Ready!
Are you ready for the ultimate surfing road trip through France? Hiring a campervan can save you money and give you everything that you need – as you need it.
Whether you need a larger motorhome for a bigger group or prefer the zippy size of a smaller campervan – France's surfing coastline is your oyster!
Read more: