France is mostly known for the Eiffel Tower and delicious pastries. However, the true gem lies in Hossegor, the best-loved consistent surf break in Europe. The beautiful town is full of culture, history and, of course, incredible surf.
If you want to surf Hossegor, you don't need to give up your working routine. There are plenty of affordable and convenient places to stay that are close to the beach. They offer community and workspace to fill the time outside of the water.
Need some tips to help you pick the best digital nomad destination for you? Check out our blog here.
* Just to let you know that this article contains affiliate links. If you click on them we might receive a small commission, at no extra cost to you.

Hossegor Surf Guide
The town of Hossegor sits in the southwest of France, a short distance from fellow surfing hotspot Biarritz.
Hossegor Surf Season
One of the best parts about making the decision to surf Hossegor is that you'll get a wave no matter what time of the year you visit. While the conditions vary depending on the season, the swell is consistent.
July and August, the European summer, offers smaller waves that are on the "fun" end of the spectrum. During these months, you won't need much more than a 2mm wetsuit or a shorty.
During the winter, between November and April, the surf is reserved for experienced surfers. Waves break heavy and large, demanding a lot of paddle power and confidence in the water. The water is also icier, and you'll need a thicker wetsuit – and maybe even booties.
For intermediate surfers, the best time of the year is to go during the months of September and October. The water is warm and the swell starts to pick up in size. May and June are also quite exciting, sitting on the opposite end of the shoulder.
We've put together a guide of the best places to go on a surfing trip for every month of the year. Check it out here!
Hossegor Surf Spots
Hossegor surfing beach stretches across three kilometers. The sandy beach break is divided into four distinctive spots.
La Gravière – a fast, hollow, and heavy tube
Les Culs Nus – a beach break that works on all tides
La Nord – which serves proudly as Hossegor's big wave spot
La Sud – a sheltered spot that is beginner-friendly
Overall, Hossegor is a challenging surf destination. While it welcomes beginners, true rewards are reserved for experienced (or competent) surfers. Expect fast take-offs, steep waves, and heavy barrels.
Are you looking for more awesome destinations to work and surf? We've put together a few of our favorites in this blog.
Living and Working Remotely in Hossegor
When you're not getting barrelled or being kicked by adrenaline, you'll probably be working or socializing. With this in mind, we've done some research to point you in the direction of the best places to work and play while you surf Hossegor.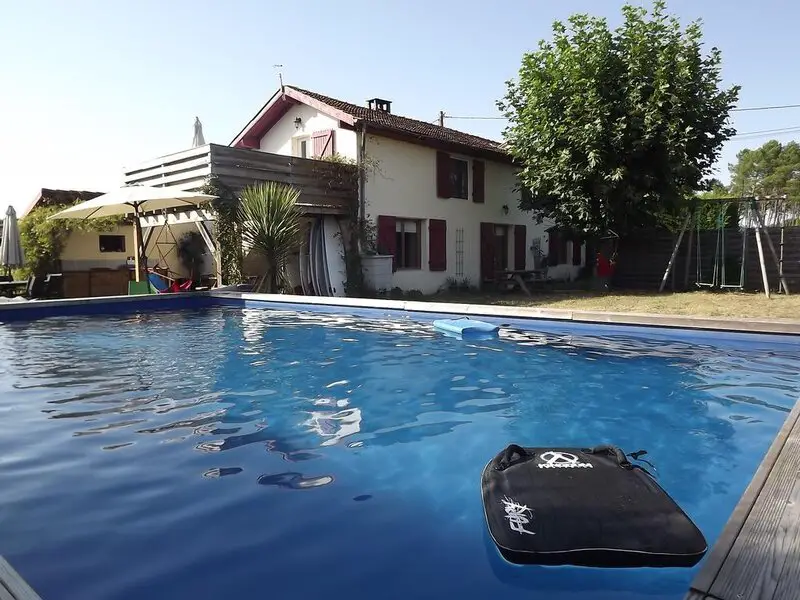 Simple quality is at the heart of the Secret Spot Lodge.  The lodge offers all of the modern comforts that you'd expect, set in a traditional French setting. Both breakfast and surfing lessons are available – the perfect combo for a nomadic surfing lifestyle.
There are a variety of different rooms to choose from, ranging from bunk beds to family rooms. All guests have access to common areas that include wifi-fuelled working spaces to use while on the grind.
What we love:
Private and group surfing lessons are offered by the host
The host also offers secret spot surf guiding
The house is large enough to have your own space but small enough to form a community
Book your place at Secret Spot Lodge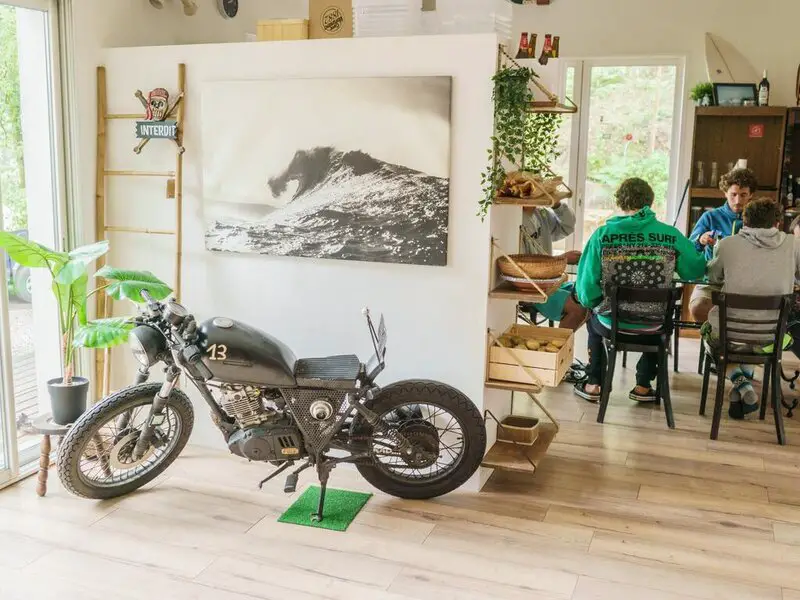 Much like the majority of accommodation options in Hossegor, Roofless Surf Lodge is focused on surfing.  The lodge is a fully-kitted home away from home located in a quiet and tranquil forest space – perfect for getting in a few productive hours.
The wifi extends throughout the property and again, there is a choice of rooms to choose from. When you're not shredding in the water or making paper, then there are very social common areas to enjoy with table tennis, a sunshine terrace, and BBQ facilities. Note that this spot is slightly further than most from the beach – but it is still easy to access.
What we love:
Located in a beautiful, relaxing forest area
Homely and inviting lodge with a comfortable setup
Very friendly staff who go above and beyond
Book your place at Roofless Surf Lodge
If you have a little bit more to spend and enjoy the convenience of hotel living for a short work and surf trip, then Hotel 202 has you covered! The hotel is a short 5-minute drive from the beach and offers a hearty breakfast buffet to refuel before (or after) your time in the water.
Not only are the rooms clean and spacious, but the hotel also offers other perks to enjoy. For example, there is a sauna, outdoor swimming pool, and even a library. Hotel 202 strikes a great balance for the surfing nomad.
What we love:
Plenty of relaxing amenities to enjoy
Beach is very close and accessible
The convenience of a hotel – breakfast, room service, bar on-site, etc
Jo&Joe Hossegor is one of the most popular surf accommodation choices, especially if you plan to dabble in other activities such as golfing and cycling. The self-proclaimed 'happy sunhouse' has a terrace, bar, restaurant, and rooms that are tailored for a memorable experience.
There are dormitories, private rooms, and atypical accommodation, all of which have the surfing theme woven through the decor. As far as workspace goes, there are plenty of spots to call your own in the common areas.
What we love:
Stylish interior designed with the surfer in mind
Located right on the doorstep of the beach
Bar and restaurant available on-site for your convenience
Book your place at Jo&Joe Hossegor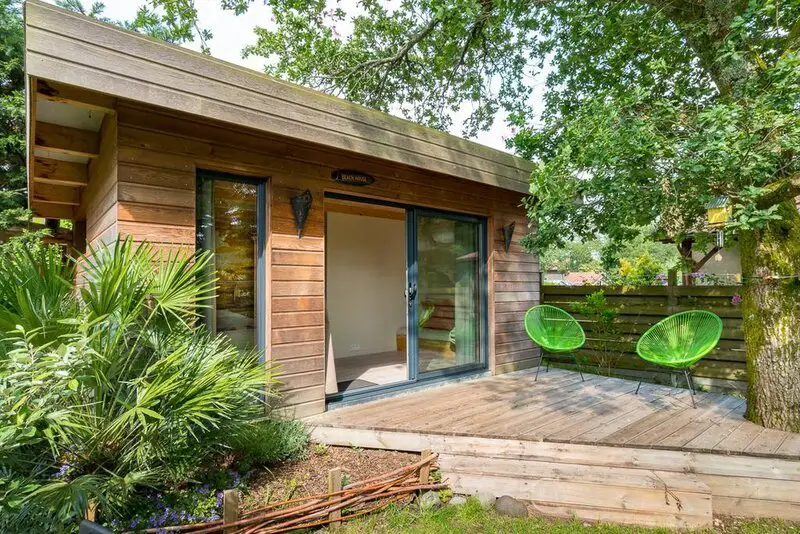 A spot that uses such a cheeky pun for its name can only be good, right? Board 'n Breakfast is located slightly out of Hossegor, in Labenne. It's possible to rent the entire surf house, a camper, as well as the usual bed and breakfast set up.
The hosts offer a discover surf experience and encourage guests to get out in the water as much as possible. Need to put in some hours behind the laptop? The kitchen table is spacious and comfortable, with other common areas offering a more informal working environment.
What we love:
A funky and fresh home set up
Close to the beach to catch an early morning surf
The hosts offer tailored surfing experiences
Book your place at Board 'n Breakfast
Hossegor Surf on Your Doorstep
Hossegor is quickly becoming one of the top remote work destinations for surfers. The cost of living won't break the bank, and the surf is consistent throughout the year. There are plenty of surf-orientated places to live, where you can put in a few hours on the laptop too.
If you're looking to change it up a bit, we've put together a rough guide for some other epic surfing nomad destinations.