Florianopolis, fondly known as Floripa, is a city in the south region of Brazil, welcoming remote workers with open arms. Digital nomads can immerse themselves in the digital hub, all the while keeping their careers on the path toward success.
Between the incredible surf, delicious food, and stunning landscape, there's so much to offer in the vibrant city.
Browse more awesome digital nomad destinations for surfers here.
We loved our time working remotely in Florianopolis, and will forever cherish the memories (and friends) that we made there. If you're planning a trip to the Brazilian city, then you've come to the right place. 
* Just to let you know that this article may contain affiliate links. If you click on them we might receive a small commission, at no extra cost to you.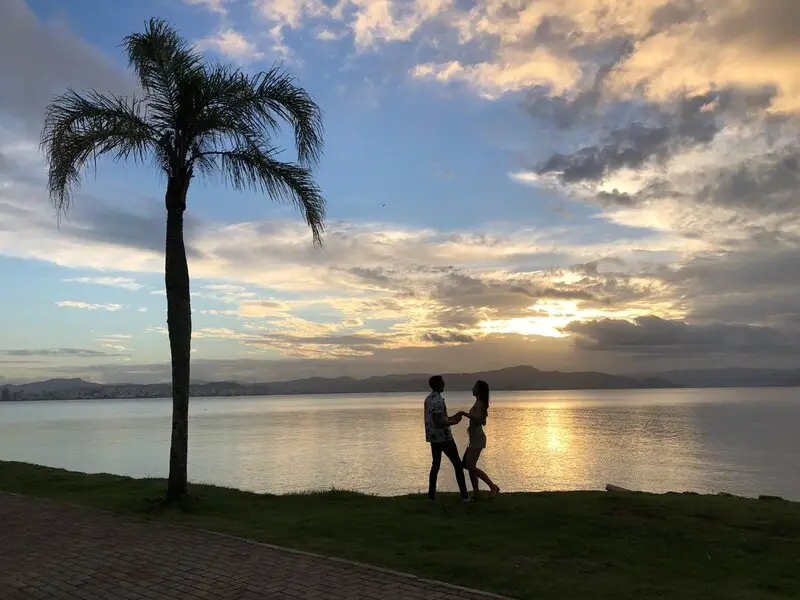 Benefits of Working in Florianopolis
It's easy to see why so many people choose to settle in Florianopolis. The "Magic Island" is home to pristine beaches, is a popular party destination, and is revered as the surf capital of Brazil. 
What makes Floripa such an awesome spot for remote workers? 
Incredible food that is indicative of Brazilian flavor
Choice of coworking spaces that encourage a productive environment
Plenty of work-friendly coffee shops
Miles of beautiful coastline (much of which is surfable)
Decent internet speed that will keep you online and working
A balanced lifestyle of day activities and a vibrant nightlife
Easy process to visit Brazil for a short period of time
The cost of living in Florianopolis is pretty good and we found that our money went quite far here. As an illustration, here is a post on Florianopolis on a budget.
Discuss the many amazing things to do in Floripa in our blog over here.
Digital Nomad Visa in Florianopolis, Brazil
There is no specific digital nomad visa for working remotely in Florianopolis, but there are several visa options for staying in Brazil for short periods of time.  The default entry for foreigners is 90 days, with the opportunity for some to renew for another 90 days. Some remote workers are able to enter Brazil and spend up to 180 days in the country with no issues. 
If you want to stay longer, then you can extend your tourist visa, or arrange a student, work, volunteer, or investors visa. 
Extension of tourist visa – make sure that you extend the visa before it expires. Keep in mind that the maximum stay for a tourist is 180 days per year.
Student visa – make sure that you set aside enough time to complete the necessary paperwork (two to four months as a guideline)
Work visa – follows a temporary permit which typically lasts two years
Volunteer/humanitarian – initially granted for two years
Investors visa- for example, invest R$150,000 (approximately $30,000)

 
Read more about destinations with a digital nomad visa here.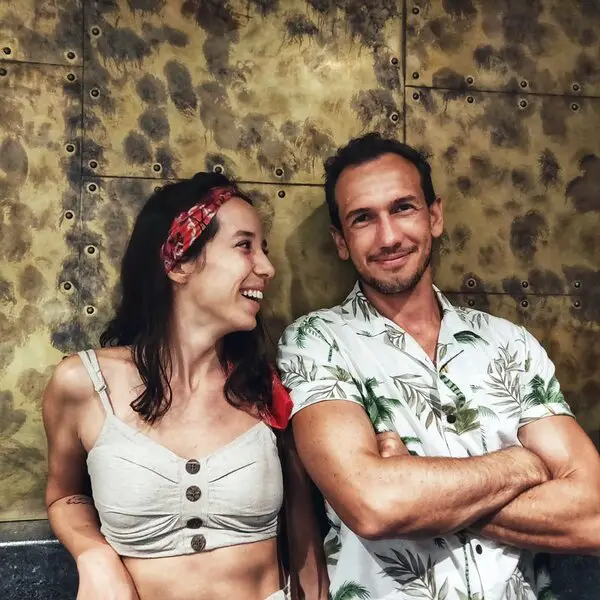 Best Time to Visit Floripa
Unlike Rio de Janeiro, which stays toasty throughout the year, Florianopolis does experience an obvious winter. The best time to visit the city is in the shoulder seasons, especially in October as the city begins to welcomes summer and the surfing conditions pick up. 
The cheapest time to fly to Florianopolis is in June, but this is the heart of winter, so may not be your cup of tea. Summer is very festive, but the city can get quite crowded.
Book your flight to Florianopolis here.
Best Area to Stay in Floripa as a Digital Nomad
Moving to a new city can be overwhelming, and it can be tricky to know where to stay. To kickstart your search, here are a few areas to consider.
Browse places to stay in Florianopolis here.
Centro
Located in the heart of Florianopolis, Centro puts you in the middle of the action. The business hub is not as touristy as the coastal areas, but it does offer easy access to top attractions and hotspots to visit. The area is based on the island, and not the mainland, but connects easily with a bridge. 
Lagoa da Conceição
Lagoa da Conceição is a natural wonderland, and the area centers around a huge lagoon. If you're looking for a place to stay on a budget, then Lagoa da Conceição has you covered, with quick access to nightlife issues. However, if you want to live a relaxed lifestyle, then the area offers a sense of tranquility.
Canasvieiras
Traveling with a family? Canasvieriras is a great beach resort space that is built to accommodate tourism. There are countless places to eat out, gorgeous beaches to enjoy, and a variety of places to stay for a family.
Campeche
Campeche is a surf haven and a great spot to stay if you enjoy riding waves in your spare time. It's a bit of a distance from the main action, but it's got everything that you need if you enjoy a quiet, surfable area to stay.
Check out the best places to surf around the world at any given time of the year in our blog here.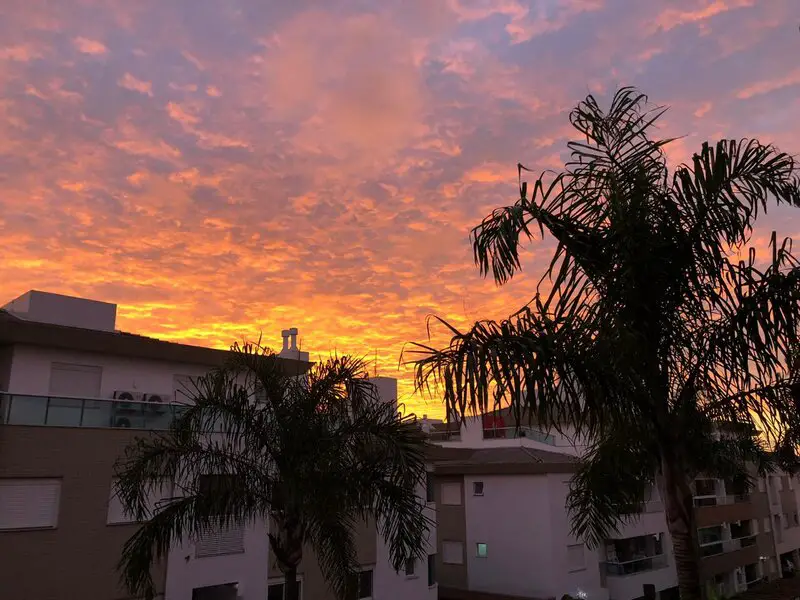 Where to Work in Florianopolis
Floripa has a choice of places to work, each offering its own unique perks. It's possible to buy a day pass, a monthly hot desk, or whatever best suits your needs. Most of the coworking spaces are located on the island part of the city – which also happens to be a beautiful part of the city.
There are also plenty of coffee shops that are perfect for working remotely. These productive spaces are more social and have vibrant energy. Whichever your preference, you're bound to bump into a few friendly, like-minded people (it may be worth brushing up on your Portuguese). 
Cost of Living in Florianopolis
Floripa offers an affordable cost of living. Buying alcohol, eating out, paying rent, and even catching a taxi can be done without breaking the bank.
Accommodation
As with all cities, certain areas will be more expensive than others. Overall, you can expect to pay approximately $340 for a one-bedroom apartment in a good area. If you're traveling with a family, or prefer a more luxurious space, then your budget will be slightly increased. 
Food and Drink
Eating out, groceries, and alcohol are all affordable in Floripa. The only liquor that is slightly more expensive is wine – but it's not too bad. We did grocery shopping and prepared most of our meals at home, treating ourselves to a restaurant or cafe as desired – and our budget was happy!
Working Space
Coworking spaces will vary in costs based on what they offer, and what you choose to reserve. You can expect to pay anything from $9 per day to $150 per month. If you prefer to work in a coffee shop, then you can get a cappuccino for less than $2. 
Daily Living
A lot of the entertainment offered in Floripa constitutes a natural wonderland. In turn, this means that you can visit the beaches, the lagoon, and sand dunes free of charge. Other costs, such as taxis, sporting spaces, and electricity are also affordable, making it a pleasure working remotely in Florianopolis.
Life in Florianopolis as a Digital Nomad
The majority of the things to do in Floripa involve nature. If you don't like the beach, then it may not be the spot for you. Even so, there are several other attractions to enjoy on your visit. 
Have a go at kiteboarding
Explore the historical center
Visit the public market
Spend time at Lagoinha do Leste
Sandboard at Joaquina dunes
Surf to your heart's content
Enjoy the nightlife
Cruising in Florianopolis
While Rio de Janeiro steals most of the attention from Brazil, there's something special about Floripa. If you plan to spend time working remotely in Florianopolis, then we'd strongly recommend that you give it a go.
Looking for more digital nomad guides? Start your search here…