Are you planning a remote work trip to Cape Town? The Mother City is arguably one of the most beautiful places in South Africa, boasting an expansive coastline, stunning trails, and a lively culture. The city has developed with remote work in mind and coworking Cape Town spots are a dime a dozen. So, how do you choose the best one?
As a surfing nomad, the closer that you are to the water, the better. Cape Town's coastline is unique as it offers both the chilly Atlantic Ocean as well as the warmer Indian Ocean. The internet connection is reliable across the city, and the low cost of living makes it a top spot for digital nomads.
Read our guide on the best places to work and surf around the world.
It's important to note that "Cape Town" is a big city and fairly spread out. With a sub-par public transport system, it's important to pick your home base carefully. Either book accommodation close to the surf and your coworking space, or find a place near the beach that has a remote work set up.
* Just to let you know that this article may contain affiliate links. If you click on them we might receive a small commission, at no extra cost to you.
Here are a few coworking Cape Town ideas to get you started.

Surfing in Cape Town
Cape Town is loved as one of the best surfing destinations in Africa, and for good reason. It's true that the water is slightly colder, but there's nothing that a wetsuit and pair of booties can't help with.
Preparing a surfing trip to a cold water destination? Read our guide on surfing essentials for cold water here.
Surfing in Cape Town can essentially be split into two different forecasts. The Atlantic seaboard that extends to Blouberg has colder water and works better when the wind is blowing easterly. If these conditions aren't working, then you can likely find a wave in Muizenberg and along the Southern Peninsula. The warmer Indian Ocean also makes the surf less frosty.
Overall, the best surf season in Cape Town starts around April and continues until September. While you can certainly get waves during the rest of the year, the wind doesn't always play ball and the swell is slightly smaller.
Wanting to track your surfs and compare sessions? Read our guide on the best surf tracking apps and surf watches here.
Best Coliving And Coworking In Cape Town Near Surf
There's something for everyone across Cape Town. Blouberg has beginner-friendly beaches while being surrounded by spots for more advanced surfers. Muizenberg is the Southern Peninsula's beginner-friendly spot, with more challenging breaks a short drive away. In the end, you need to decide what setup you'd for working when you're not in the water.
We rate Cape Town as one of the top digital nomad spots in the world. Read our blog to find out why.
WiFi Tribe, Tamboerskloof
WiFi Tribe is a global operation with a base in Cape Town. The group offers a community of nomads from around the world, connected by their passion to work remotely and explore new places.
Their system works slightly differently from how we usually travel (which is to rock up and book a spot near the beach). It's the perfect setup for travelers that enjoy having the nitty-gritty details sorted out for them while enjoying freedom and flexibility.
Their Cape Town chapter is based in Tamboerskloof, a stunning, historical neighborhood in Cape Town. It's convenient to access the beach, the mountain, coffee shops, and various coworking spaces. Although, there is space to work in the homes as well.
What we love:
Arrive and instantly settle into a community of fellow nomads
Close proximity to one of Ollie's favorite surf spots
Plenty of charming and creative spaces to explore
The accommodation offers everything that you need to feel at home away from home – including a work area
Browse more about traveling with Wifi Tribe here
Cape Town Cribs, Green Point
If you enjoy staying in trendy areas when traveling, then Cape Town Cribs has you covered with their Rosemore Guesthouse. As an organization, Cape Town Cribs strives to create a system that suits coliving and coworking for inspiring communities.
By attracting international travelers, young professionals, and students, they strive to offer high-quality rooms at an affordable rate. Their Green Point location is kitted with a comfortable desk and workstation set up, with an intermediate surf spot a short distance away.
If you want to break out of your home office and explore the city with your laptop, then the Rosemore Guesthouse is surrounded by a wide choice of coffee shops and nearby coworking spaces.
What we love:
Convenient and central location
Great office space in the room
Opportunity to meet people or live as a group (with your own space)
Nearby surf spot for intermediate riders, with other spots a short drive away
Find out more about Cape Town Cribs's Green Point spot here
Cape Town Office, East City
This list of coworking Cape Town spots would be incomplete without adding our beloved Cape Town Office. With an outstanding view, central location, and an incredible community, Cape Town Office is our top choice for independent coworking space in Cape Town.
There's no accommodation connected with the remote work office space but it is surrounded by countless Airbnbs and apartments. With 24-hour access, a selection of packages, and a buzzing social atmosphere, Cape Town Office is a fantastic place to meet people while traveling as a remote worker.
As far as surfing goes, you have a selection of spots available within a short drive. Driving for 30 minutes in each direction will bring you to a different spot. While the breaks may not be on your doorstep, there's a group of surfers that work at the office space who will be willing to hit a pre-work swell session!
What we love:
Central location surrounded by amazing cafes and bars
An incredible founder who is always willing to go above and beyond
Great community of surfers
Selection of packages and 24-hour access
Oh, and did we mention that this is where we met?
Browse all that Cape Town Office offers here
Blue Bottle Guest House, Muizenberg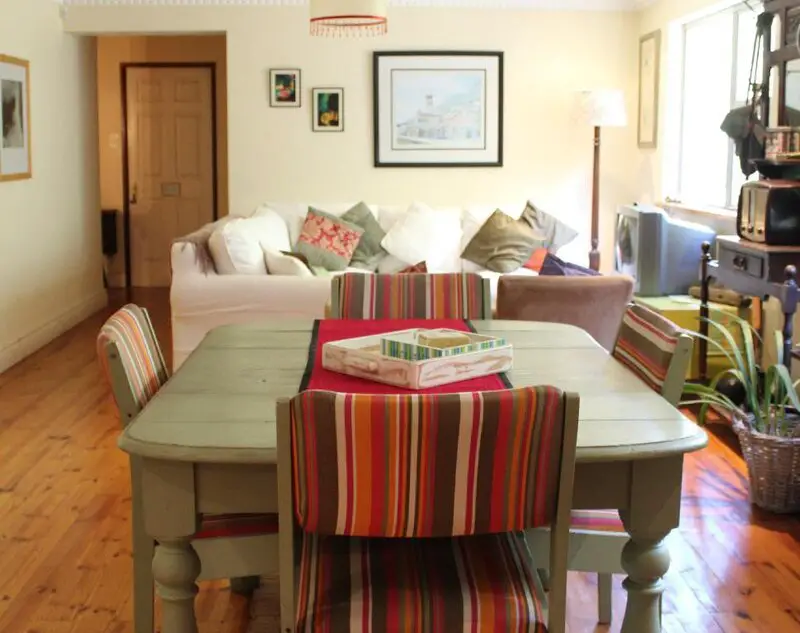 Moving away from the hub of the city, Blue Bottle Guest House in Muizenberg offers a very different experience. The village atmosphere of Muizenberg is funky and fresh, with a quirky character on every corner.
Muizenberg is known as the surfing hotspot of Cape Town, offering a wide selection of surf rentals, surf schools, and fun events. Blue Bottle Guest House offers a comfortable home base in the thick of the action, with plenty of space to work and relax.
If you're looking to rent or buy any surf apparel, we highly recommend Lifestyle Surf Shop. Not only do they offer an epic range of surfing merchandise and equipment, but they also share a visual forecast on Instagram every day.
What we love:
Charming design and atmosphere
Close to Muizenberg beach and other Southern Peninsula surf spots
The convenience of workspace in a home environment
Muizenberg is a charming suburb and worth experiencing
Book your spot at Blue Bottle Guest House here
Cheriton Guest House, Simon's Town
If you enjoy a more relaxed, quiet, village atmosphere, then Cheriton Guest House is the place for you. Located in Simon's Town, which is drenched in naval history and culture, the spot offers a break from the hustle and bustle, while being close to the beach.
Simon's Town itself doesn't have a surf spot but a short drive will deliver you to some of the best in the area (for all levels). The guest house is charming and vintage in design, offering a unique atmosphere that is sure to inspire productivity.
With a bar on-site, a comfortable communal area, and a stunning view, you're sure to meet a few friendly faces along the way.
What we love:
A quiet, charming neighborhood that is a one-of-a-kind
A short drive from the southern Penninsula's top surf spots
Lots of space to work and socialize in the accommodation
Extensive amenities available at Cheriton Guest House
Book your stay at Cheriton Guest House here
Ready to Work in Cape Town?
The beauty of Cape Town is that it offers a completely different experience depending on where you choose to stay, each with its unique perks. More of the world is starting to realize that Cape Town is a fantastic choice for working remotely (and surfing). There are even whispers of Cape Town releasing a digital nomad visa.
Read more about the Cape Town digital nomad visa here.
Of course, there are several other places surrounding Cape Town that are perfect for coworking but not on the beach. One of these spots is White Water Farm which offers a great escape and change of scenery.
Explore White Water Farm here.
If you have Cape Town on your radar, we highly recommend that you pursue the planning. Coworking Cape Town spots are plentiful, and the surfing is spectacular (it's why we keep going back!).
Interested in more? Read about surfing and coworking in Bali here.